---
People who created Handspan Theatre and its productions.
---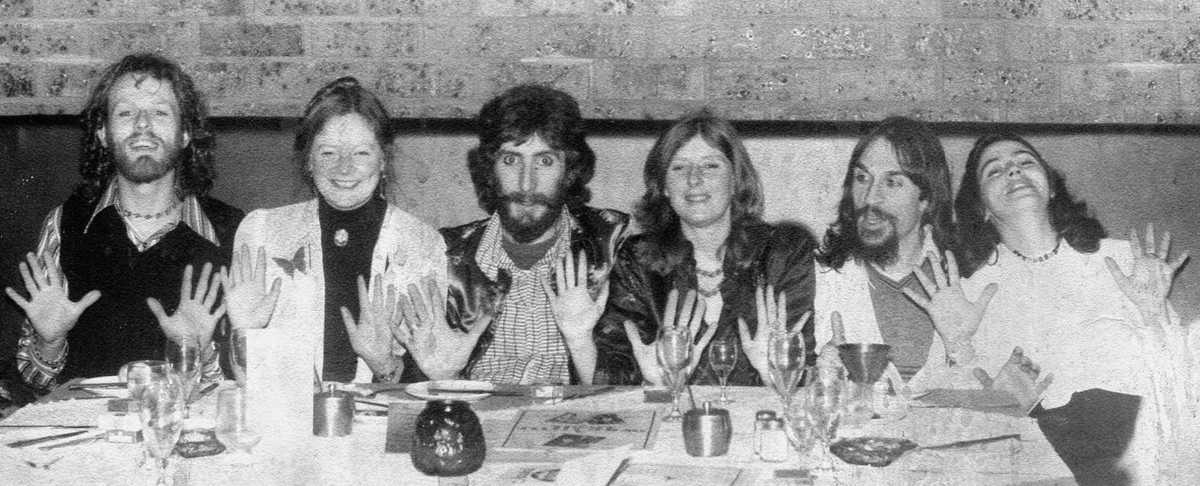 Photographer unknown
---
The following tells the story of Handspan Theatre's Membership and the Guest Artists associated with its productions. For their individual Handspan profiles click on highlighted names throughout.
The Founders
Handspan was established in 1977 by Ken Evans, Andrew Hansen, Helen Rickards, Peter J.Wilson, Christine Woodcock and Maeve Vella and in asbentia at the time Philip Lethlean.
Each of the founders brought to the enterprise skills, qualifications and connections - in visual and graphic art, in art history and education, in creative drama and theatre production, in band music and rock ' roll, in carpentry, fabrication, electrics and accountancy. Infused with a passion for puppetry and a collective ambition to further explore its potential, the mix was uniquely fitting for the task before them.
The group met while working for The Parry Marshall Puppet Theatre, a family business based in Melbourne that toured children's puppet shows to schools and community venues. There they were all trained in traditional western puppetry techniques as well as in performance for young audiences and the teaching skills required for the puppet-making workshops with recycled material that followed shows. Working in teams of two for Parry, and often spending days on the road in rural Victoria, all became well practiced in collaboration and collective endeavour as well as the business of touring.
---
A former British army engineer, Major F.W.Parry-Marshall, known to all as Parry, established the Parry-Marshall Puppet Theatre with his wife Anne and their daughter Angela in 1959. The family relocated to Melbourne to broadened their schools marketplace and after some years of touring retired from the road and employed others to perform their material.
Parry's shows were a program of short vaudeville acts presented by a live MC with puppet episodes mimed to reel-to-reel recordings. Every show had a similar structure: opening with a Punch and Judy skit; followed by a puppet-making demonstration; then trick marionette dance routines or brief shadow puppet sketches; and closing with another fractured fairy story usung glove and rod puppets inside the booth.
---
Their experience with the Parry Marshall Puppet Theatre showed the Handspan founders the great potential for new and exciting puppet theatre, for all ages.
At the same time, puppetry was enjoying a resurgence in popularity with Sesame Street, The Muppets and Mr.Squiggle attracting large audiences on Australian television. Across the puppetry fraternity in Australia, Little Patch in Adelaide, the Tasmanian Puppet Theatre in Hobart and the Puppet People in Brisbane were developing innovative work, while in Sydney the Marionette Theatre of Australia 1 had just embarked on a new era with the appointment of Richard Bradshaw as artistic director. It was an inspiring time to be a puppeteer.
When an opportunity arose to create a puppet production of their own (see Hansel and Gretel) the founders seized it, became HANDSPAN THEATRE, and in short order soon moved on to explore terrain beyond traditional stories and conventional staging.
Together they developed a company ethos grounded in the conviction that puppetry was essentially a visual form and its first language was action. Text-based drama was not the province of puppetry, humans the better choice when words were the primary focus of a play. Blend the two, use each for their strengths, extend the definition of 'puppet' to include all kinds of moving objects, and the result was a blueprint for theatre that could shift at will between the real and the imaginary.
The fledgling troupe determined that Handspan would create 'theatre', the word puppet was deliberately excluded from the company name leaving them free to follow an independent trajectory. Their ideals were to create contemporary, relevant theatre that broke the traditional boundaries and expectations of puppetry.
Another key ingredient in the Handspan recipe was a commitment to social equity and concern for the environment, which informed its projects in one way or another, explicitly or implicitly, and occasionally led the company to take their talents to the streets for community protest events. (see: On the Street: In Protest.
There were other aspirations. One enduring company motto became go anywhere, do anything meant - 'take up any feasible offer to perform, parade or teach in any kind of location for any kind of audience'; and a corollary, improvisation and adaptability - the development of existing material to circumstances orcreation of appropriate new work but was also often uttered as a catch-cry to rouse the spirits when things looked difficult. Thus challenged, the company would keep its skills sharp, its capacity for innovation fertile, and its members in work.
In 1982 these foundational principles were compiled in a company manifesto drawn up by Maeve Vella - and now sadly lost from the archives. They were reiterated, clarified and added to in a further manifesto created in 1986. (see below: Company Dreaming).
The founding members held various roles and portfolios within the company over its lifetime. They networked widely across the arts industry and some took on leadership roles in local, state and national arts bodies. In later years, as life members, they came and went, engaging in active participation in some projects and contributing from time to time to policy discussions.
From the beginning the company's workshop and studio doors were open to share resources with artists of all persuasions, a policy that created many opportunities for collaboration and ushered in the expanded membership that characterised the next phase of Handspan's evolution.
The Membership
Handspan was led for its first five years of comparatively unstructured collective activity by its Founders in a Partnership Agreement, which was variously at times extended to include: Roy McNeill, Peter Seaborn, John Rogers and Philip Lethlean.
In 1982 Handspan Theatre formalised its organisational structure and Handspan Theatre Limited was registered as a membership-based Incorporated Company Limited by Guarantee. Its mildly bewildered artists dutifully drew up a legal constituition and received an array of documentation with an official Company Seal - the latter admired briefly, and then consigned to the bottom drawer. Nevertheless the structure clarified the 'business' that Handspan had become.
This structure established formal membership rights and responsibilities and extended the collective to embrace artists who had by that time worked with the company over several projects and whose vision and practice aligned with Handspan's manifesto and operation.
Major decision-making in Handspan was by consenus through regular company meetings called both formally and informally. Everybody had a right express their opinion and be heard and while individuals carried out creative and administrative roles and functions for which they had responsiblity nothing was ever a closed book.
Company Dreaming
From 1982, Handspan's artistic programming was devised through annual dreaming meetings of all members who discussed overall artistic directions, ambitions and timelines for Handspan as well as ideas and initial project proposals for new work and the company's existing repertoire.
Consensus more often than voting identified priority projects for each year. Records from early years (1982 -84 indicate broad annual objectives for the company were designated, and subsequently achieved!
---
1982, called the Year of the Dollar - the company not only maximised its touring program but received its first annual General Grant from the Australia Council for the Arts.
1983, declared the Year of International Repute - Secrets was invited to the Spoleto Festival of Two Worlds in Italy beginning Handspan's 15 year international touring adventures.
1984 planned a Year of Australian Inspiration at a Dreaming held on tour in upstate New York creating 3 new works specifically conceptualised in Australian contexts: Streetwise, The Haunted and A Change of Face in the following year.
---
Later Dreamings in Melbourne became more formalised and lasted for a full weekend. with agendas and with sessions prepared and facilitated by company members. These gatherings not only introduced new ideas and projects and ratified programming and touring priorities, but formulated operational and management policies as Handspan grew in scale and reputation.
The Manifesto
The most memorable and certainly the most intense Dreaming saw the membership decamp to a weekend retreat at Lord Somers' Camp on Western Port Bay, Victoria in 1986. At what proved a cold and windy seaside escape, 25 passionate artists wrangled the wording and intent of a new company Manifesto (Handspan Manifesto, 1986).
The Manifesto aimed to enshrine a Handspan commitment to an egalitarian, collective and visionary artistic future led by its members. It outlined a clear framework that empowered individual decision-making responsibility to facilitate Handspan's mature operations. While its interpretation was a continuing discussion point, this Manifesto remained the guiding principle of the company for its next decade.
The Ebb and Flow
Many early members of the company remained active in Handspan Theatre for many its 25 years, significantly influencing Handspan's development, work and directions.
Key members during the 1980s included Ken Evans, Andrew Hansen, Peter J.Wilson, Helen Rickards, Maeve Vella, Philip Lethlean, Michele Spooner, Carmelina Di Guglielmo, John Rogers, Lizz Talbot, Trina Parker, Rod Primrose, Winston Appleyard; Andrea Lemon, Cliff Dolliver, Avril McQueen, Annie Wylie, Paul Judd, Katy Bowman, Gilly Farrelly, and Paul Newcombe.
Several of these people remained the company during the next decade but membership began to fluctuate in the 1990s. Gradually, as the original collective assumed responsibilities and careers outside Handspan, membership became a vehicle for individual project opportunities rather than the continuing evolution of a group ideology.
New members joined in the 1990s through projects and productions that involved professional puppeteers, visual performance artists and graduate students introduced to Handspan through Swinburne University or Victorian College of the Arts training schools. For a brief period Associate Membership was instituted to differentiate long-term and short-term engagement with the company.
Some who were significantly involved in several Handspan activities in its final decade included Rob Matson, Mary Sutherland, Hugh Wayland, Megan Cameron, Laura Bellamy, Alison Bogg, Mikkel Mynster, Craig Hedger, Katrina Gaskell, Liss Gabb, Darryl Cordell and Heather Monk.
Guest Artists
In its first 20 years Handspan's work was generated through collective company creative development and ensemble performance. Most people in early ensemble productions were members, but some were guest artists. The company was eager to explore new artistic ideas and styles in new cross-genre inventive and experimental projects with its collective visual theatre skills. Guest artists were eager to work with those skills and in the adventurous and challenging milieu that Handspan offered.
From 1979, when Lyndon Peter Wilson from the Tasmanian Puppet Theatre was invited to redirect The Apple Show, guest artists were a key influence in the trajectory of Handspan's development.
Guest directors included: Lyndon Peter Wilson, Nigel Triffitt, Geoff Hooke, Peter Oyston, Ariette Taylor, Douglas Horton, Angela Chaplin and Frank Italiano.
Guest writers included: Daniel Keene, John Romeril, Karen Corbett, Tony Rickards, Wendy Harmer; Maryanne Fahey and Ian McFadyen.
Guest composers and musicians included: Uncle Bob's Band; Paul Grabowsky; Stephen Kent, Greg Sneddon, Gavin Dunn, Boris Conley, Dalmazio Babare, Peter Crosbie, Marcia Howard and Peter Neville.
Productions listings also include details of Independent puppeteers and performers who worked as guest artists in many Handspan productions and sometimes in production teams. With them and in Co-productions with other arts companies and groups Handspan people moved in a mileau of artistic exchange where 'ideas were currency'.
---
Footnotes
3
Company Portrait 1988: Fr L: Back row (standing): Andrew Hansen, Trina Parker, Maeve Vella, Michele Spooner, Joy Geary, John Rogers; 2nd back row (standing): Stephen Armstrong, Annie Wylie, Rod Primrose, Katy Bowman; Seated row: Lizz Talbot, Andrea Lemon, Paul Judd, Paul Newcombe Floor: Avril McQueen with Bill Rogers, Jack Parker-O'May, Jon Stephens, Philip Lethlean with Grace Lethlean.
---
PEOPLE
: