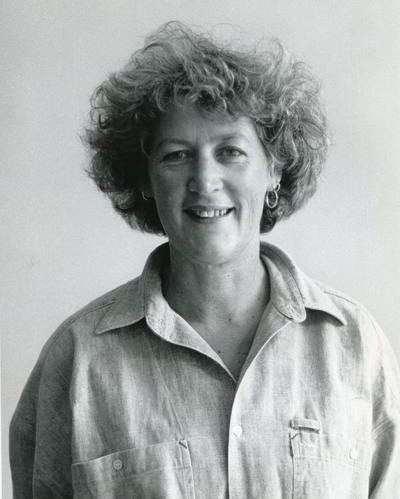 Photograph: © Jon Conte, 1984
Trina Parker came up the stairs to Handspan's studio in late 1979 looking for rentable desk space from which she could work as a freelance designer. She became a key member of the company and although she found another personal studio after a year or two, she occupied a Handspan desk on and off for over 10 years.
Trina had been a core member of Children's Arena Theatre1 for some years and in 1980 was its Chairperson. For a designer, she knew a lot about small theatre company administration and, happy to spread across two desks, she took over Handspan management from Helen Rickards, in loco parentis, on several occasions (in 1980 - 82) while the latter was on tour.
Trina was a terrific manager and a wise voice of reason amidst the passions and insecurities of the fledgling company members. It was she who organised the company to formalise its structure and become a membership-led company-limited-by-guarantee in 1982. Her project planning, correspondence and record keeping were assiduous. She was my first and my most influential mentor, claimed Helen Rickards, She was one of a rare breed at the time - a rational, reasonable, and organised artist 2
In 1986, when Helen had announced her resignation as Executive Director, Trina was persuaded to take on the role. Although titled 'Artistic Director' Trina wrangled the dreams and visions of Handspan members to create annual programs until 1990. She shared the company's transition to actual leadership by an Artistic Director, and was Co-Artistic Director with Peter J.Wilson for a year before the company made its first outside appointment to the position in 1991, (David Baird).
Under Trina's leadership, Handspan Theatre became a professional arts organisation. Her skills and ambitions matched well with Handspan's vision and position in the industry. She led the company over the tricky chasm over which many similar organisations founder after their first decade; and maintained its spirit of collaborative adventure that created some extraordinary theatrical productions. She trained and worked in outstanding partnerships with company administrators Stephen Armstrong (1986 - 1988) and Vivia Hickman (1989 - 1993).
Trina's bold design style won her accolades across genre and scale in the Australia theatre industry.
She came to Handspan with the experience of design with Children's Arena Theatre, including the internationally acclaimed The Serpent's Fall for Arena Theatre, Fairground Snapz for the popular Last Laugh Theatre Restaurant in Fitzroy, and design commissions from Melbourne's Playbox Theatre.
While Artistic Director at Handspan, she designed the company's new work for school audiences, Out for A Duck, a major work for 1989 Banquet and its annual contribution to Melbourne's Moomba parade the animated Moomba Logo that headed the Parade, in the following year. Her designer's eye and her professional design skills contributed hugely to the creation, development and construction of Handspan's visual theatre repertoire - particularly in the works she produced as Australian Bicentennary commissions (1988). - Waves of Change, a large-scale spectacle production, performed in a swimming pool, which she also directed; and Four Little Girls which subsequently toured nationally and internationally for a decade.
Trina was a leading advocate for issue-based Australian theatre and a member of peak body arts committees at State and Federal levels. She left Handspan to take up the position of Head of Design at the Victorian College of the Arts in 1991.
At Handspan's 21st birthday celebration, Trina said she might almost be ready to look back at the highs, lows and turmoil of her years at Handspan. Unfortunately time passed, an interview got cancelled and her own reflections were never recorded. Hopefully her voice will be found in further research through Handspan documents of the time.
Trina died in 2005. More details of her life and work can be found at Katrina Parker
---
Footnotes:
1
Children's Arena Theatre Est. Melbourne 1960s now re-named Arena Theatre.
2
From unpublished: A Handspan of 25 Years, Helen Rickards, 2008