Co-production
HANDSPAN THEATRE with GREG TEMPLE and MILDURA ARTS CENTRE
Project dates
August 1978
23 July – 12 August 1979
Venue
Murray River, Mildura, Victoria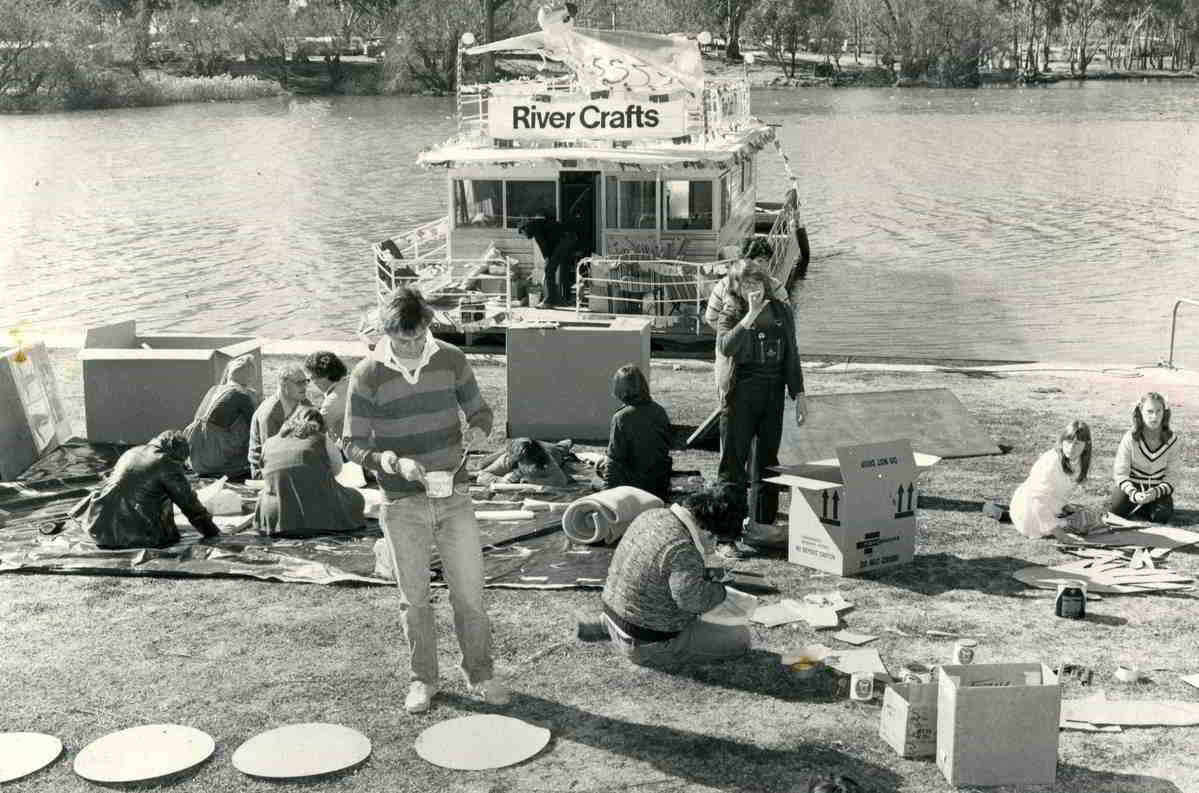 Rivercrafts
John Rogers
(Foreground, standing) Murray River, Mildura.
Photograph: © Don Turvey,Sunraysia Daily 1979
::
A ship of fools making the River of Life, as the Murray is called, pretty lively.
John Larkin, The Age, Melbourne, 8 August, 1978


RIVERCRAFTS was the brainchild of Gwen Stainton, Community Arts Officer from the Mildura Arts Centre, and Greg Temple, an American puppeteer living in Adelaide, South Australia.
Hearing of the project in early 1978, Handspan invited themselves to participate in the project as assistants to Greg, and, when accepted, Helen Rickards and Ken Evans joined the RiIVERCRAFTS team.
The three-week long project was conducted from a houseboat on the Murray River which accommodated the team and was their workshop base, moving up and downstream from Mildura to Wentworth and Renmark. Daily workshops were held with primary school students on the riverbanks of small towns en route
The project proved to be a stimulating and successful partnership between all involved. Greg introduced Handspan, as well as the students, to his simple and effective foam carving techniques for puppet construction, and Ken and Helen added new dimensions to his workshops creating dramatic improvised performances and visually integrated processional imagery with participants. The river, its flora and fauna, local characters and issues appeared in stories and innovative processional tableaux from enthusiastic students and teachers, expressing their world with extraordinary objects.
Puppeteer Greg Temple with his crew bring a little magic to children on the Victorian and New South Wales riverbanks near Mildura
Press release: City of Mildura Arts Centre, July 1979
The first RIVERCRAFTS project took the theme River Life and invited students to represent their local environment and issues in images and stories.
The event culminated in a public procession through the streets of Mildura followed by a showcase of students' puppet plays on the Mildura Rowing Club Lawns. In a grand finale, a flotilla of rafts made by each school and peopled by their puppets, was launched. The rafts were borne upstream by the flagship houseboat, as a large balloon dangling model cut-outs of the Rivercrafts team, led an 'all school' balloon release.
RIVERCRAFTS '78 travelled the Murray from Mildura to Renmark in one direction and Wentworth in the other stopping for workshop days with communities in between. Riverboats travel slowly and in winter, the daylight hours short and chilly so the venture had some discomforts - often involving sandbars and mud in the river - but it was a rare experience with exciting outcomes.
All involved were keen to repeat and enhance the project in the following year.
The second year of the project was collaboratively led by Greg, Ken and Helen and added a rainbow theme to the project – schools devised their imagery and storylines created around a theme of ''Multi-nations" - each group restricted to one colour of the spectrum in their imagery.
This being the 'International Year of the Child' we want to point out not only the 'differences' we can all learn from each other, but also the similar characteristics we all have in common - whether it will be Blue, Yellow, Purple or Potato.
Greg Temple: Preparatory Notes to Participating Schools, 1979
Each group again created both short puppet performances, and collectively each school built large processional images to represent their local icons for inclusion in the final day street parade.The parade, devised by Ken and Helen (Rivercraft Parade Plan 1979.), stretched a town block in a rainbow ribbon. It was led by Greg's early experiment with air-filled images: a giant multi-coloured gnome. As in 1978, the Mildura Lawn riverbank became a performers' circle where all exchanged showcase presentations of their work after the procession.
In 1979, participating schools and communities were closer to Mildura along the Riverbank and included Mildura Technical School, Christie Centre Special School, Dareton Primary, Buronga Primary, Gol Gol Public, Sunnycliffs Primary, Colignan Primary and Koorlong Primary Schools. The crew had another pair of hands on board to lead the daily riverbank puppetry and performance workshops. nevertheless, the river and on-water boat management still held its surprises.
Fortuitously, in the two years, six weeks of winter outdoor workshops and presentations beside the river were never rained out!
Participation in RIVERCRAFTS was a significant influence in Handspan's artistic development confirming the fledgling collective's belief in the power and impact of animated visual imagery on the streets; its accessibility as a tool in drama and play-making with students and communities; and the creative excitement of one-off community performance.
---
Scroll back to Click Tab: The People
Creative team
Director
Greg Temple
Producer
Gwen Stainton
Design assistant
Ken Evans
Creative assistant
Helen Rickards
Workshop assistants
Linda Stainton (1978 & 1979), John Rogers (1979)
Finale assistants
Gay Reid & Paul (1978), Avril McQueen (1979)
---
Scroll back to Click Tab: The Production
HandMade
: