| | |
| --- | --- |
| Premiere | 22 September, 1987 |
| Venue | Le Joke, Spoleto Fringe Festival, Fitzroy VIC |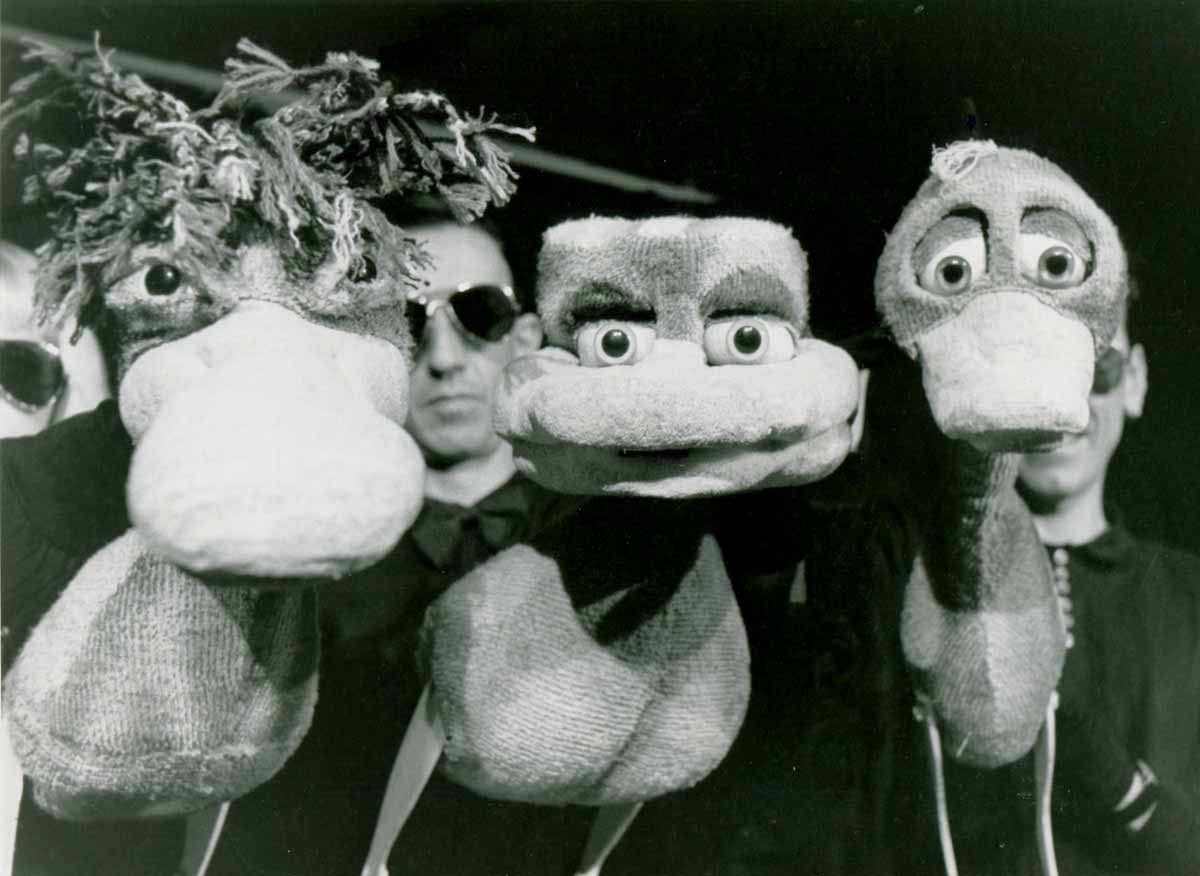 Photograph: © David Herd, 1987
---
One fowl night out, in a place not far from you, in a time closer than you think …puppetry and duck madness!
Le Joke publicity flyer

DUCK was created by its performers with Melbourne based comedy writers, to be a flexible repertoire of sketch routines for cabaret venues.
The project involved the Handspan performance ensemble in new creative experimentation and professional development. It aimed to explore both the genre of comedy, and continue the company's investigation of the meeting place between words and visual imagery in making new work.
Performers and director, Frank Italiano, workshopped script ideas with local comedy writers, Wendy Harmer, Maryanne Fahey and Ian MacFadyen. Sketches were devised for performance spots in the local edgy venues in Fitzroy, where try out nights abounded and artists grouped and regrouped. Segment outlines evolved from the workshop sessions which were linked as DUCK for showcase previews at the first Melbourne Spoleto Fringe Festival1 .
DUCK was devised at the same time as the school show Out for A Duck, both works featuring Avril McQueen's 'duck speak' – or Donald Duck voice - itself a humorous vehicle for comic diversion – and hence the titles. Vignettes combined verbal and visual puns in sketches where puppets mixed style and scale operated by actor/puppeteers – the latter unhooded, but 'disguised' in sunglasses.
DUCK's tryout performances at Le Joke received a mixed response, Gideon Haigh, in the show's single review, found the production overall
was a little too preoccupied with exploring the genre of puppetry and failed to generate any specially interesting material.
Gideon Haigh, The Age, Melbourne 26 September, 1987

Segments of the production were refined in further spot performances in late night programs in true comic tryout fashion. Some formed the basis for their performers' independent acts and others appeared when appropriate as companion pieces to Out for A Duck. Some were considered lame ducks, and abandoned.
---
1
Formerly Piccolo Spoleto and subsequently absorbed into the Melbourne Fringe Festival
---
Scroll back to Click Tab: The People & The Performances
---
| Creative team | |
| --- | --- |
| Script consultants | Wendy Harmer, Maryanne Fahey, Ian McFadyen |
| Director | Frank Italiano |
| Story Editor | Wendy Harmer |
| Puppet design & construction | Annie Wylie, John Rogers, Rod Primrose, Avril McQueen |
| Musician | Elizabeth Jamieson |
| Seasons | |
| --- | --- |
| 22 - September, 1987 | Le Joke, Last Laugh Theatre Restaurant, Fitzroy, Vic |
| Total performances | 11 |
| Total audience | 860 |
---
Scroll back to Click Tab: The Production
---
Vignettes
: