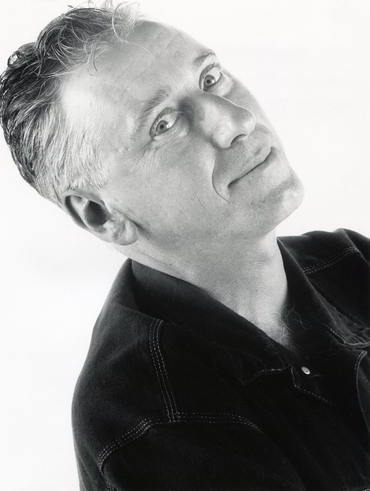 Photograph: © Ponch Hawkes 1995
---
Rod was a member of Handspan Theatre for 15 years, a creative participant a conceptualiser, performer, puppet maker or designer in almost all of the company's productions during that time and a Board member for several years as well.
Growing up in Sydney, Rod trained as a drama teacher and was interested in mime and animation. He became fascinated by puppets, both their technical workings and their performance capacities and the psychology of the moving image1
He trained with Terrapin Puppet Theatre in Tasmania and came to Handspan in 1987, joining the company and performing in Out for A Duck.
Rod appeared in key roles in Handspan productions from 1987 - 2001. He may have been thrown in the deep end, in the role of MC in Handspan's bicentennial production Waves of Change, performed in a swimming pool, but he was the only member of the company who didn't have to get wet, during its performances held outdoors on chilly early spring nights. In the same year, he was an original cast member in Four Little Girls and in 1990, he played the Carpenter in The Wooden Child. In the following decade, he participated in almost all company productions, performing in its last touring production Lift 'Em Up Socks in Vienna in 2001.
Rod made many of Handspan's puppets and performance images during his years with the company and explored their techniques and operation in several Vignettes sketches. Outside Handspan, Rod also worked with the Australia Children's Television Foundation's program for ABC TV, Lift Off; Nigel's Triffitt's Moby Dick and Skylark Theatre's Inside Dry Water.
With other Handspan members, designers Cliff Dolliver and Paul Newcombe, Rod co-founded Black Hole TheatreBlack Hole Theatre in 1993, and developed new visually based theatre there while still remaining an active and performing member of the Handspan company.
---
Footnote:
1
Black Hole Theatre biography 2016
---
---