| | |
| --- | --- |
| Premiere | 21 January 1983 |
| Venue | The Space Adelaide Festival Centre, Australian International Puppet Festival |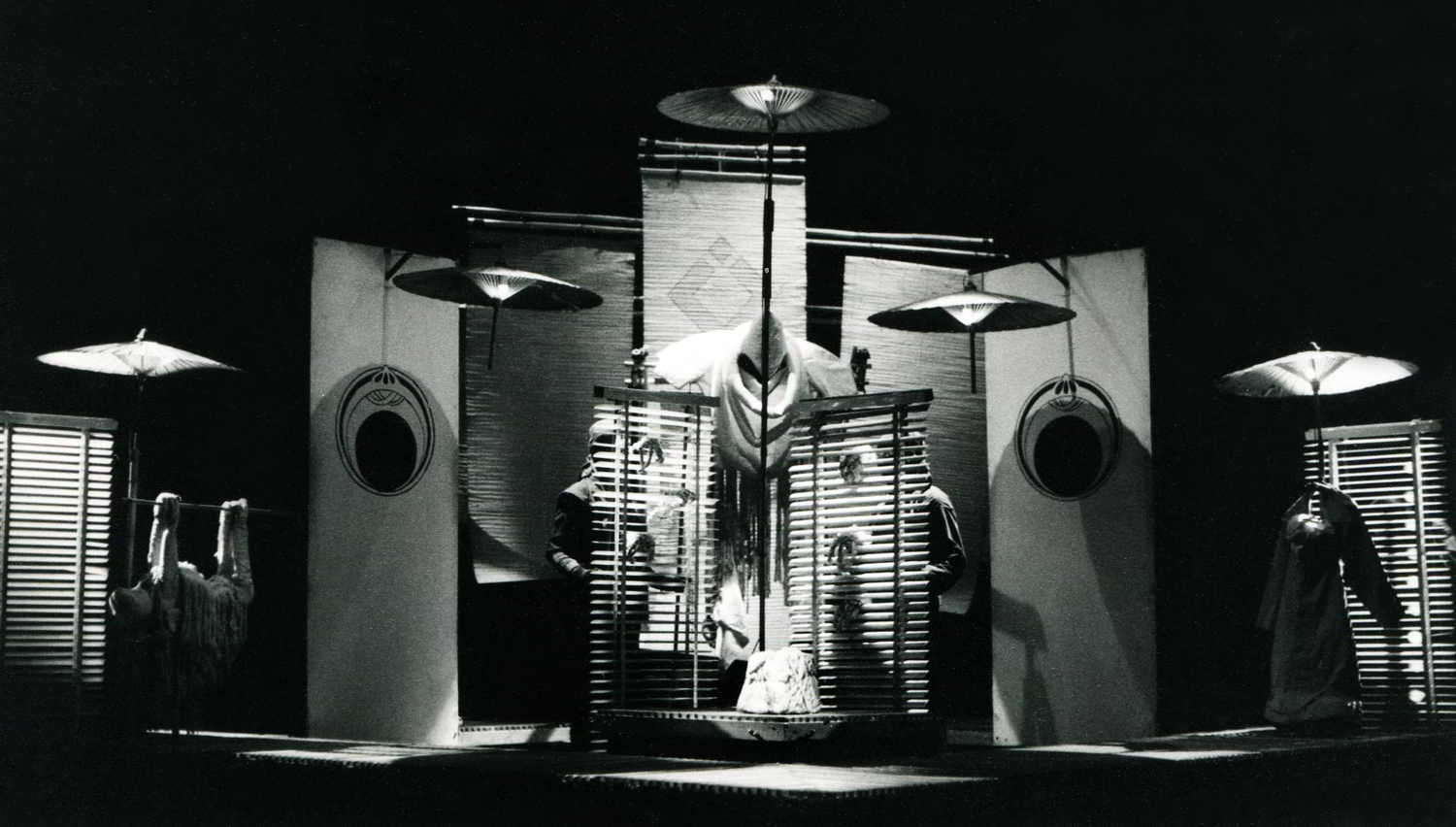 Photograph: © William Struhs, 1994
---
No longer is the puppet merely the extension of the hand and no longer is the puppeteer Bunraku invisible. Handspan comes out from behind the black gauze to expose the puppeteer as actor. The actor becomes icon; icon becomes deity'
Prof. Ernest Mauer, Dominion University. Norfolk, USA, ''Spoleto '84'' Journal unknown,1984


SECRETS' stellar career began with a Best Production award in its premiere season at the 1983 Australian International Puppet Festival in Adelaide, and from then toured in Australia, Europe and the USA until 1986. It spearheaded Melbourne's connection with Italy's Spoleto Festival (and the creation of the Melbourne Festival), and helped pave the way for small Australian companies to tour internationally – a rarity at the time.
Devised, designed and directed by Nigel Triffitt in collaboration with the Handspan ensemble in 1982, enigmatic, innovative, and provocative, SECRETS was a landmark production in the company's development. It was its first Mainstage production and from the outset, an extraordinary work, that brought both Handspan Theatre, and Triffitt, Australia-wide and international recognition.
Lauded and lambasted, SECRETS polarised audiences, provoking responses ranging from "a visual symphony" to "industrial strength twaddle". To anyone who sought a definitive explanation of SECRETS' polymorphic parade of imagery, Triffitt's reply was "If you want a story, go read a book."
Staged with puppets and visual imagery in a kaleidoscopic design of universal and multicultural symbols, SECRETS was performed to a soundtrack that mixed popular music and contemporary voice-over snippets in a pulsating and dramatic continuum. Its themes of anger, alienation and despair referenced the global and universal issues of assassination, terrorism and survival, as topical in the early 1980s as they are relevant in the 21st century.
It was an ambitious dream for all concerned, one that created a unique theatrical production and it's influence has become legendary.
---
Photograph: © Cathy Koning, 1982
---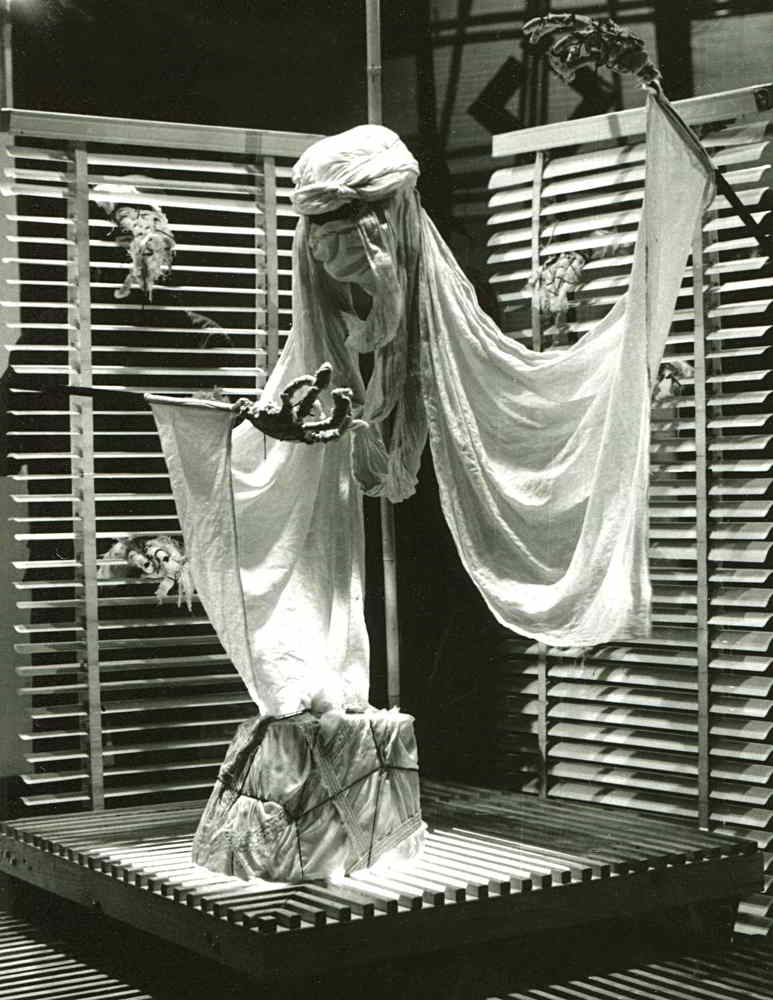 The Arab in the hotel room'
Photograph: © Cathy Koning, 1982
---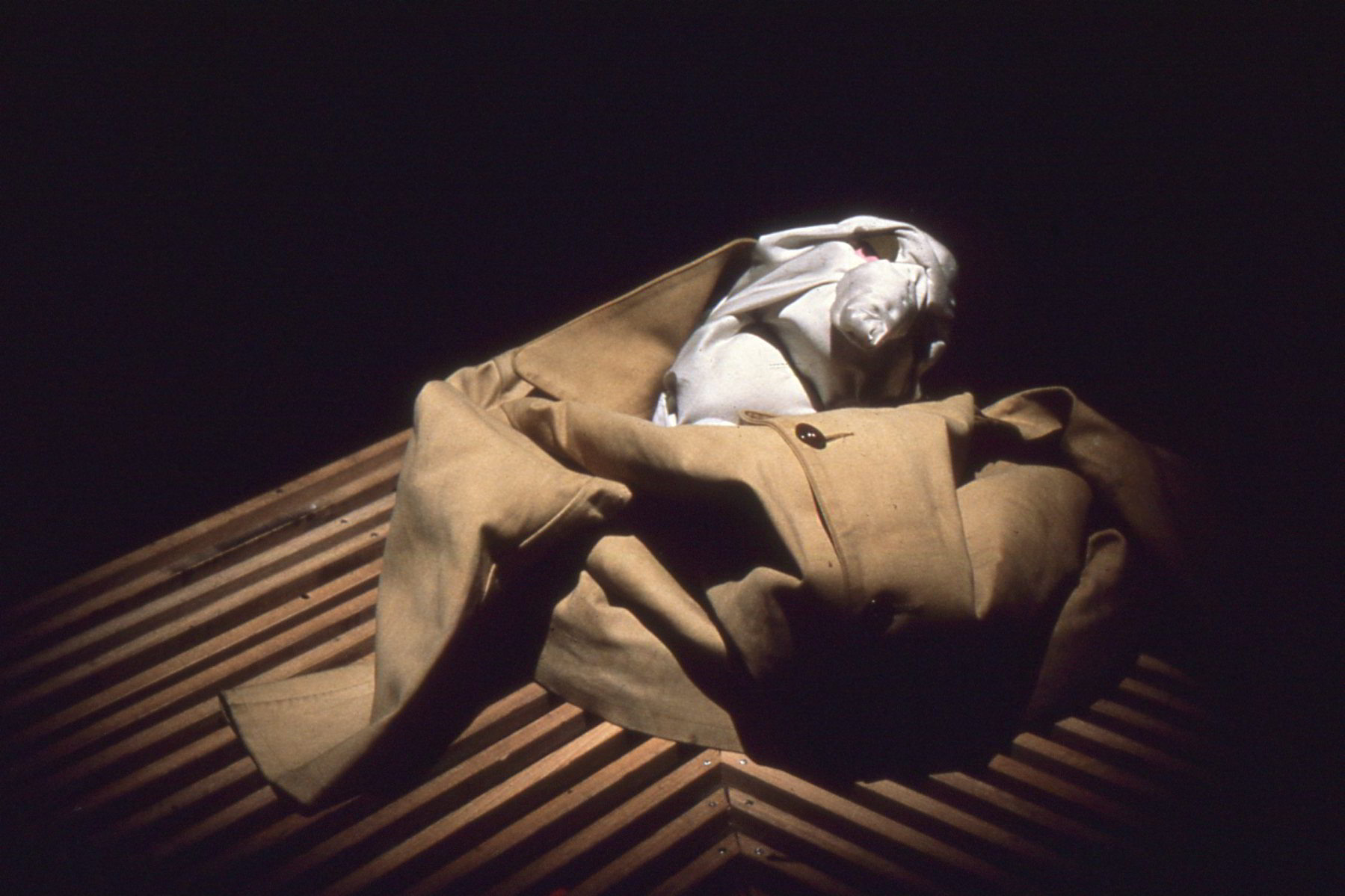 Secret Self alone in the trenchcoat
Photograph: © Stephen Hall, 1983
---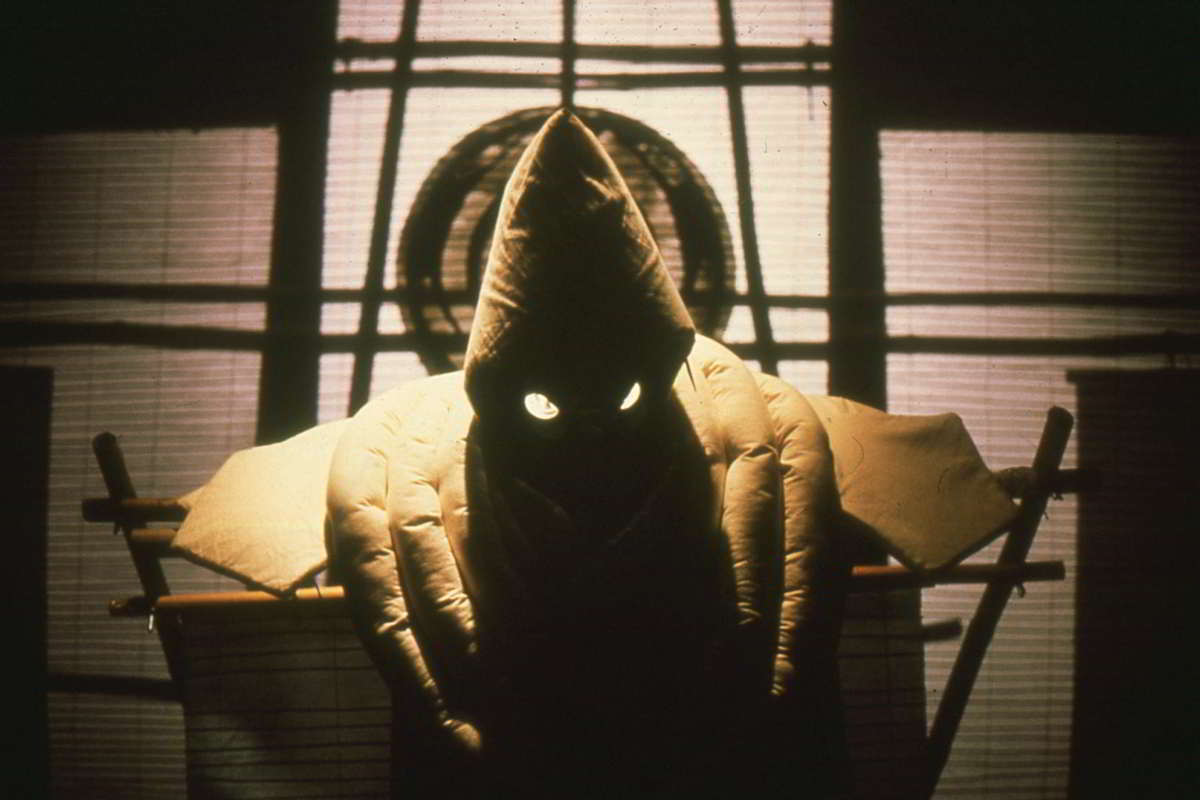 Photograph: © Stephen Hall, 1983
---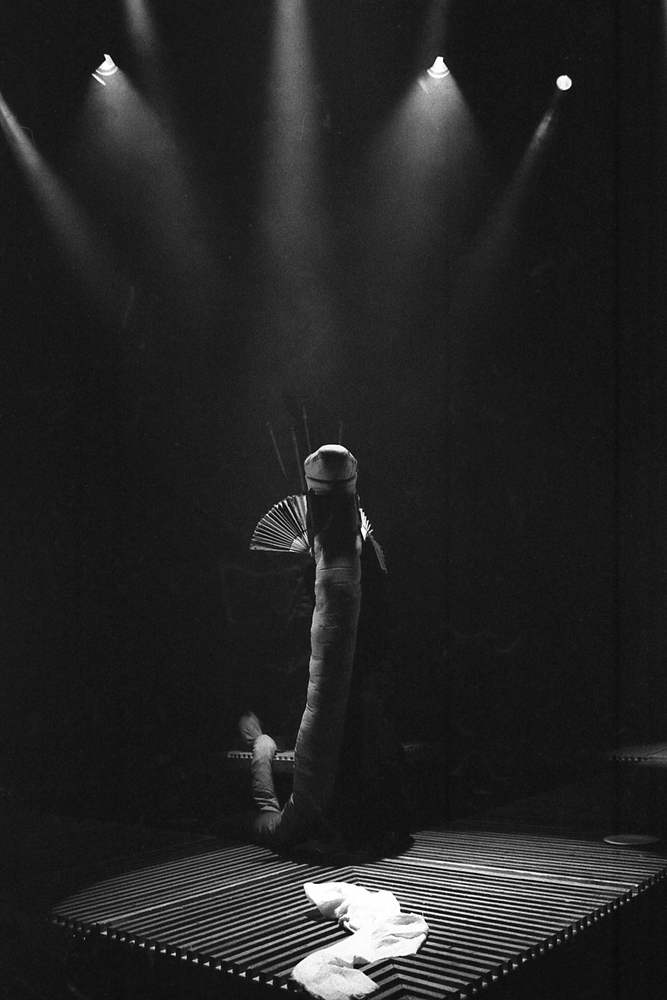 Photograph: © Ken Evans, 1983
---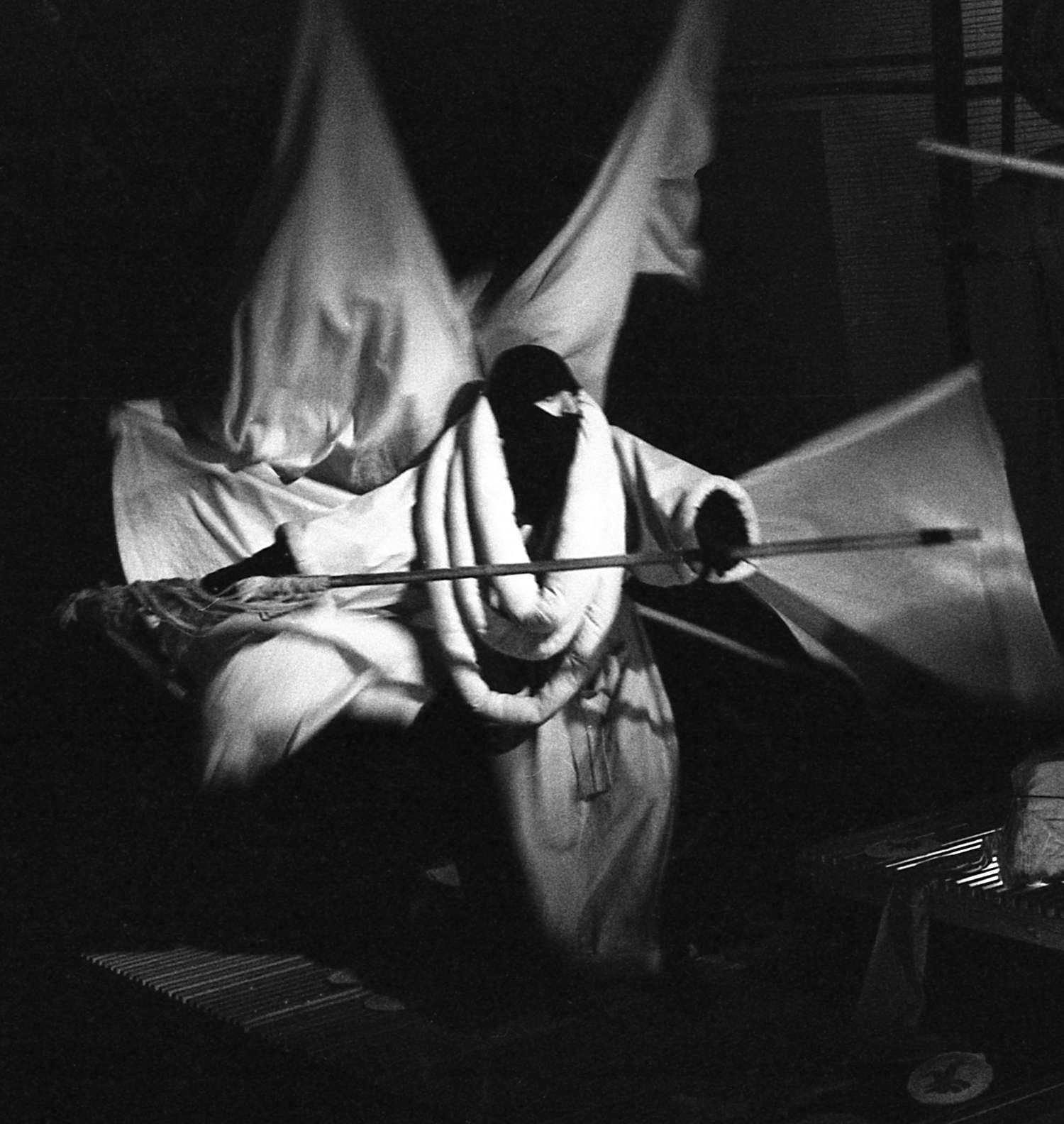 Photograph: © Maeve Vella, 1983
---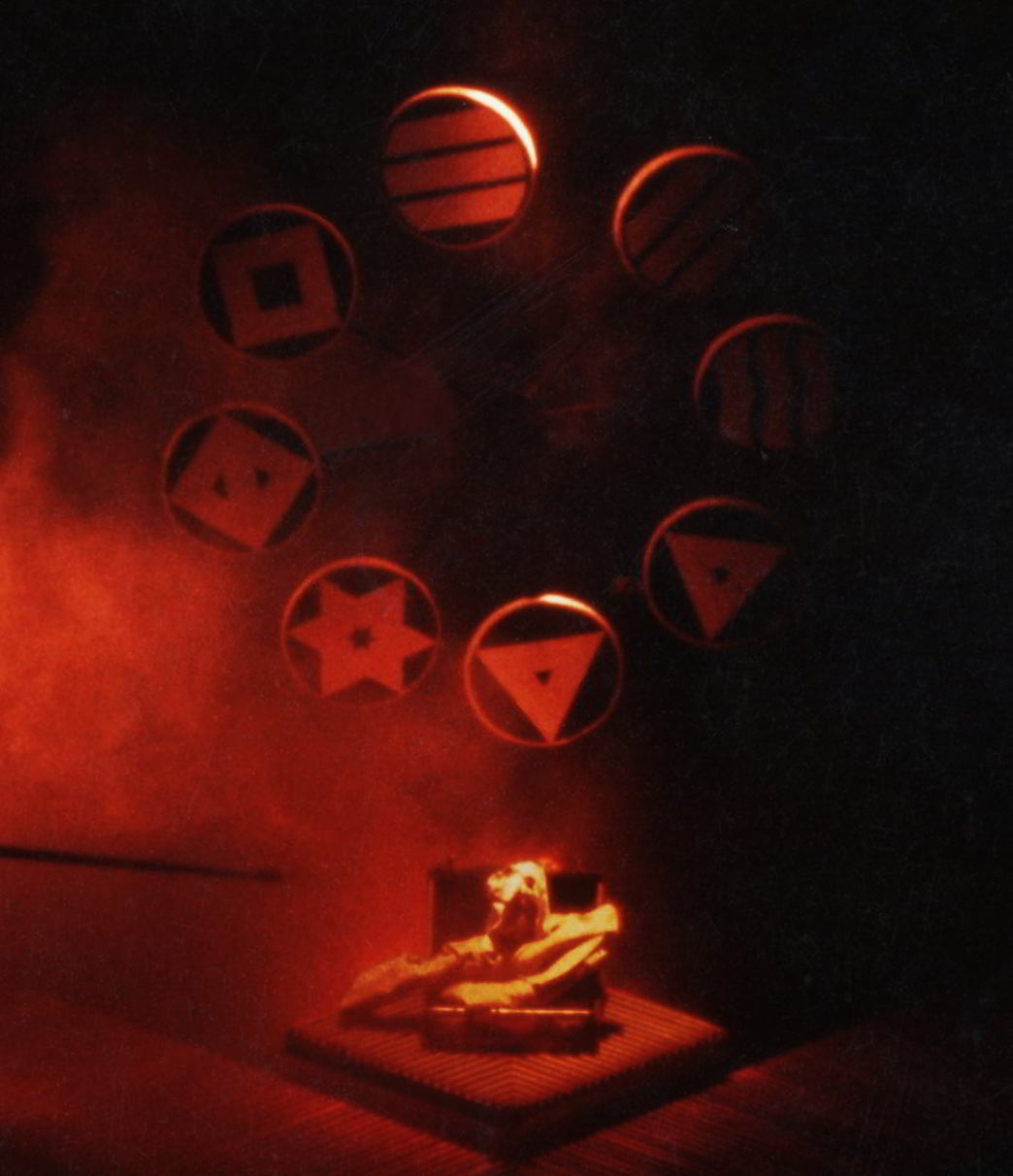 Secret self inert as symbols circle
Photograph (detail): © Anna Sherbany,1984
---
The concept for what was to become SECRETS evolved from discussions between Helen Rickards, Ken Evans and Nigel Triffitt in a series of meetings in Edinburgh in 1980.
Collectively they aspired to explore contemporary, confronting global issues through staged imagery. Triffitt's previous work with the Tasmanian Puppet Theatre Momma's Little Horror Show (1978) had sparked his interest in trying to find a visual language1 in his work. Helen and Ken were keen to create develop the form of Momma's ... to create an equally entertaining, but conceptually more substantial, new production. Influenced by their various months of travel, the work was conceived to represent a perspective on contemporary world tumult through visual metaphor and symbols. It was to be produced for touring to Australian audiences (initially envisaged to fit in a Kombi van!), and potentially overseas as well.
With a small project grant2, Handspan was able to commission the work to be developed with the company ensemble in 1982. Triffitt brought his draft soundscape and conceptual drawings to the studio/workshop where he harnessed the performance and technical strengths of the ensemble in a focused collective development process. Under the working titles, Rough Cut and Yassassin, SECRETS evolved over two intensive workshop/rehearsal periods between which Triffitt finalised the soundtrack and built his models based on the staging and imagery that had been created in the rehearsal room.
Triffitt described the play's concept:
I can't sum it up other than to say it's connected with terrorism. It's connected with getting that angry and that frustrated that you could pick up a gun and start shooting. Now this is not an adult way of going about solving problems, so I suppose the show is about – it's legit to go through that range of emotions, but obviously you have to come out at the other side, and that's the rebirth thing at the end of it. I wanted to reflect a state of mind…I wanted to say well here are these emotional conditions … can I find a visual language which will somehow translate to other people what it's like to have these feelings. If I could sum it up in words, I would have written a pamphlet or a book on it. I'm not able to sum it up in words, I can only sum it up in pictures … if you want a story, go read a book.
Nigel Triffitt: SBS News,1983

Immediately after the play's first preview showcase in June 1982, Nigel was told of his adoption at birth, previously a family secret. It was this momentous personal revelation that not only gave the play its title, but deepened the drama and poignancy of the work. Never explicit, its undercurrent connected the universality of imagery with raw personal emotion that contributed to the production's subsequent palpable artistic impact.
Triffitt explained that when one finds out one is adopted, one goes through a number of emotional states. Anger is one of them. And I translated that anger into a kind of brief examination of terrorism and violence
Bruce M. Smith Sun News, Myrtle Beach, South Carolina, 6th June, 1984

SECRETS' soundtrack mixed fragments of voiceover from documentaries, newsreels and broadcasts with excerpts from contemporary music and was played at loud volume. One US commentator wrote: It intersperses music and noise with the voices of assassination victims like Martin Luther King and John Lennon; the audio on Lee Harvey Oswald's shooting by Jack Ruby and various radio announcers' report of the Kennedy shootings3
The show was a series of choreographed tableaux: black ninja-clad operators trapped the exquisite Fan Lady in a Star of David; an empty trenchcoat revealed disembodied secret-selves; oriental warriors jousted in a stylised battle; a pram appeared pushed by an Arab Sheik; a traveller followed a phallic serpent; a sloth licked a high-heel shoe hanging at the stern of ship as it slowly revolved to reveal its monkish figurehead.
Triffittt's approach is that of an imagist who paints in light and sound, drawing on his subconscious for inspiration
Leonard Radic, The Age, Melbourne, 1 March,1983
---
Things are never what they first appear to be. Puppets appear in midair, heads float across the stage; a baby carriage rolls on stage apparently pushed by a puppet figure, but the figure proves to have only head and arms and is really being pulled by the carriage. Each scene subtly shifts through a slow movement, where the images build and mutate with a fascinating, unexpected rhythm, to a sharp snap of light and all is gone – immediately replaced or transmuted to start another episode.
Carl Babcock, Review, The Evening Post, Charleston, S.C., USA, 31st May, 1984

SECRETS was developed by its original cast: Andrew Hansen, John Rogers, Peter J.Wilson, Carmelina Di Guglielmo and Ian Cuming. Lizz Talbot and Winston Appleyard respectively, took on the roles of the Fan Lady and the Black Samauri after the opening season and for its 264 performances in the following five years, the touring ensemble remained intact. All had creative ownership of the work which made it a compelling ensemble presentation.
Handspan handle Triffitt's dream with tender love and theatrical expertise
John Larkin, Sunday Press, Melbourne 19th June, 1983
---
Each effect is so complex its pleasure doubles back like an undertow when you finally figure out how it is achieved
Robert Massa, The Village Voice, New York, 31st July, 1984
---
it was performed with unnerving exactitude
Peter Whitebrook, The Scotsman, Edinburgh, 31st July, 1986

SECRETS development took up much of 1982, but both Triffitt and the ensemble were excited by, and committed to, the work, and with the time, if little money, continued to experiment with and and refine the ideas and techniques in the work. it premiered at the Australian International Puppet Festival in January, 1983 at the Space Theatre in the Adelaide. There its lighting design and plot were with created with Lorraine Wheeler from the Festival Centre's production team and its opening was to an audience of puppetry peers as well as the general public.
SECRETS first review was headlined:
Watch out! Here's a mind stormer!
Alan Roberts in Adelaide (The Advertiser,1983)

The place of the work in puppet theatre was widely discussed:
''Secrets great strength is its non-verbal attack on the creeping complacency of mainstream theatre … Punch and Judy fans will probably be the first to acknowledge that Nigel Triffitt's Secrets has hurled the art of puppetry irretrievably into the twilight zone
Bruce Dickson: National Times, Sydney,12 October, 1984
---
Nigel Triffitt tried to look on humanity as a cultural totality: That is why he mixed symbols of different cultures and suggested their common existence. That is why among Japanese screens we saw characters which might as well have belonged to the Christian or to the Muslim world. For the same reason the warriors threatening the world were like some characters of Peking Opera though they were not nationally marked.
Henryk Jurkowski, President UNIMA International, London International Puppet Festival, Animations, June/September, 1984

Gian Carlo Menotti saw SECRETS at the Universal Theatre in March 1983 during its first Melbourne season, and invited the production to his Festival dei Due Mondi in Spoleto, Italy and later to its companion festival in Charleston, South Carolina in 1984.
The Spoleto Festival opening nights of SECRETS were magic and exhilarating occasions.. As the play ended in the Cortille della Rocca in Spoleto Italy, a hush descended on the audience and a fine rain began to drift through the beams from the exposed lighting grid. A suspended, breathless silence held, the finale music sounded, Riders on the Storm, and the performers appeared, pinpointed in the darkness and slowly bowed. The applause began slowly, and built to a crescendo, sustaining for some 7 minutes and finally erupting in shouting and cheers.
In contrast, a year later, on opening night in the Garden Theatre, Charleston there were walkouts during the performance and some booing as well as cheers. As the play ended, many stood and cheered, but others stood and yelled, 'How dare you?' …What do you think you're trying to say here? As Riders of the Storm played out and the house lights came on audience members remained for almost an hour as they stood and argued with each other in furious and heated debate.
SECRETS attracted a plethora of diverse descriptive commentary and explanation. The production was discussed, questioned and argued about in over 100 written reviews and countless radio broadcasts and arts forums around the world, and by audiences for whom it was both engaging and provocative.
Handspan called it a 'ballet of movable objects' and others variously described it as:
'an animated sculpture exhibition'4 ... 'close to the genre of rock video'5 ...'an outstanding work of visual art'6 ... 'a ballet commandingly choreographed'7 ... 'a piece of alternative theatre'8 ... 'an immersion into the world of sensory experience'9 ... 'industrial strength twaddle'10 ... 'a visual symphony'11 ... and 'Variations on a Trenchcoat, played on a Perambulator by a Bamboo Fan'12
Secrets received extraordinary reviews from its international tours:
This show may not give us an understanding of indigenous Australian art but it shows us the diverse cultural influences from which this young country is nourished … this is a work rich in intellectual interest
Paolo Emilio Poesio, Nazione, Italy 8th July 1983
---
The student has become the master: Australia has learned how to find the sounds, images and words to express itself. Australian culture is no longer the nth replication of an Anglo-Saxon world driven by the American model … Nigel Triffitt is the product of this abundant culture, nourished by influences and mixes, of this strange, immense country, with too short a history (200 years!), where everything is still beginning!
Lionel Povert, France (1985)
---
Nigel Triffitt and the Handspan Theater are reprocessing visual tricks from the experimental theatre….the connective material is gossamer-thin and the techniques should be familiar to those who have followed the work of Bread and Theater and Ralph Lee, or have marched in the Greenwich Village Halloween parade
Mel Gussow, New York Times, 6th May, 1984
---
Occidentals cannot regard Orientals with dispassion, least of all after the events of the past 45 years. This applies one would hazard, even more completely to those people of European descent living in the Antipodes. This fascinating show is at the same time a tribute – an offering, an acceptance, a submission, and a theatrical catharsis.
Anne Morley-Priestman, The Stage, London, 1984
SECRETS remained Handspan's most iconic work, despite the success of the company's later works, and was arguably the foundation for the opportunities and achievements in its future as well as being the inspiration for many subsequent artists and theatre workers who experienced its magic.
More than any other Australian work, SECRETS moved puppetry out of its conventions. It showed that visual theatre could speak to audiences anywhere. Its influence was felt in the wider performing arts industry too. Over the years, many artists in Australia and overseas have identified the play as their inspiration: it has been recalled as 'the show that led me into theatre'; 'the play that changed my perception of what made theatre' and 'what made me realise that theatre could say something'.
SECRETS has never been re-staged, it was one of those shows that was of its ensemble. Their last performances, in 1986, were at Commonwealth Games Arts Festival in Edinburgh.
---
Nigel Triffitt: SBS News,1983
Theatre Board, Australia Council Special Project Grant: $20,000
Jacques le Sourd, Gannett – Westchester Newspapers 16th July, 1984
Kay Hartley: Review: Mind-bending images. Centralian Advocate, Alice Springs, 9th October, 1985
Pat Donnelly: The Gazette, Montreal, 15th June ,1984
Alan Roberts, The Advertiser, Adelaide, 24th January, 1983
Ibid
Geelong News, 23rd March, 1984
David Foster, The Riverina Leader, Wagga Wagga, NSW, 19th September, 1984
William Starr, The State, Columbia, June,1984
Carl Babcock, The Evening Post, Charleston, S.C. 31st May, 1984
J.L.L. Johnson: Post-Courier, Charleston S.C. USA 1984
National Times, Sydney,12 October,1984
---
Scroll back to Click Tabs: The People, The Performances & The Pictures
---
| Creative team | |
| --- | --- |
| Devised, designed & directed | Nigel Triffitt |
| Producer | Helen Rickards |
| Staging & image design concept realisation | Ken Evans with original cast |
| Lighting design realisation | Lorraine Wheeler with Philip Lethlean |
| Soundtrack compilation | Nigel Triffitt |
| Sound engineering | Adelaide Festival Centre Sound Department |
| Soundtrack credits | |
| --- | --- |
| Music | David Byrne & Brian Eno; Ultravox; David Byrne; Andy Partridge; Steve Hackett, Talking Heads; Human League; Yellow Magic Orchestra; Orchestral Manoeuvres in the Dark; Vangelis Papathanisiou; Penguin Café Orchestra; Irene Pappas & Vangelis; The Residents; The Doors; Dunya Yunis; Dyara Khan; Habibora Halika; Puk |
| Found Voices | J.G.Bennett; James Dean; Ian Breakwell; Lenny Bruce; Jory Graham; Elizabeth Kubler-Ross; Paul Jenning; Graeme Webb; Mel Oxley; Lowell Thomas; Ron Jenkins; George Martin; John Lennon; Martin Luther Ling; Peter Grimshaw; Nigel Hart |
| Survivors | Robert B.Hudson; Liliana Hughes; Capt. R.N.Hogg; Alice Antell; Jackie Heinz; Joseph Spa |
| Unknown | Announcers, Newsreaders, Eyewitnesses, Doctors, Reporters, Officials & Victims |
| Production team | |
| --- | --- |
| Production manager/lighting operator | Philip Lethlean |
| Stage manager/sound operator | Ken Evans (1982/83); Paul Judd (1984/85); David Hope (1986) |
| Puppet makers | Maeve Vella, Ian Cumming; Ken Evans, Laurel Frank, Philip Lethlean and original cast |
| Construction assistants | Vincent McLellan & Paul Enion (work experience students) |
---
HANDSPAN THEATRE: Nigel Triffitt's Secrets
Photograph: © Stephen Hall, 1983
---
---
Scroll back to Click Tabs: The Production, The Performances & The Pictures
---
| 1982 | |
| --- | --- |
| 17 - 20 June | Showcase previews: Handspan Theatre Studio, Fitzroy |
| 6 - 8 August | Showcase previews: Handspan Theatre Studio, Fitzroy |
| 1983 | |
| --- | --- |
| 21 January – 5 February | The Space Theatre, Adelaide Festival Centre for the Australian International Puppet Festival. National Health Services Association Critics Award for Most Innovative Australian Production |
| 25 February – 19 March | The Universal Theatre, Melbourne the Melbourne Moomba Festival |
| 15 – 25 June | The Universal Theatre, Melbourne |
| 6 – 9 July | Cortile Della Rocca, Spoleto Festival of Two Worlds, 1983, Spoleto, Italy |
| Dec 1983 | Universal Theatre, Melbourne |
| 1984 | |
| --- | --- |
| 5 – 21 January | Off Broadway Theatre, Festival of Sydney, NSW |
| 14 – 16 March | Ford Theatre, Geelong Performing Arts Centre, VIC |
| 3 – 22 April | Palais de Glaces, Paris, France |
| 1 – 5 May | Jeanetta Cochrane Theatre, London International Puppet Festival, UK |
| 30 May - 3 June | Garden Theatre, Spoleto Festival of Two Worlds, Charleston, South Carolina, USA |
| 13 – 15 June | La Biblioteque, Quinzaine International du Theatre Quebec, Canada |
| 13 – 22 July | Theatre D, State College of New York (SUNY), Pepsico Summerfare, Purchase, New York, USA |
| | Australian Elizabethan Theatre Trust tour |
| 27 August | Mildura Arts Centre, Mildura, VIC |
| 4 – 15 September | The Playhouse, Canberra Theatre Centre, ACT |
| 18 – 19 September | The Wagga, Wagga Civic Theatre, Wagga Wagga NSW |
| 21 – 22 September | Civic Theatre, Orange NSW |
| 24 – 24 September | High School Hall, Scone NSW |
| 27 – 29 September | Civic Theatre, Newcastle, NSW |
| 2 – 13 October | Twelfth Night Theatre, Warana Festival, Brisbane, QLD |
| 1985 | |
| --- | --- |
| 16 January – 24 February | Universal 2, Universal Theatre, Fitzroy, Melbourne |
| 24 April | Teatro Due Torri, Incontri a Theatre Portenza, Italy |
| 26 April | Teatro Dante, Incontroaziona '85 Palermo, Sicily |
| 27 - 30 April | Teatro Petruzzelli, Festival Musical a Square Bari, Italy |
| 2 - 4 May | Teatro Verdi, Milano, Italy |
| 6 - 7 May | Akademie der Kunst, Pantomime Muzik Tanz Theatre, Berlin, West Germany |
| 2 - 5 Oct | Araluen Arts Centre, Breakout Festival, Alice Springs NT |
| 1986 | |
| --- | --- |
| 29t July - 2 August | Music Hall, Assembly Rooms, Commonwealth Games Arts Festival, Edinburgh, Scotland, UK |
| 9 - 15 August | Music Hall, Assembly Rooms, Edinburgh Fringe Festival Edinburgh Scotland, UK |
| 2 - 6 September | The Place Theater, London UK |
| 8 - 10 September | Salle Patino, Festival de la Batie, Geneva, Switzerland |
| 12 - 13 September | Palais des Congress, XXIX Festival du Jeune Theatre, Liege, Belgium |
| 14 - 15 September | Centrum de Warande, Turnhout, Belgium |
| 17 - 18 September | Centre Culturel du Hainaut, XXIX Festival du Jeune Theatre Mons, Belgium |
| 19t - 20 September | Kulhurzurkus '86, Nurengberg, Belgium |
| 22 - 23 September | Maison de la Culture, XXIX Festival du Jeune Theatre Tournais, Belgium |
| | |
| --- | --- |
| Total performances | 264 |
| Total audience | 46,027 |
---
Scroll back to Click Tabs: The Production, The People & The Pictures
---
SECRETS was extensively photographed from its creative development and rehearsal at in Handspan's Fitzroy studio (1982) and throughout its national and international tours (1983 - 1986)
The production's most memorable image, The Fan Lady, photographed by Stephen Hall, for the Victorian Ministry of the Arts in 1983, appeared on countless posters and marketing documents across the world.
For me it was a joy to be associated even briefly with Handspan. Secrets was a revelation for me, and even several decades and many, many theatrical experiences later, I can't think of any production that I have found more magical and moving. NT's vision and the amazing skills of the Handspan troupe created something extraordinary there. It was difficult to photograph but we did get some great images to record it

Other SECRETS photographers include:
Cathy Koning, Melbourne, 1982
Fiona McDougall, The Melbourne Age,1982
Ken Evans, Melbourne, 1982 & 1983
Maeve Vella, Melbourne, 1983
Stephen Hall, Melbourne, 1983
David Simmonds, Adelaide, 1983
Lanfranco Gasparri, Spoleto, 1983
Kaye Tucker, Sydney,1984
Chooi Tan, Sydney, 1984
Anna Sherbany, London 1984
William Struhs, Charleston, 1984
---
Scroll back to Click Tabs: The Production, The People, & The Performances
---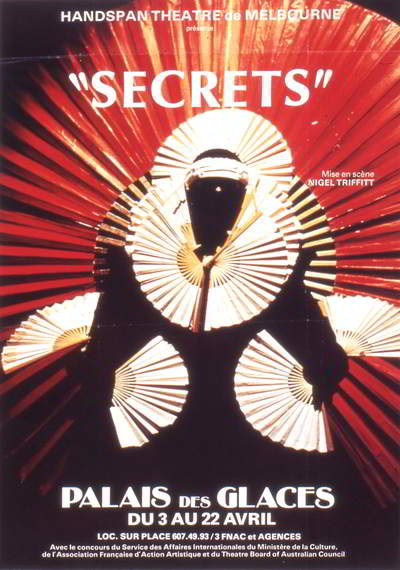 Secrets Poster, Palais des Glaces season, Paris,1984
Design: Palais des Glaces
Photographic image: © Stephen Hall, 1983
Mainstage
: