| | |
| --- | --- |
| Premiere | 20 July 1996 |
| Venue | Randall Theatre, St. Martin's Theatre, South Yarra, Victoria |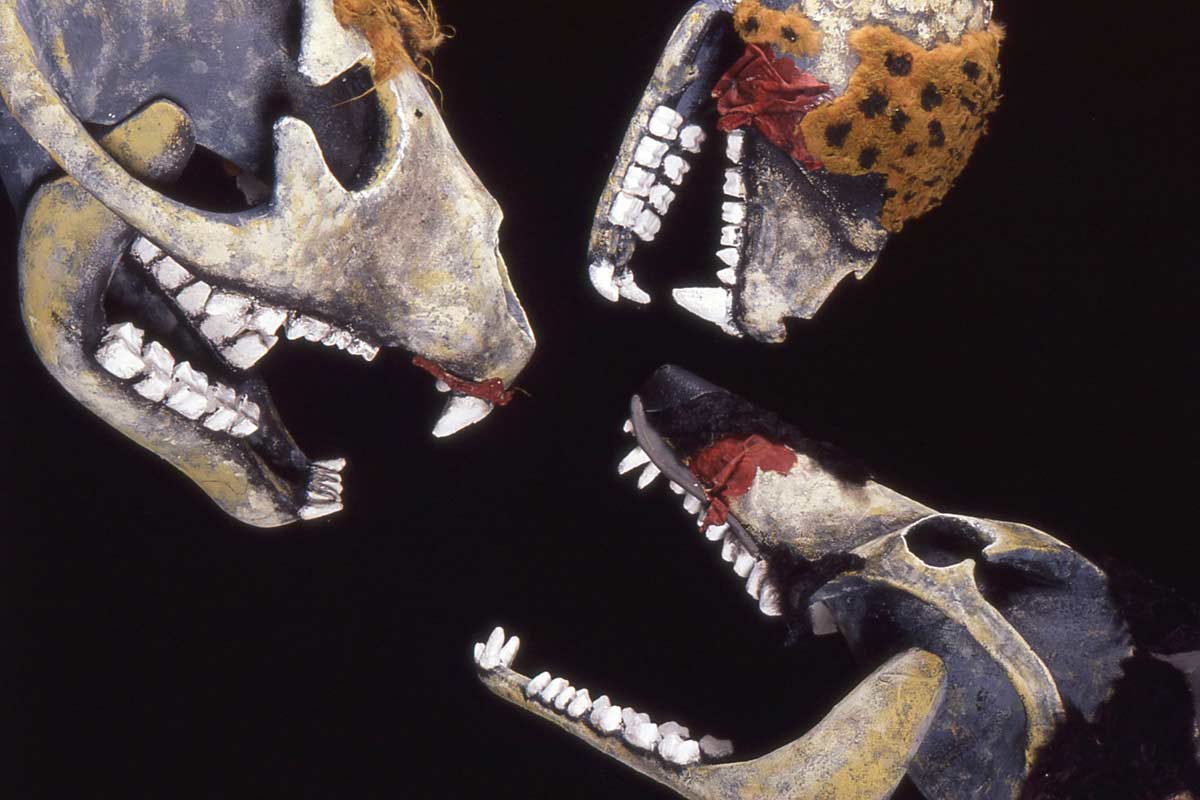 Photograph © Terence Bogue, 1996
---
Performed solely with a truly hideous array of rather brilliantly designed puppets, as well as sound and visual images - the three stages of Dante's epic journey in a modern context
Review: Michael Veitch, The Age, Melbourne, 3 August 1996
DANTE…THROUGH THE INVISIBLE was a visual interpretation of Dante Alighieri's The Divine Comedy.
With its richness of imagery and universal themes, this classic text captured the imagination of Handspan when it was proposed to the company by Carmelina Di Guglielmo who was keen to continue to work with material that reflected her Italian heritage.
The work was originally proposed to be a co-production between Handspan Theatre and the Melbourne Theatre Company, following the companies' partnership for Gulliver's Travels in 1992. Although the play's storyboard evolved from creative development workshops held in 1994 with a collaborative creative team from both organisations, the Melbourne Theatre Company withdrew from the production in 1995.
The resulting production was devised collaboratively by Handspan's artistic director, Ken Evans, (director/designer), Carmelina di Guglielmo, Lizz Talbot and screenwriter, Mac Gudgeon. Stylistically similar to Secrets, Four Little Girls and several of Handspan's Vignettes but unlike those productions, DANTE .. had a narrative line based on Dante's original poetic saga but imagined in a contemporary context.
Lizz Talbot summarised the approach in her introduction to the play's synopsis1 :
In our treatment of the ancient spiritual theme of journeying into the underworld in search of enlightenment, we have made a number of contemporary leaps and have taken certain liberties with the structure and characters found in Dante's original text. The structure of The Divine Comedy with its journey from the dark wood of self-doubt into Hell, Purgatory and Paradise has been retained, but in our production, the three states occur within the same spiritual journey provoked by a particular incident in the life of Joe (the contemporary Dante).
---
---
The Play
Joe, or Dante, the central figure in the production, played by an actor (Michael Butcher) was a soldier, discovered in a jungle battlefield confronting his inner self and on the threshold of a spiritual odyssey through the underworld. Puppetry and animated imagery surrounded Joe on stage visualising his subconscious and his personal demons as the narrative followed his voyage through Inferno and Purgatory to Paradise.
This Dante is no 14th century Florentine but a 20th century soldier groping his way through searchlights and gunfire. His inferno is a battle crazed hallucination, his night of the soul a war-torn nightmare.
Review: Dina Ross, Herald Sun, Melbourne,1996

Philip Lethlean, lighting designer highlighted key figures in the darkness often using miniaturised lighting sources. These 'lights on sticks' as they were known, became puppets themselves, manipulated in concert with looming images conjured from Joe's imaginings. Bestial, phallic and ghostly, they forced Dante into torture and extremis.
Snippets of Aligheri's original text were heard in David Chesworth's hybrid, effects-based eerie score composed for the work.
The latter part of the performance brings to mind an Hieronymous Bosch painting suddenly come to life.
The space for this literally and metaphorically dark production is cleverly used by sparse but effective lighting, which makes the small stage look at times cavernous. The sound, however, tended to descend into a blanket of rather irritating and overdone squeaks and scratches.
Review: Michael Veitch, The Age, Melbourne, 3 August 1996
---
Handspan's focus is on Hell, a surreal landscape of smoky glowing coals inhabited by primitive and robotic beasts, skeletal birds of prey and snapping jaws.
Review: Dina Ross, Herald Sun, Melbourne,1996
---
---
Critical response
DANTE ... was an ambitious and experimental venture for Handspan. Its dramatic interpretation met criticism though its complex imagery was generally applauded.
Such a stripped and single focused reading dilutes Dante's text. In the real comedy, the poet is protected by his muse Beatrice and avoids such horrors.
Review: Dina Ross, Herald Sun, Melbourne,1996
---
Dante is highly polished and visually impressive, but much of the complex and sometimes grotesque imagery left me a little frustrated and unsure as to what it was I was supposed to be looking at. A great deal of it is admittedly symbolic, but symbolic of exactly what seemed to defy even the broadest speculation
Review: Michael Veitch, The Age, Melbourne, 3 August 1996
---
There was no sense of the relationships between Dante and the two recurring puppet characters who accompanied him on the journey. The programme explains that these two are his guide: the poet, Virgil; and the love of his life, Beatrice, but they were ill-defined and meaningless as personalities and didn't move me because I didn't understand what they meant to Dante.
Review: Janet Dalgleish, The Australian Puppeteer, 1996
---
One should not search for too literal an interpretation of Dante, Handspan's imagery always invokes responses on many levels. And anyone familiar with their work will recognise the sleight of hand, masterful puppetry, tricked lighting and haunting sound.
John Ashton: Publication unknown, Melbourne,1996
---
This is gym for the soul. If we have to go back to the fourteenth century to discover the theatre of the future then thank you Handspan for showing us the way.
Louise Adler, In Review, 1996

DANTE - THROUGH THE INVISIBLE played only its opening season at St Martin's Theatre. It was Director Ken Evans' last production with Handspan. By August 1996 a new artistic director, David Bell had been appointed to the company and any future evolution of the project was shelved.
---
Footnotes:
---
Scroll back to Click Tab: The People & The Performances
| Creative team | |
| --- | --- |
| Devised by | Carmelina Di Guglielmo, Ken Evans, Mac Gudgeon, Lizz Talbot. |
| Director & designer | Ken Evans |
| Writer | Mac Gudgeon |
| Dramaturgical assistance | John Romeril |
| Lighting designer | Philip Lethlean |
| Composer | David Chesworth |
| Sound design | Peter Jago |
| Choreographer | Jonathan Taylor |
| Creative development | Cliff Dolliver ,Wayne McCauley, Hugh Wayland, Tom Consadine, |
| | Melanie Beddie, Andrew Hansen, Michele Spooner, Avril McQueen |
| Production team | |
| --- | --- |
| Production manager | Paul Judd |
| Stage manager | Marnie Mc Donald |
| Construction supervisor | David Hope |
| Set/Puppet construction | Katrina Gaskell, Craig Hedger, Rob Matson, Michele Spooner, |
| | Mary Sutherland |
| Consultant aerialist | Simon Mitchell |
| Consultant pyrotechnician | Aaron Beacaire |
| Publicity | Meredith King |
| Graphic design | Jenkins Hall Advertising Pty Ltd |
| Photographer | Ponch Hawkes |
| Season | |
| --- | --- |
| 20 July – 3 August | Randall Theatre, St Martin's Theatre, South Yarra, Victoria |
| Total performances | 19 |
| Total audience | unknown |
---
Scroll back to Click Tab: The Production
Mainstage
: