| | |
| --- | --- |
| Premiere | 26 September, 1989 |
| Venue | U2 Universal Theatre, Fitzroy |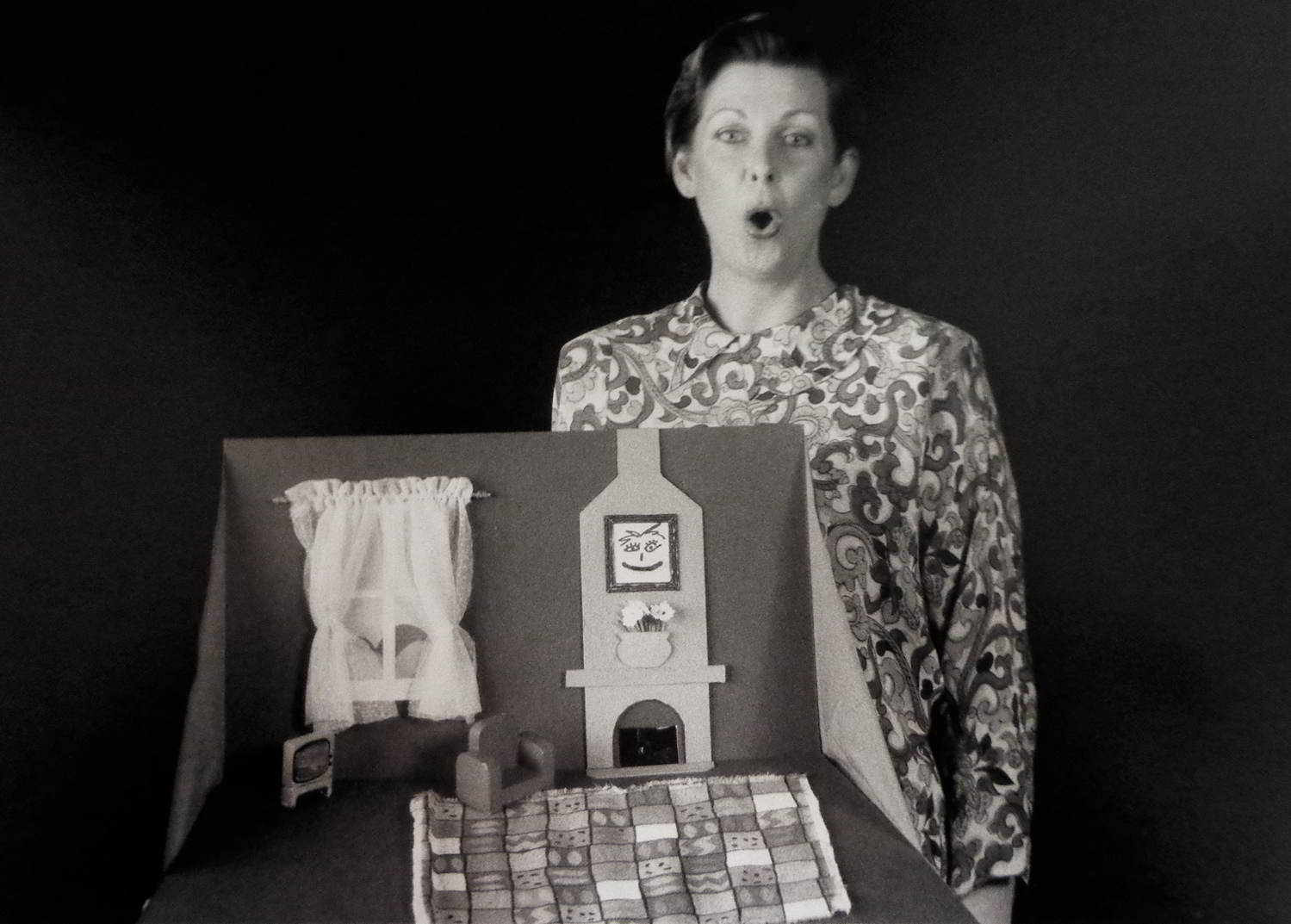 Photograph © Ponch Hawkes, 1989
---
Using puppetry, inanimate objects and song in short solo works, three women rewrite history from the feminine point of view.
Adele Ferguson, The Advertiser, Adelaide, 13 March, 1990

WOMEN ALONE was a collection of vignette acts devised and performed by Handspan woman members.
Conceptually, the pieces were envisioned as object theatre works, presented by visible puppeteers animating existing, 'found' objects and interacting directly with them, a style often presented in table top staging. Handspan had previously explored the form for its versatility in small scale touring in Guts (1984).
French puppeteer Jacques Templeraud, from Théâtre Manarf, was invited to work with Handspan to develop the project. His availability to spend several weeks in Melbourne could not be confirmed however, and participation in a creative development project was offered to Handspan members based on their individual concept proposals submitted to Executive Artistic Director, Trina Parker. When it transpired that the chosen concepts were all from women members, the idea to package the works as a showcase of women's work was born with the title, WOMEN ALONE.
In the end only three of the vignettes were developed to showcase, and these premiered in a double bill with No Right Angles in Paradise for the Melbourne Spoleto Fringe Festival in 1989, followed by an Adelaide Fringe Festival season in 1990.
The WOMEN ALONE playbill included:
Listening for the Heartbeat
Devised and performed by Annie Wylie Listening for the Heartbeat was an original, unaccompanied song cycle performed in three segments - Red Riding Hood, Invitation and I Sometimes Feel So Empty played as entr'actes to punctuate the show. The songs described the cycle of a woman's life - from sexual innocence to knowledge, and finally to self-appreciation and acceptance.
Each song was performed by Annie as she operated simple and comic pop up scenes on her table-top.
The most successful piece was Red Riding Hood, which
... turns the story upside down with the chaste Red Riding Hood having sex with the wolf because she chooses to.
Adele Ferguson, The Advertiser, Adelaide, 13 March, 1990

Then, she survives the supposedly traumatic encounter with Granny and goes on her way wiser and undamaged.
Veronica Kelly, Antnews, Melbourne, April 1990
The Immaculate Contraption
Michele Spooner devised The Immaculate Contraption which showed the journey of an egg trying to be fertilised across three eras.
It goes through a nature period, a religious period and ends up in a technological period where it achieves fertilisation through a weird IVF program. All are periods of worship and it comes out of me asking 'why do women think that it is so important to get pregnant?'
Michele Spooner: Interview with Fiona Scott-Norman, Melbourne, 1989

Spooner's delightful and barbed puppet show introduces the egg and turns it into not just a symbol of fertility, but also of control. She plays both magician and puppeteer, producing eggs by sleight of hand and surprising us with their contents as each meets the fate of all eggs, and opens. The ending is full of ambiguity but one thing is certain for the outcome, or offspring in this case: the dumbcluck parent will love them anyway.
Tim Lloyd, The Advertiser, Adelaide 1994

In an optimistic outcome the egg produces an equine mutant and embraces it.
Veronica Kelly, AntNews, Melbourne April, 1990
The Therapeutist"
Katy Bowman brought her independently created production, inspired by Belgian surrealist painter, Rene Magritte's work, Le Thérapeute to Handspan for WOMEN ALONE.
Developed with Ariette Taylor and, like Ariette's production, Four Little Girls, The Therapeutist aimed to bring the painting to life at the same time as revealing the inner world of the character represented by the image.
Katy Bowman uses herself as part of an animated Magritte painting, unlocking doors and drawers, exploring further into her body/being to uncover its fears and treasures. There can be no ultimate disclosure, just an unfolding series of transformations as the journey into femaleness and self-hood progresses.
Veronica Kelly, AntNews, Melbourne April, 1990

The work tackles the plights of women through the image of the padlocked female body.
Adele Ferguson, The Advertiser, Adelaide, 13 March, 1990

It started with an image and unfolds to become a body filled with objects. Conceptually it took me until the end for me to figure out just what this one was about - it was though, a brilliant piece of puppetry.
Juanita Greville, Shepparton News, 7 June, 1990
---
4 Stars
WOMEN ALONE was well received by both audiences and critics. Its opening showcase season for the Melbourne Piccolo Spoleto Festival at U2, Universal Theatre was sold out and extended for a further week after its Fringe dates.
It is an exploration of the ways in which various women come to grips with loneliness (or just being at home as one piece has it); all four pieces are lovely to look at and they complement the rest of the work in the festival superbly.
Geoffrey Milne, The Herald, Melbourne, 29 September, 1989

At the Adelaide Festival Fringe a few months later, where segments from Moments were included in the work, the season was awarded 4 Stars by The Advertiser critic, Adele Ferguson, and won the paper's weekly Fringe Award for Excellence.
Women Alone explodes the myths surrounding women in a patriarchal society.
Adele Ferguson, The Advertiser, Adelaide, 13 March, 1990

The women of Handspan Theatre present images of femaleness in their Women Alone show. We could be in a totally other world - perhaps we are. Physicality and wit are now used exclusively, pushing at the edges of the unsaid and unsayable in visual imagery rich with promise rather than threat.
Veronica Kelly, Festival Fulminations, Antnews, Melbourne April, 1990

In 1992 The Immaculate Contraptionand The Therapist toured to the UNIMA Congress in Ljublijana with No Right Angles in Paradise and in 1994 Michele independently revived The Immaculate Contraption for a performance at the 3rd International Women Playwright's Conference in Adelaide.
---
Scroll back to Click Tabs: The People & The Performances
---
| Creative team | |
| --- | --- |
| Listening to the Heartbeat | |
| Devised by | Annie Wylie |
| Designed & directed | Ken Evans |
| Dramaturg | Gilly Farrelly |
| The Immaculate Contraption | |
| Devised & designed | Michele Spooner |
| The Therapeutist | |
| Devised & designed by | Katy Bowman |
| Directorial assistance | Ariette Taylor |
| Lighting Design | Philip Lethlean |
| Seasons | |
| --- | --- |
| 26 - 30 September 1989 | U2, Universal Theatre, Fitzroy, Spoleto Fringe Festival, Melbourne |
| 5 - 8 October 1989 | Extended season: U2, Universal Theatre, Fitzroy, Melbourne |
| 12 - 18 March, 1990 | Lion Theatre, Living Arts Centre, Adelaide Fringe Festival |
| | North Shepparton Secondary College, Goulburn Valley Community Music Autumn Series, Victoria |
| 14 - 19 June, 1992 | 16th UNIMA Congress, Ljublijana, Slovenia (The Immaculate Contraption and The Therapist only) |
| 4 July, 1994 | Space Theatre, Adelaide Festival Centre, 3rd International Women Playwrights Conference (The Immaculate Contraption only) |
| Total performances | 26 |
| Total audiences | 700 (excluding 1992) |
---
Scroll back to Click Tab: The Production
---
Vignettes
: