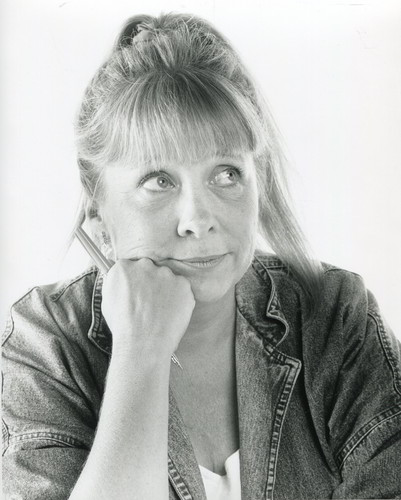 Photograph: © Ponch Hawkes 1995
| Member | 1984 - 2001 |
| --- | --- |
| Board Member | 1986 - 1987 |
| Deputy Chair | 1992 |
| Chair | 1993 |
Gilly (known now as Gilly McInnes) was well-known to Handspan from the company's very early days through her work with The Magic Mushroom Mime Troupe in Melboure and from her solo performances inspired by traditional clowning, for adults and children. Her solo performance character, Mad Hattie shared many performance locations with Handspan at community festivals and events and Gilly created two full-length touring plays for primary school age audiences with her 'mad' clown character, Cafe Mad (1980) designed by Trina Parker, and The Swashbuckling Adventures of Grandma Mad (1981) designed by Ken Evans.
A drama teacher graduate of Rusden State College (1972), Gilly had a commitment to and passion for theatre-in-education and had teamed up with Trina Parker and Arena Theatre in various projects before she came to Handspan as the writer of new works for young audiences in 1987. Over the following decade, she wrote five of Handspan's productions for schools touring to young audiences, including co-productions with the Fitzroy Koori Health Centre. She was dramaturg for Ken Evans' work for adult audiences, No Right Angles in Paradise (1989) and directed it for touring to the Kawaguchi Festval of Australian Theatre in Japan in 1992.
Gilly took on the the roles of Deputy Chair (1992) and Chair (1993) to oversee the transition of the company leadership from its first experiment with an outside Artistic Director appointee David Baird, to the appointment of company founder Ken Evans in the role. Throughout her association with the company she remained a respected artistic voice in company programming and activity particularly leading its work for young school audiences.
Gilly's interest in puppetry and visual theatre as powerful dramatic performance tools burgeoned at Handspan. She has written 28 plays performed by Australian companies including Polyglot Puppet Theatre (Melbourne), Company Skylark (Canberra), Patch Theatre, (Adelaide) and Arena Theatre (Melbourne) - many for puppetry-based performance. She has also written stage adaptations of several classic children's novels, including The Hobbit by J.R.Tolkien for Company Skylark which, with its line of hobbit puppets, toured successfully in Australia in 1997/98 and 2000/01, and was produced by the Children's Theatre Company in Minneapolis (USA) in 2004/05.
Gilly was Artistic Director of Polyglot Puppet Theatre from 1997 -2000 and collaborated in making new work with Handspan colleagues Ken Evans and Peter J.Wilson, at the time Artistic Directors themselves, at Patch Theatre in Adelaide, and Skylark Puppet Company in Canberra respectively.
In 2004, Gilly established the Graduate School of Puppetry at the Victorian College of the Arts in Melbourne with Peter J.Wilson where she remained until its closure in 2009.
---