---
In its 25 years, Handspan Theatre created over 65 new Australian productions.
---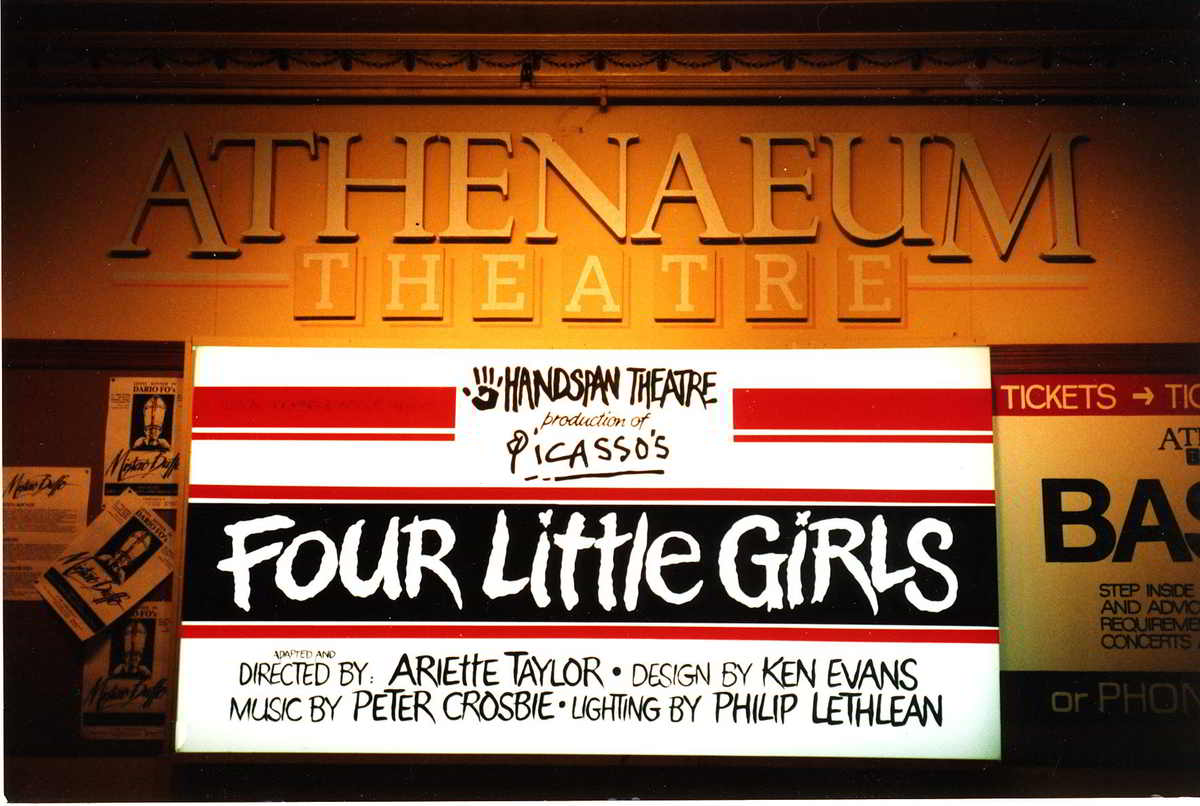 Photograph: © Helen Rickards, 1988
---
Work as original as this challenges some of our assumptions about the way to categorise theatrical performance.
Helen Thomson:
Smalls
review:
The Australian
, 29 May 1986
---
Handspan Productions were always new work. All were created to explore and extend the possibilities of animated design and imagery and although each project built on the skills and innovation of the company's previous work, none followed a formula or sought to emulate or repeat prior successes. The Handspan repertoire spanned a huge range of scale and visual image performance technique. There was a Handspan 'style', but it always surprised.
From the beginning, Handspan aimed not only to push the boundaries of the medium of puppetry, but to make puppetry-based theatre work for adult and general public audiences as well as for the artform's established young audience. Deliberately named 'Handspan Theatre', not Handspan Puppet Theatre, the company made theatre that was both spectacular and adventurous and coined the term 'visual theatre' as early as 1983 to explain its work and its distinction from existing perceptions of 'puppetry'.
For a small and risky arts company, Handspan Theatre's production output was prolific and its audience reach significant and widespread.
Handspan's success was the outcome of a shared artistic vision and collaborative commitment to the creation of innovative and experimental work and the product of a lot of PEOPLE: their energy, relentless dedication, and time.
In its first decades the ensemble skills and artform expertise that were the hallmark of the company's work resided with the artistic membership of the company and it was in this time that the majority of Handspan's signature work was created and toured.
Productions were created from the passions and commitment of members who believed in theatre as a powerful tool for social change. Plays explored human relationships, cultural differences, sex and health, indigenous rights and global terrorism as well as telling stories that engaged audiences in ideas through spectacle and illusion.
---
---
Handspan used the power and illusions of puppetry in original contemporary and topical work and in doing so, explored the possibilities of the medium. Staging mixed traditional puppetry techniques and mechanisms with live actors and visible manipulators in black theatre light corridors and on the open stage. As they began to emerge, new technologies blended with old in the belief that anything could be a puppet. Ideas were currency and new approaches were explored through improvisation and adaptation to multi-audience platforms.
Productions were created for school and community touring circuits; mainstage theatres; intimate cabaret venues; and for streets and parklands. The company partnered with guest artists and co-produced new plays with other arts companies in cross-cultural and cross-genre collaborations that contributed much to Australia's then emerging, 'hybrid performance' culture.
In 1997, Handspan Theatre changed its name and re-branded itself as Handspan Visual Theatre. As the 20th century drew to a close, the newly named company concentrated on investigation of potential new directions through creative development workshops and concept research and produced fewer public shows. Perhaps the perceived need to explain the company with a new name signalled, at least in hindsight, the end of the collective vision. Its loss led to the company's resolve to wind up in 2002 in acknowledgement that the vision was not transferable intact.
There are no more Handspan Theatre productions, but its artists and their protégés continue to evidence much of the Handspan perspective in their work.
Section Guide:
The following sections document Handspan Theatre's repertoire of theatrical work and projects.
| | |
| --- | --- |
| Productions Timeline | Tables the dates of public premiere performances. |
| Mainstage | Includes work for general public theatre goers. Presented from 1983 to 2001, these works were performed in established theatre venues, for independent seasons, in festival programs and on tours to cities and towns in Australia and abroad. |
| For Young People | Includes theatre-in-education plays which remained a key platform for Handspan Theatre until 1997. These productions were performed in theatres, halls, schools and sometimes in outdoor locations, reaching audiences of over 500,000 people and remaining in repertoire for years. |
| Vignettes | Includes programs of short works created for adult audiences and presented in theatres for show seasons. These projects featured the work of individual Handspan member artists within a full production framework. |
| On the Street | Includes productions created for festivals, celebrations, demonstrations and community events and presented in site-specific outdoor locations. |
| HandMade | Includes community projects with artists-in-residence that culminated in both large scale happenings and intimate performances and were led by Handspan artists individually or collectively. |
| Co-productions | Includes works creatively produced by Handspan in partnership with other artistic organisations. Handspan work was always a collaborative artist endeavour, but these productions – which otherwise might be included in the groupings above - are not Handspan's bill alone. |
---
PRODUCTIONS
: