| | |
| --- | --- |
| Premiere | 12 July, 1981 |
| Venue | Carringbush Library Theatrette, Richmond |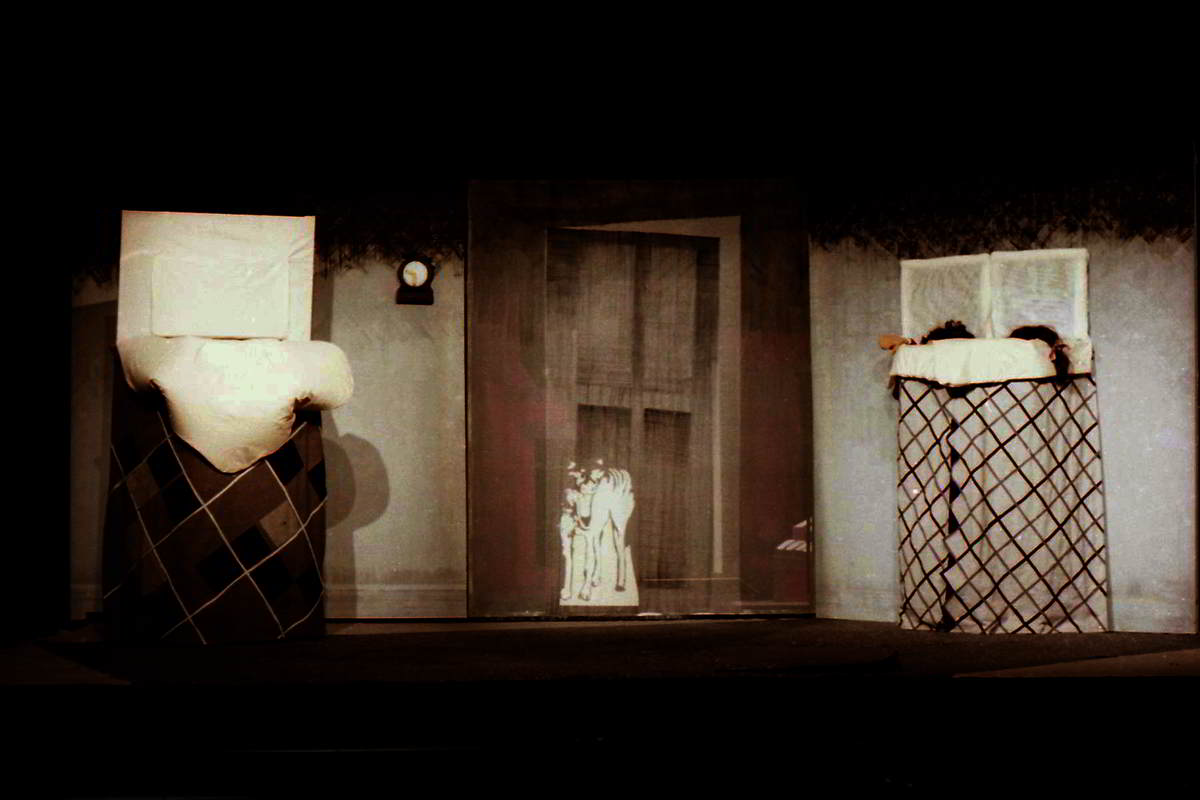 Photograph: © Maeve Vella,1981
An imaginative approach to design and direction including black theatre, strobe-lit melodrama, puppets, live actors and a set which is startling, humorous and functional.
Dan Brewbly, Review: Lowdown, Vol.3 No.4,1981

JANDY MALONE AND THE NINE O'CLOCK TIGER was adapted for the stage by Handspan from the book by Barbara Bolton, illustrated by Alan White1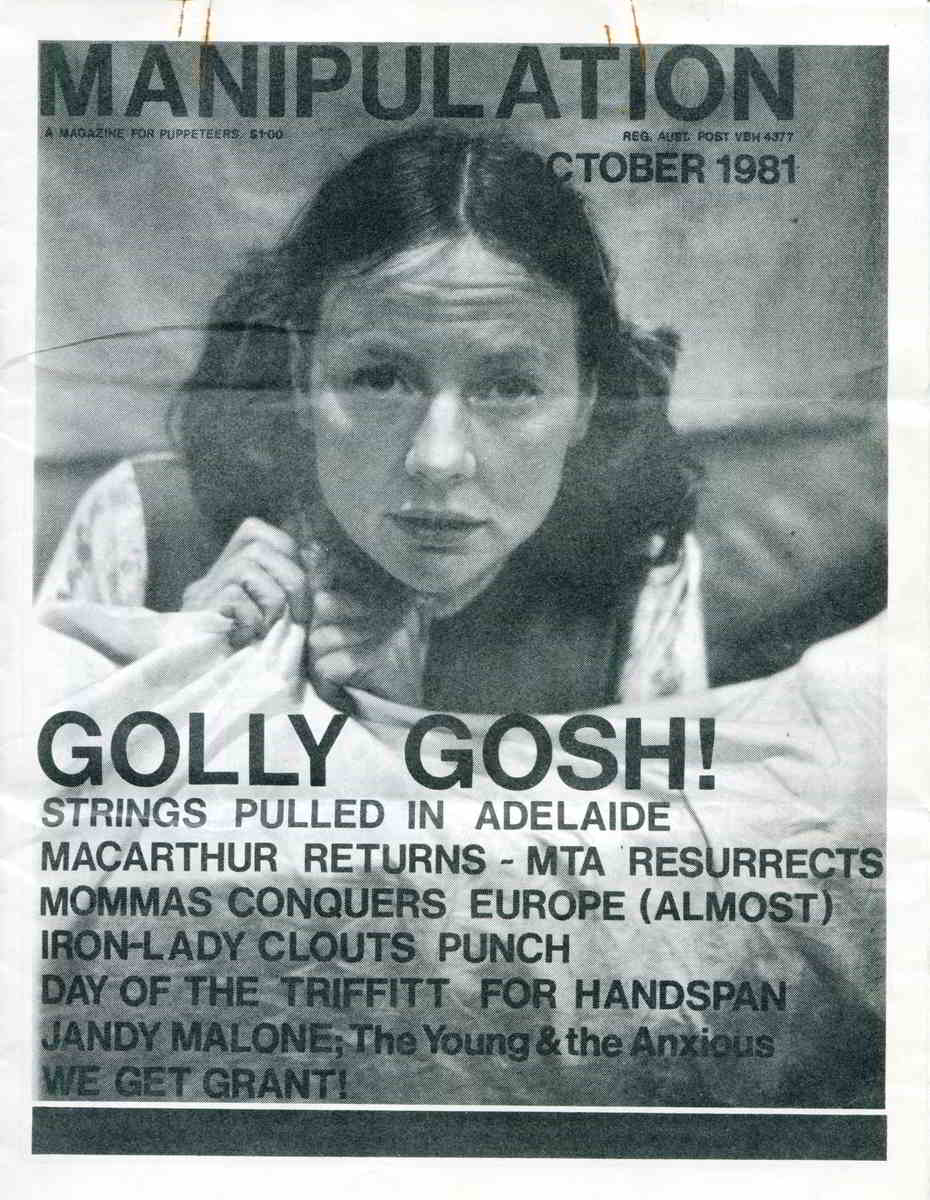 The book is set in the Melbourne suburb of Richmond where Jandy and her siblings are afraid of the dark and unnerved by their father's absence after a family break-up. Jandy's bedtime stories have bred the imagined terror of a Tasmanian Tiger lurking in the hallway. Despite all attempts to hold the illusion at bay, the terror remains until Jandy confronts the fears she has created.
Fear of the dark was a well-recalled memory of Handspan artists, and the story struck a chord when it was introduced to the company by Gay Reid, in Adelaide early 1981. The company were on tour with The Bunyip of Berkeley's Creek for the Come Out Festival. By then the Bunyip … had been on the road for a year, and Handspan was looking for new material. Gay was teaching in upper primary school and suggested the book for its topical relevance to her students as well as its popularity with young readers and librarians.
The setting for JANDY MALONE … an inner Melbourne terrace cottage, was a familiar canvas for Handspan - Jandy's house might even have been the company's first workshop in Richmond itself2 . Moreover, the work lent itself to in-theatre production, a new platform that the company was keen to explore, and was an opportunity to further develop black theatre and shadow puppetry techniques, and as well as illusion of scale with actors and puppets operated by visible manipulators.
The play was directed by Helen Rickards who also played Jandy for its first season.
Since the group formed in 1977, it has worked mainly in schools and community centres which meant continually having to acclimatise to different performance spaces. Now the concept of transportable theatre has lost appeal, Ms Rickards said. The company would like to give more public performances and perhaps have access to a central location. 'Such a project poses enormous financial risks but it would help encourage families to come together. Theatre should be a shared experience. It's not that we want less involvement but it's time for us to experiment with shows before an audience that is prepared to sit and watch.' Ms Rickards said.
Interview: Kate Legge: Showscene, The Age, Melbourne, July 1981
The Play
The play was adapted by its original cast and supported by the City of Richmond Community Arts Officer, Jackie Talbot, for its opening at Book Week 1981 at the Carringbush Library Theatrette.
The script diverged from much of the original text to focus on Jandy's bedtime stories, made up to entertain her younger siblings - her fantasy that their home had been built by gold prospectors who had left nuggets beneath its foundations; a magical umbrella that towed them through the sky over the City; and a Tasmanian Tiger who prowled the hallway of thir home from nine o'clock till nine thirty every night.
Ken Evans' design of a black and white toned bedroom was a simple scene of two upright beds (full-sized versions of the booth model used in Hansel and Gretel), flanking a scrim door through which the tiger glowed when summoned, and behind which the objects in the hallway appeared in a black theatre curtained void.
---
---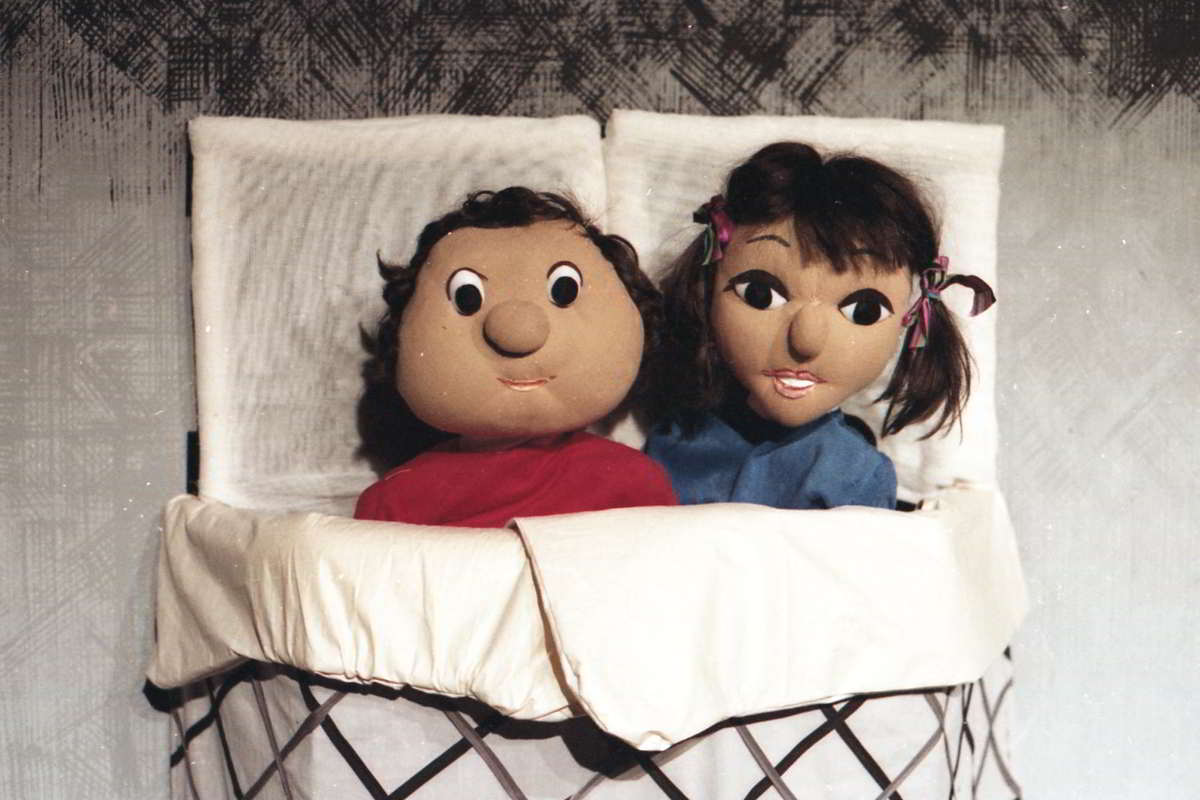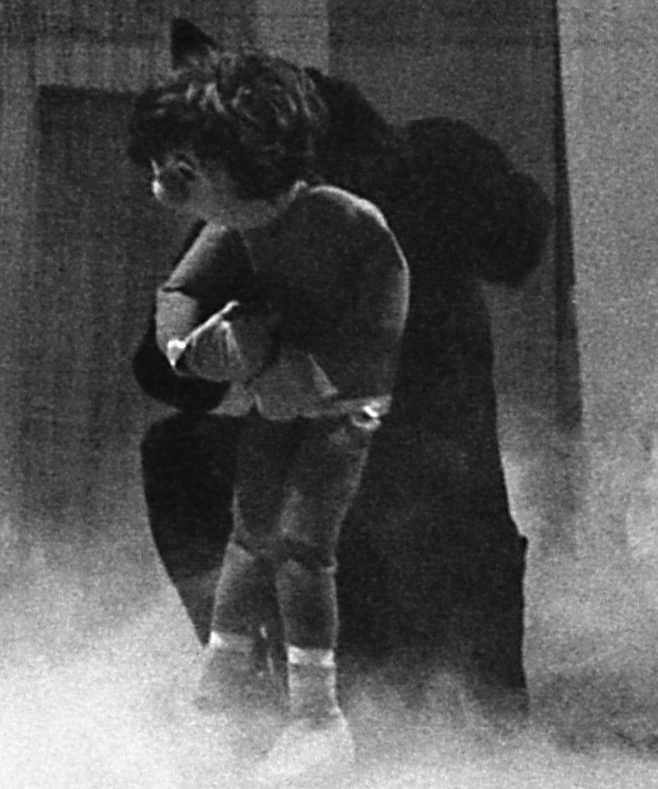 Photograph: © Maeve Vella 1981
While Jandy was played by an actor, her younger siblings, Peter and Samantha were puppets. The puppets were made and designed by Anita Sinclair and her company, Mask of Janus, also located in Richmond. Outsourcing of puppet design and in most cases, construction, was an unusual occurrence for Handspan at any time in its life. JANDY …, however, was conceived when in-house puppet-making resources were unavailable, and it was another new option tried in the production – to hire an outside puppetry professional. The resultant puppets were lightweight and worked effectively, although their style remains incongruous in Handspan's opus.
With puppeteer, Peter J.Wilson, Ken contrived an innovative manipulation support for the operation of Peter, Jandy's younger brother. The puppet was designed to be operated by a puppeteer shuffling in a squat, affectionately known as the Taskeshi Shuffle. after its introduction to the Tasmanian Puppet Theatre, and thence Australian puppeteers, by Puk Puppet Theatre in Japan.3 An effective operational style that allowed Bunraku style puppets to be operated by one puppeteer, it was nevertheless, for the puppeteer, an uncomfortable strain. Ken and Peter made a sturdy trolley on castors that allowed flexibility of movement but took the weight from the puppeteer's leg muscles. Draped in black velvet, the trolley merged with the hooded puppeteer and allowed his knees to support the puppet's walk from behind.
---
Peter Wilson manipulates Jandy's brother Peter, a child life-size puppet, in black hood and costume. The introduction of the technique of the puppeteer moving about the stage sitting on a small, silent trolley has proved very successful in increasing his mobility while diminishing visual distraction from the puppet.
It is in the interaction between Jandy, the live actress and Peter, the puppet that Handspan's skill with puppets shows itself to be considerable and solid. There's not a moment that the credibility fails, that Jandy and Peter cease to believe in each other, or the audience to accept their existence in the same world.
Review:
Maeve Vella
Manipulation Magazine, October,1981

In the play, Peter pesters Jandy to investigate the hallway beyond the children's bedroom door, and for a while, their dread of the Tiger is held at bay by Jandy's other imaginings. She and Peter fly over the city skyline clutching an umbrella above a pop-up city scape, and nineteenth century gold prospectors appear in a brief medodrama accompanied by a piano soundtrack, composed by Will Conyers. But when these flights of fancy no longer hold their fears at bay, Jandy makes her way down the corridor behind the scrim doorway to face the Tiger.
she discovers such horrors as the grandfather clock and the family piano leaping out to frighten her in a marvellously magical black theatre sequence.
Dan Brewbly, Review: Lowdown, Vol.3 No.4,1981
---
the hall door dissolves to reveal a black theatre image of Jandy's father - two hands playing phantom keyboards in the darkness; later the same dissolve reveals the face of a tiger. a larger-than-life silouette with light shining through the eyes and snarling mouth; in the final scene, Jandy walks down the dark hallway - simple bare stage with cut-out pieces of furniture floating into place - there is a feeling of danger, but also a wonderful sense of space and release.
Review:
Maeve Vella
Manipulation Magazine, October,1981
---
Photograph: © Maeve Vella,1981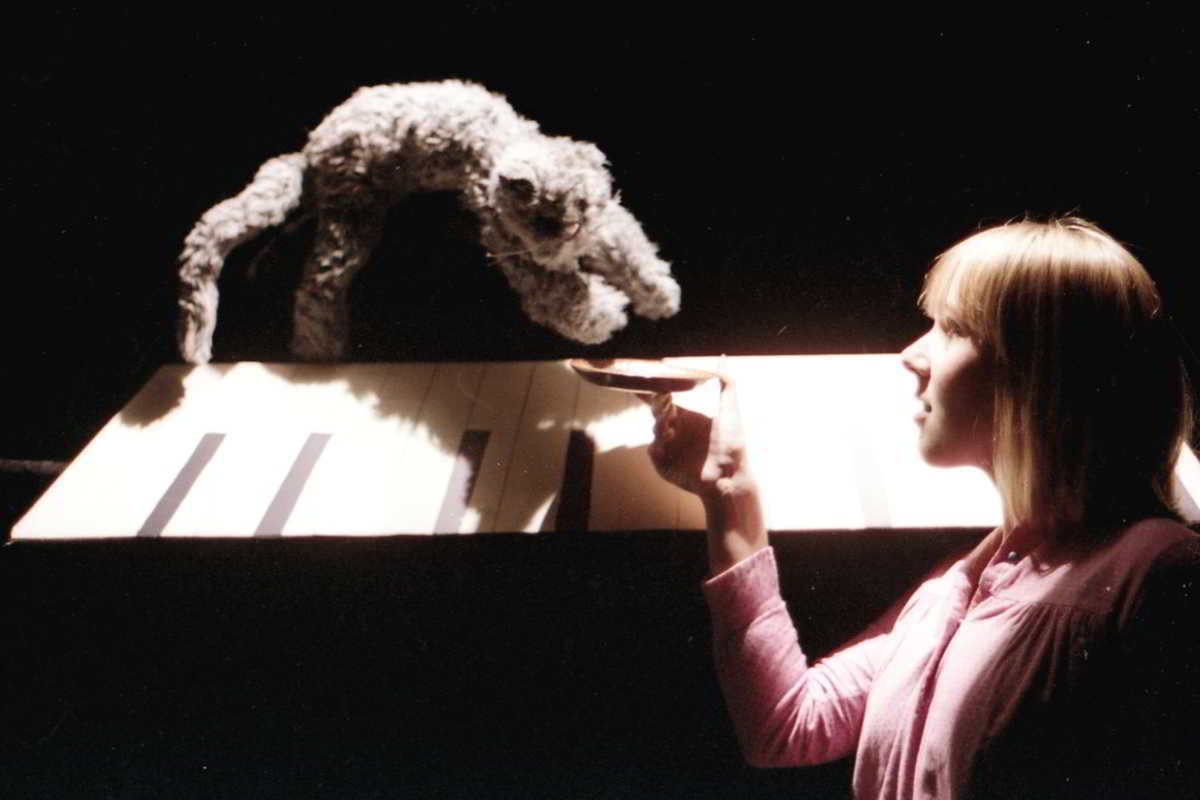 ---
Reviews
The orginal book was entirely narrated by Jandy as a running thought-commentary inside her head that revealed much of her anxiety about her father's departure. In the playscript, her worries are focussed on the effect of her story telling on her younger siblings, conveyed in her long running monologues as she tries to distract them. These were criticised by some:
Handspan has tackled this story with sensitivity and a great deal of dramatic ingenuity. The script relies on the actress playing Jandy to deliver long speeches that create and shift the mood of scenes and fill in the background to the narrative while remaining convincingly ten years old. It is a very demanding role that Helen Rickards fulfills with strength and devotion to fine detail. There are times when her best moments of depicting Jandy anxious would benefit from corresponding moments of relaxation to balance them if Jandy is not to be seen as neurotic.
Review: Maeve Vella: Manipulation Magazine, October, 1981
---
Jandy is a chatterbox of a child and too much of the time is spent talking rather than doing.
Review:Sally White, Youth Theatre, The Age, Melbourne, 14 July, 1981
At the same time,
After the climax of the walk down the hall, the story's message is delivered quietly and neatly in a relaxing denoument. Her father won't be back but Jandy will be strong enough to go on without him. "It's funny when you look a tiger in the face, it isn't scary anywore" are Jandy's final words as she snuggles down in her bed to sleep.
Review: Maeve Vella: Manipulation Magazine, October, 1981


JANDY ... was was rehearsed with new cast members after opening in Richmond. Elizabeth Walley played Jandy; and subsequently, recent Rusden State College graduates, Steven Gration and Ian Roland, joined the cast and worked in Handspan's ensemble until the play's seasons concluded in May 1982.
The production inspired Handspan to create a new work designed for an in-theatre touring circuit., a Co-production, with the Mushroom Troupe BOMBORA. Again for young audiences and families, Bombora premiered in March 1992 and from then replaced JANDY ... in the company repertoire.
---
Footnotes:
1
Jandy Malone and the Nine O'Clock Tiger by Barbara Bolton, illustrated by Alan White. Published Angus & Robertson, Australia, 1980
3
In a Takeshi Shuffle,puppets are operated by squatting puppeteers controlling their adapted bunraku puppets from behind and using their knees to shuffle them along as they moved. The manipulation method had been introduced to Australian puppeteers by Master Puppeteer, Takeshi on a cultural exchange project from his company, Puk Puppet Theatre, in Japan, to the Tasmanian Puppet Theatre, in the late 1970s.
---
---
Scroll back to Click Tabs: The People & The Performances
---
| Creative team | |
| --- | --- |
| Writer | Barbara Bolton |
| Stage Adaptation | Handspan Theatre |
| Director | Helen Rickards |
| Designer | Ken Evans |
| Composer | Will Conyers |
| Costume Designer | Laurel Frank |
| Puppets | Anita Sinclair (Mask of Janus) |
| Performers | |
| --- | --- |
| Jandy Malone | Helen Rickards (July 1981); Elizabeth Walley |
| Peter (Puppet boy) | Peter J.Wilson |
| Dad & various puppetry roles | Ken Evans (July 1981); Steven Gration/Ian Roland |
| Production team | |
| --- | --- |
| Set construction | Ken Evans and the company |
| Production Manager | Peter J.Wilson |
| Stage Manager | Ian J Rolland (Anthill Theatre season 1982) |
| Photographer | Jon Conte |
---
Scroll back to Click Tabs: The Production & The Performances
---
| Seasons | |
| --- | --- |
| 1981 | |
| 12 - 17 July | Book Week: Carringbush Theatrette, Richmond (Double bill with Beastly Combinations |
| 5 - 9 October | Maroondah High School Theatrette, Croydon |
| 12 – 16 October | Alexander Theatre Monash University, Clayton |
| 19 – 23 October | The Mill Theatre, Geelong |
| 2 – 6 November | St. Paul's Hall, Ballarat |
| 9 – 11 November | Anthill Theatre, South Melbourne |
| 1982 | |
| 19 January | Frankston State College, Victoria |
| March | AMP Theatre, Adelaide Festival Fringe |
| 8 – 21 May | School Holiday season Anthill Theatre, South Melbourne |
| Total performances | Approx 80 |
| Total audience | Unknown |
---
Scroll back to Click Tabs: The Production & The Performances
---
For Young People
: