| | |
| --- | --- |
| Premiere | 23 July, 1987 |
| Venue | Education Centre, Melbourne Zoo |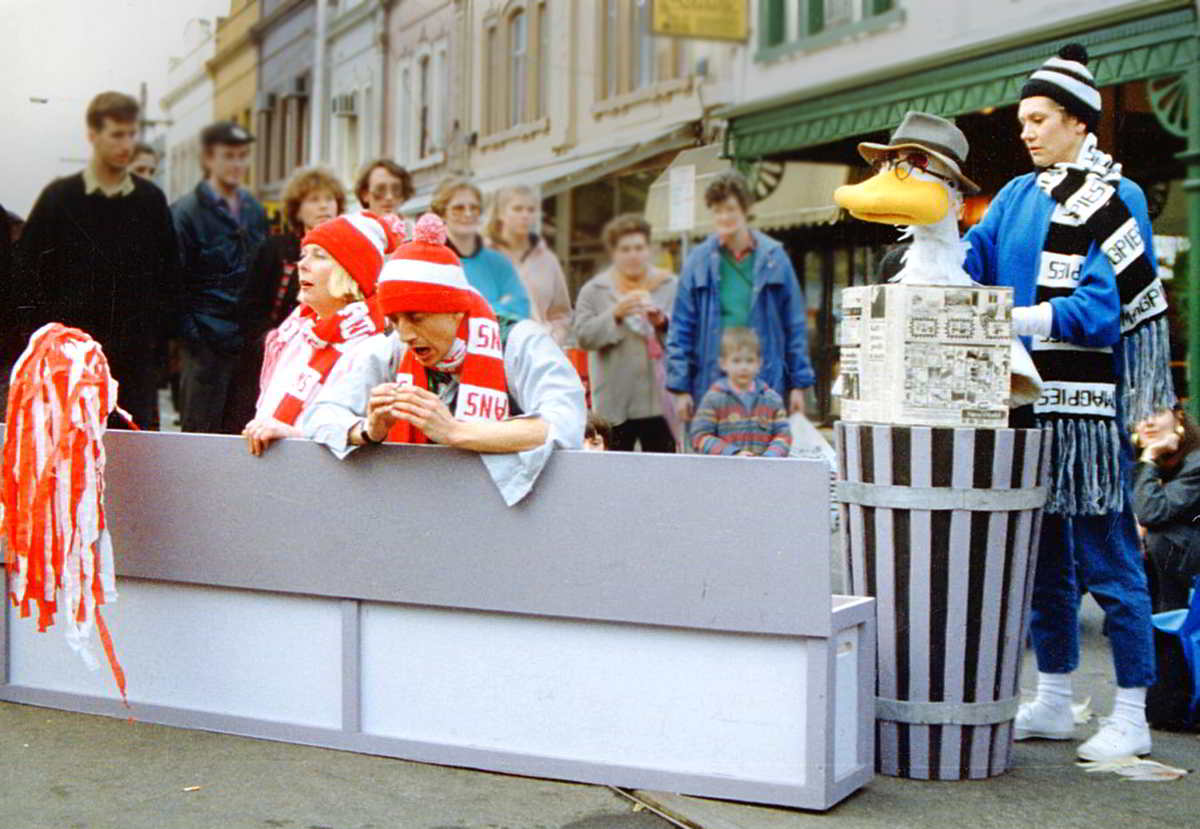 ---
...illustrates, in a gentle but nicely image-based way, that - in the end - there's nothing wrong with being different.
Geoffrey Milne, Centrestage, Australia, August, 1987

OUT FOR A DUCK was the first production created by the company under the artistic direction of Trina Parker, and the first of five theatre-in-education plays1 written for Handspan by Gilly Farrelly. New Handspan members worked with the company for the first time in this production too, signalling Handspan's transition to a new decade of artistic collaboration that created a new repertoire with new artists and projects for the company's now well-established markets.
The play was also directed by Gilly who explained her experience - common to the medium - to Richard Sallis in a Lowdown article:
This is my first time at directing. It's an incredible challenge working on visual theatre. You can't just work from the script. It is a bit of a 'duck and egg' process. You can't finish the script until you find out what puppets are to be made for it and the puppet designer can't make them until he knows enough of the scenario.
Richard Sallis, Lowdown, Magazine, August 1987
OUT FOR A DUCK began because longtime Handspan member, Avril McQueen could speak duck! This finely-honed party-trick sparked the comic script which was devised to show upper primary school age audiences that it's OK, if sometimes awkward, to be different. Owing homage to Anderson's Ugly Duckling story, the play centres around Daphne A. Duck, originally played by Avril, who arrested for 'being a duck in a public place'2 recounts the trials she has encountered in trying to fit in to the world around her.
This clever and funny piece of theatre, which uses a minimum of props and costumes and a maximum of talent and innovation, is an affirmation of the 'duckness' in everyone, or to put it more profoundly, an exploration of the plight of the individual in a society fueled by peer groups.
Pamela Bone, The Age, Melbourne 24 July, 1987
The Play
The plays follows Daphne's experiences in school where her history and culture make everyone laugh at her quiz answers; at the footie and the ballet where her clothes and behaviour turn out to be inappropriate; and on TV in 'Perfect Hatch' where she is seen as a 'dag' by all the super-cools because she answers honestly. Chased down by Inspector D. Rake, Daphne has her day in court where everyone turns into ducks, 'too busy quacking to deliver a verdict. There is no crime'3 .
---
---
OUT FOR A DUCK was staged in a tram stop set in and around which actors and puppets performed the action. Its simple structure transformed into schoolroom, stadium, theatre and TV studio and provided hiding places for Daphne as she was chased from sideshow alley's duck shooting range to a restaurant serving 'duck l'orange'.
Part of the children's enjoyment, I'm sure, is that the performance is very like the way children themselves play, with 'dress-ups', the milk craters as pretend people, and the puppeteer on stage holding up the duck puppet in the same way as a child holds up a teddy bear and makes it perform.
Pamela Bone, The Age, Melbourne 24 July, 1987

Lowdown's critic Richard Sallis was less enthusiastic, although he appreciated the visual wit of the production, he was confused about its intent:
... sight and visual gags had for the most part a quirkiness to them which was both whimsical and entertaining. The treatment of the theme seems to get lost among the many duck references ... and Daphne Duck seems to become less of a duck and more an embodiment of 'duckness' ... just what 'duckness' represents is not made clear.
Richard Sallis, Review: Lowdown, Magazine, October 1987

OUT FOR A DUCK was performed in Melbourne metropolitan schools and at community events from mid-1987 - early 1988 reaching more than 10,000 people.
I think most of the children were more thrilled with 'Out for A Duck' than any other part of their day.
Anna Epstein, Project Officer, Piccolo Spoleto, National Gallery of Victoria, October 1987
---
---
Footnotes:
2
Synopsis: Out for A Duck Teachers Notes, 1987
3
Synopsis: Out for A Duck Teachers Notes, 1987
---
Scroll back to Click Tabs: The People & The Performances
---
| Performers | |
| --- | --- |
| Daphne A. Duck | Avril McQueen (original cast), Maeve Vella (1988) |
| Inspector Dan Rake | John Rogers (original cast), Bill Ten Eyck (1988) |
| Judge Quackenbush | Rod Primrose (original cast), Bruce Langdon (1988) |
| Various | Annie Wylie (original cast), Fiona Syme (1988) |
---
Scroll back to Click Tabs: The Production & The Performances
}
---
| Performances | |
| --- | --- |
| 1987 | |
| 18 July | Preview: Geelong Club, Geelong |
| 23 July | Education Centre, Royal Melbourne Zoo |
| September - December | Melbourne metropolitan schools |
| September | Brunswick Street, Fitzroy, 1987 Spoleto Fringe Festival Melbourne |
| October | National Gallery of Victoria, Piccolo Spoleto, 1987 |
| December | City Square, Fantastic Entertainment in Public Places (FEIPP), City of Melbourne Program |
| 1988 | |
| 5 -13 March | Main Stage, Melbourne Moomba Festival |
| 19 - 27 March | Universal Theatre Children Program, Melbourne International Comedy Festival. |
| | Melbourne metropolitan schools |
| Total performances | 77 |
| Total audience | 10,181 |
---
Scroll back to Click Tabs: The Production & The People
---
For Young People
: