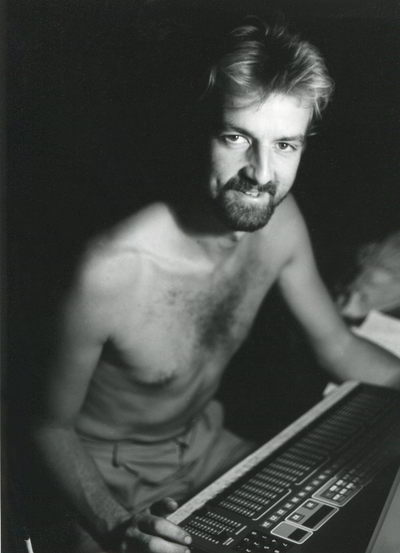 Photograph: © Stephen Hall 1984
Philip would have been a founder of Handspan if he had been there.
In 1977 Philip was a leading puppeteer in the Parry-Marshall Puppet Theatre until only days before the original collective met with Herman van Wichen to bid for the opportunity to create Hansel and Gretel. His departure, to follow the hippy trail from Europe through the Middle East and India, was an indirect but significant catalyst in melding the remaining Parry-Marshall team into Handspan, despite Philip's own absence.
On his return in January 1979, he followed Handspan to Hobart for the Australian Puppet Festival where he was found whistling Mr Punch's tune under a tree in Salamanca Place. He was immediately absorbed into the company, remaining a key artist in its work until 1999 and its longest serving artistic board member.
Philip was a puppeteer in early Handspan schools and community touring shows and a constant creator and technical conundrum solver in the company workshop working on almost all productions. At Handspan, Philip found lighting design and his command of dramatic illusion through illumination was, particularly in his design partnerships with Ken Evans, a foundation of the company's unique visual work. This partnership first flourished with Secrets, where Philip travelled with the show as its lighting tech and rigged and operated every one of its 264 performances, and was further honed with his lighting designs for Cho Cho San and Four Little Girls.
Philip's own conception and first outdoor spectacle, for Melbourne's Moomba Parade in 1987, The Last Wave involved 28 company artists and won the City of Melbourne's Best Entry Award. In the next year he lit the site specific Waves of Change from underwater the first of many projects in venues other than theatres.
From 1986 - 1991, he held the formal title of Production Manager at Handspan.
Always committed to the ideals of his projects and prepared to do whatever it takes, Philip's juggling of deadlines earned him the affectionate title within Handspan: our 'Minister for being somewhere else'. He married Lizz Talbot, also a long term Handspan artist in 1989. They and their children continued to appear in Handspan protests appearances and artistic experiments long after the Handspan's doors had officially closed.
Since leaving Handspan in 1999, Philip has designed lighting across all genres in theatre and performance from puppetry to opera and for major spectacles across Australia and internationally, in theatres, stadiums, tents, exhibitions and museums, from extravaganza to peepshow.
He recalls Secrets where he first took over the lighting board:
The show was the genesis of my career as a rider on the storm of lighting design for many subsequent theatrical productions throughout the world. (2015)
See more about Philip Lethlean: Light Designs Australia
---