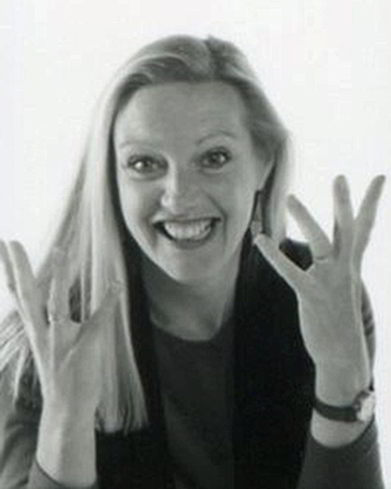 Photograph: © Ponch Hawkes 1995
| Member | 1985 - 1999 |
| --- | --- |
| Board member | 1988 & 1996 - 1998 |
Lizz, now known as Lizz Lethlean, left Bouverie St Theatre-in-Education Team to join Handspan in 1984.
She took over Carmelina Di Guglielmo's role as the Fanlady in Secrets and Rosa in Streetwise for a 3 month tour to Europe, UK and North America, and from then on became an integral part of the company until its last years, resigning in 2000.
She performed Secrets in 190 performances and added Company manager to her job spec for its final tour in 1986. She also appeared in Cho Cho San (1984) and in Four Little Girls (1988 - 1997) for all its seasons over its touring decade. International touring was the backbone of my work with Handspan, she recalled1 . She toured to five continents with the company performing a variety of Hanspan Theatre works in national and international arts festivals. She was also in the cast of Dante - Through the Invisible (1996) and Gulliver's Travels (1992).
Lizz and Philip Lethlean, who married in 1988, were keenly involved in the company's desert research and performance laboratory that created The Haunted in 1985 and have since worked in the desert and with indigenous communities in creative collaborations to make the spectacular indigenous celebratory performances in the Yeperenye Festival (2001) and, for Philip, the Mbantua Festival (2013). Lizz also worked independently as an actor in the Northern Territory for 6 months in 1987, inspired by the eye-opening experience that created The Haunted.
Lizz worked across many layers of creative and administrative production at Handspan as a researcher, dramaturg, company/tour manager, administrative assistant, publicist and archivist - an assiduous facilitator and organiser as well as a key ensemble performer. She edited the company newsletter Fingerprint, took minutes for the numerous Company Meetings and served on the Board. She was instrumental in the Handmade workshop program, compiling the Handmade Manual and after the company's closure, compiled The Productions of Handspan Theatre 1977-2002 (2003) and catalogued Handspan's archival material for the Performing Arts CollectionPerforming Arts Museum at the Arts Centre, Melbourne.
She built the imagery for and directed a solo work, Wired for Handspan's vignette production Metafour (1993), and since leaving Handspan has continued to experiment in making small performance works with sculptural images in this vein, including Odditorium with Women's Circus (2003); three Artists-in-Residencies at the City of Melbourne's Artplay including Note to Self (2008) and creation of the Spirit Birds for the City of Geelong's Mouth-to-Mountain Project (2009 & 2016) and, wearable works for Donna Jackson's Industrial Fashion events at Williamstown Town Hall (2019 & 2020).
Lizz continues to work with people of all ages, fusing her performance and teaching skills to create theatrical experiences for schools and the wider community, running small festivals, arts programs and events, since 2000 as an independent arts manager.
She shares a creative partnership with Philip Lethlean in the continuously creative and illuminating Light Designs Australia, based in Melbourne and, enjoys her casual position with the Hobson's Bay Library Service.
---
---
Footnote:
1
Lizz Lethlean: Biographical notes 2015
---