HANDSPAN VISUAL THEATRE
Premiere
17 October, 1997
Venue
Shed 14, Victoria Docks
Melbourne International Festival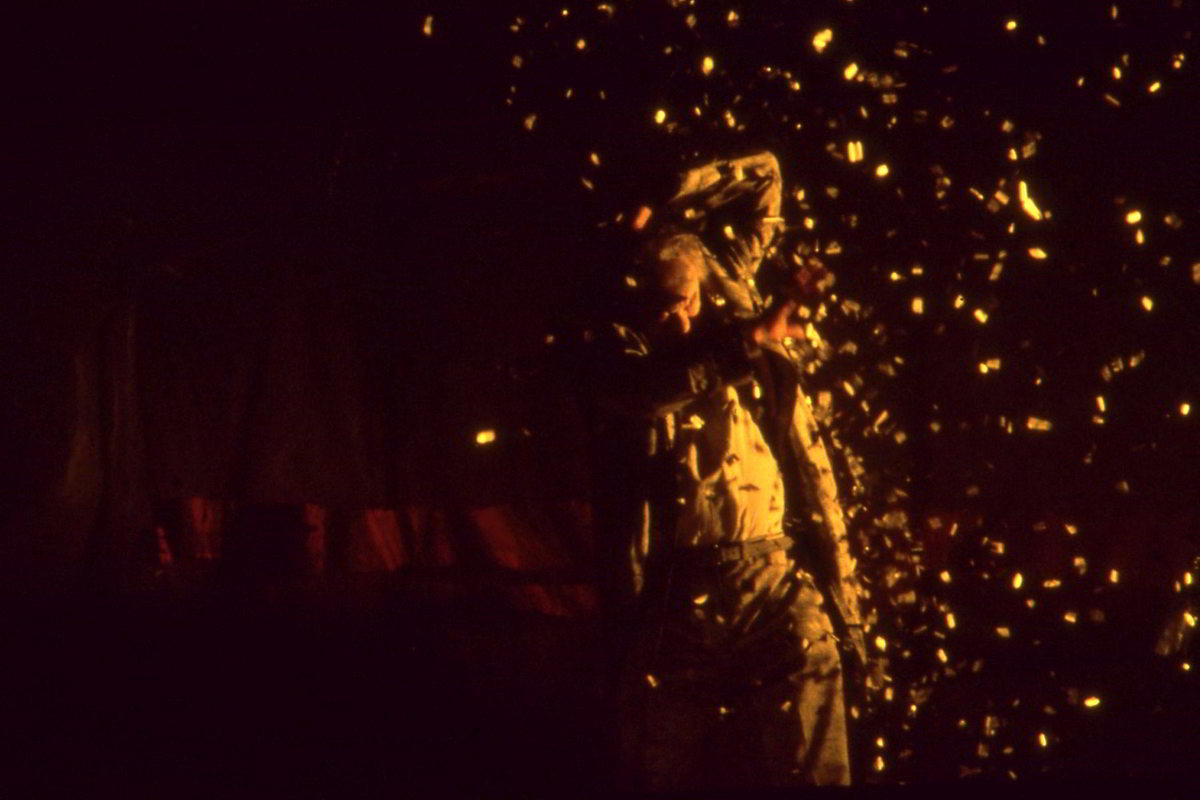 Photograph © Jeff Busby, 1997
---
Shows like this are bound to divide the audience. If you like flashing lights, the smell of fuel and hard, thumping noise, this was future schlock of the highest order.
Kim Trengrove, The Age, Entertainment Guide, Melbourne, 24 October 1997

RAISED BY WOLVES was staged in a warehouse with capacity for audiences of over 3000. It was developed as a cross-festival partnership with the Melbourne International Festival of Arts and the Adelaide Festival of the Arts, a Major Initiative project supported by the Australia Council.1
The work was commissioned by impresario Clifford Hocking, director of the 1997 Melbourne Festival, one work in a strategy to bring a new edge to previously conservative programming. In his pre-Festival roundup, Michael Harden wrote:
Hocking has, it seems, provided something for everybody. Several events, aimed squarely at a younger, hipper audience give the program a feeling of depth that has been sorely lacking in recent years 'Raised by Wolves' is one of those ambitious events that no Festival should be without.
Michael Harden,The Melbourne Times 15 October 1997

The production was much anticipated for several reasons. It was the public debut for Handspan's newly appointed Artistic Director, David Bell and Handspan Theatre's 20th anniversary year. Bell was keen to re-position the company and re-branded it as Handspan Visual Theatre for his opening work.
What I wanted to do was to make an event and give notice about what the company can do. Once I've got people's attention, then we can do all sorts of other stuff, not just the stuff that people remember from 10 years ago.
Michael Harden interview, The Melbourne Times, 15 October 1997

RAISED BY WOLVES was very ambitious and very complex. It was developed with Brisbane indie band Regurgitator, ARIA Award winners then riding a wave of popularity, also contemporary recording artist, Shinjuku Thief and Ben Cobham with his lighting company, Bluebottle.
The production's title referenced the myth of Romulus and Remus, the twins who were suckled by a wolf as babies, and founded the Roman Empire. Thematically, however, it postulated the decline of civilisation and culture and claimed closer connections to Satyricon. Teenage runaways, born of a giant cockroach in a modern urban wasteland, were beset by not only their own confused realities but by tortuous dreams and nightmares. Shipping containers, plastic and metal, overhung by multiple TV screens and capitalised slogans made up their world.
The work was described by Bell as 'sensory theatre'.
... fragmented images that are rapid, fleeting and sweep together for a lasting effect,
Nova Weetman, Cockroach Fantasy, Inpress Magazine, Melbourne, 15 October 1997

Its combination of actors, animated imagery, video projection, industrial machinery, large scale puppetry, live rock music and live video aimed to create a multi-focused experience for the audience. Shed 14 was huge and watchers trudged rather than promenaded through a vast clutter.
Over 50 people worked on the project requiring a production budget of over $250,000 dollars – a pretty astronomical investment in Handspan's terms. Production Manager Mykkel Minster described the project in detail in an interview with Mandy Jones in Showtime. (Scan of full article , opens in new window)
Despite its ambitions and promises, RAISED BY WOLVES was not well received. 'Multi-focussed' turned out to be 'un-focussed'. Audiences choked in the smoke of several pumping machines, got lost in the darkness or blinded by the lights, and deafened by the sound.
---
---
Block the ears as many older audience members did, and the sound vibrates up from the floor to rattle the bones. Shut the eyes and the strobes, flares and explosions still imprint themselves on the retina.
Helen Thomson review, The Age, Melbourne, 20 October 1997

The performers, some wrapped in yards of transparent plastic, and the images, which appeared and vanished from all directions, were unable to make an impact in the general confusion. Dialogue was fragmented and inaudible. Actors and cockroaches segued from character to character and wandered amongst, around and on top of, travelling scissor lifts. Strobe lights and fluorescent tubes flashed and shapes burnt with pyrotechnical flare.
This is post modernity with a vengeance… It is an endless present, not a process with a beginning, middle and end. One vivid, multi-sensed image follows another, unrelated by anything except exaggeration…But the young audience revelled in it, like fish in water. It certainly offers new audiences a stake in the Melbourne Festival – a bold programming move that must be considered a great success.
Helen Thomson review, The Age, Melbourne, 20 October 1997

Young theatre-goers did attend in significant numbers, and danced to Regurgitator and Shinjuku Thief. It was like a rave party. General public audiences generally didn't appear to enjoy the experience. Most theatre critics were harsh.
Raised by Wolves is a massive disappointment …It's a good idea to try and get young people to the theatre, but this is basically a rock concert; head-banger theatre without the honesty. Postmodernism covers a multitude of virtues and vices, but shows like this represent the kind of undigested postmodernism that is nothing much more than a cynical surrender to commodity culture. A Nike advertisement has as much substance. It's a shame because Handspan has done some terrific work in the past.
Steven Carroll review, The Sunday Age, Melbourne, 26 October 1997
---
It was all just so jumbled and the thread holding it together seemed very intangible. I'm still chuckling at the irony of director David Bell's statement: "I can't stand art that you need a PhD to understand".
Melanie Sheridan review, Beat Magazine, October 1997
---
Without context, content or thematic links, the whole thing deteriorates into hysterical ravings, meaningless wanderings and noise – it's a pity because Handspan has done some spectacular work over the years.
Kate Herbert review, Herald Sun, Melbourne, 20 October 1997

The 1998 Adelaide Festival was also unimpressed, and on being required to contribute significant additional financial investment into a new RAISED BY WOLVES season, organisers in Adelaide cancelled the engagement.
---

Footnotes
1
Australia Council, the Australian Government's arts funding and advisory body Major Festivals Initiative
---
Scroll back to Click Tab: The People & The Performances
| Creative team | |
| --- | --- |
| Writers | David Bell and Bill Haycock |
| Text fragments | Stephen Sewell |
| Director | David Bell |
| Executive producer | Fleur Parry |
| Assistant director | Katy Bowman |
| Designer | Bill Haycock |
| Lighting designer | Ben Cobham |
| Live music | Regurgitator |
| Recorded soundtrack | Darren Verhagen (Shinjuku Thief) |
| Structural design | David Hope |
| Video imagery | Richard Grant |
| Production designer | Daniel Zika |
| Production team | |
| --- | --- |
| Production manager | Mikkel Mynster |
| Structural realisation | Hamish Alderson-Hicks, Katrina Gaskell, |
| | Ingrid Maganov, Alison Ross, |
| | Mary Sutherland, Rob Townsend |
| Costumes | Leon Salmon |
| Set construction | Art Tec Constructions |
| Curtains | Anna Tregloan |
| Pyrotechnics special FX | Jack Moeller |
| Stage manager | Julie-Ann Willems |
| Deputy stage manager | Natasha Marich |
| Assistant stage managers | Jacqui Barry, Cathy Healy |
| Season | |
| --- | --- |
| 17 - ? October | |
| Total performances | Unknown |
| Total audience | Unknown |
---
Scroll back to Click Tab: The Production
Mainstage
: