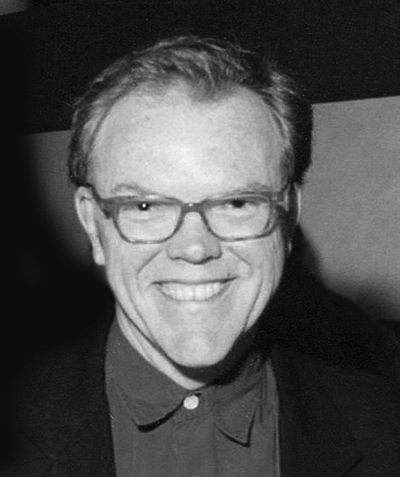 Photographer: Unknown
| Artistic Director | 1997 - 2001 |
| --- | --- |
David Bell was the last to hold the position of Artistic Director at Handspan.
David had a bold new vision for the company, re-naming it Handspan Visual Theatre to brand his divergence from the company's previous history.
In a pre-season interview with Beat Magazine for his first production with the company, Raised by Wolves, David explained his ambition to push beyond Handspan's accepted boundaries : what I'm trying to do here is include a whole other range of possibilities in the way theatre is made and what theatre is. It's not about daggy puppet shows and it's not about daggy plays, it's not about all of that stuff. It can be a much more exciting experience1 .
It was a sentiment that company founders might have expressed themselves two decades earlier 2 . David however, had little experience of or interest in the medium of puppetry and its capacity to create visual theatre. Nevertheless, he had ideas and plans aplenty and an understanding of and connections with a new generation of experimental artists and emerging digital technologies.
Handspan afforded him opportunity, but also a confronting task. Long-term artistic members had drifted away, finding few opportunities for inclusion in new programming; and at the same time, he inherited a reputation of 20 years. Expectations of Handspan's work were high, and pervasive. David was appointed to the company when, based on that reputation, significant funding support and presentation opportunities were in place. He had little room for failure, but success was elusive and during his incumbency, the company ran out of steam, and support.
After Raised By Wolves unsuccessful season, David concentrated on experimentation and investigation, and Handspan began to disappear. Creative development projects happened, but little new work was created for almost 2 years and resources began to dry up.
Lift 'Em Up Socks, David's later work with the company, was a success, and an effective indicator of potential new directions for visual theatre production. Like previous Handspan works, it mixed puppetry and actors on stage but it also introduced digital imagery and animation techniques. It might have re-kindled enthusiasm for future developments in visual theatre performance, but Handspan has lost its funding and its supporting membership base.
David left Handspan Visual Theatre in 2001 and before a new appointee, Casurina Barry, could take up the position of Artistic Director, the company was closed.
---
Footnotes:
1
Beat Magazine: Pre-season article untitled/no by-line October 1997
2
The difference perhaps was that the objection then, was to the 'daggy-ness', rather that the possibilities of puppetry-based techniques. (Ed.)
---