| | |
| --- | --- |
| Co-production | HANDSPAN THEATRE and BACK-TO-BACK THEATRE |
| Premiere | 28 November, 1996 |
| Venue | Lonsdale St Power Station, Melbourne |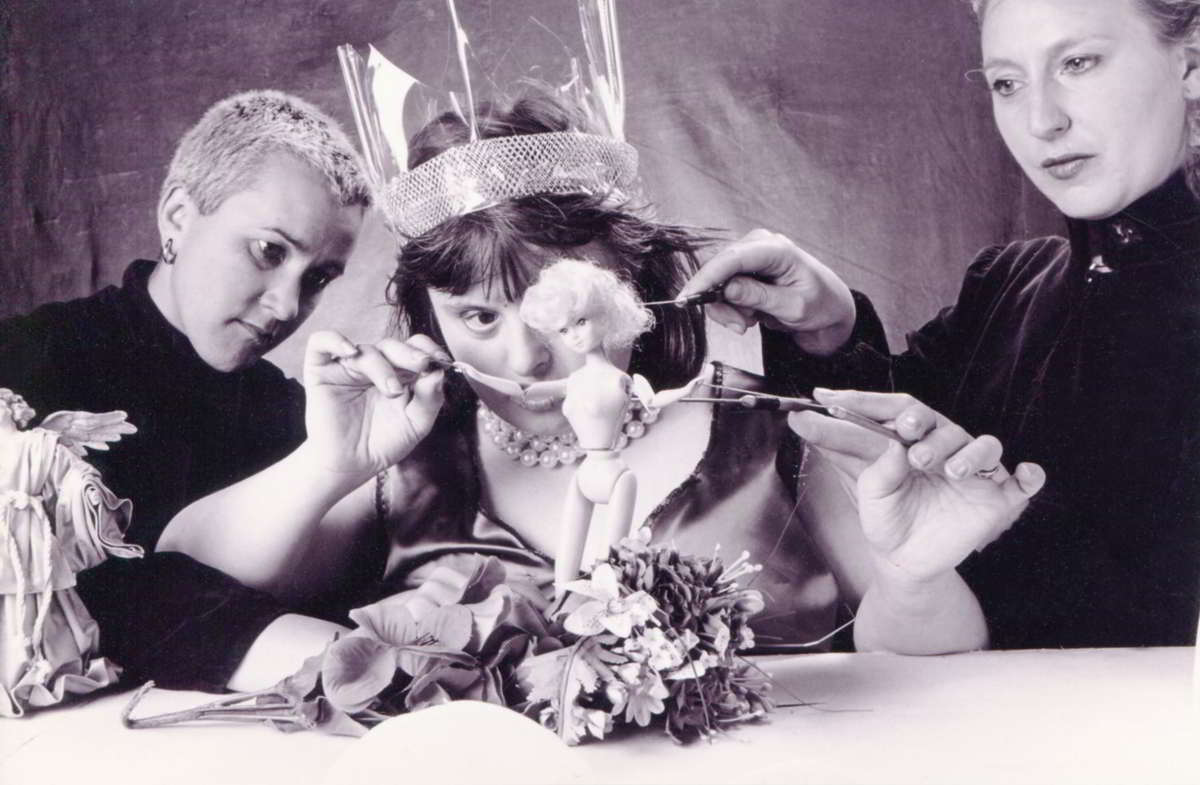 Photograph © Jeff Busby, 1996
---
This production is laden with warning about underestimating people and their experiences.
Ian Pidd Interview1: 20 November, 1996
MIND'S EYE was created by Handspan Theatre with Back-to-Back Theatre for people with intellectual disabilities, with the latter's long-standing musical collaborators, My Friend the Chocolate Cake.
Ian Pidd, recently appointed artistic director at Back-to-Back, approached Ken Evans at Handspan to co-create a surreal and fantasy-based work with the increasingly skilled pool of disabled actors with whom he was now working. He was inspired by his ensemble's alternative ways of perceiving the world.
It revolves round the idea that while most of us use fantasy as a form of recreation and escape, many people with an intellectual disability use extraordinarily elaborate and florid fantasies as a means of actual functioning in the 'real world'. These fantasies are an essential tool for interpreting the events of daily life and giving it useful meaning. It would not be an exaggeration to say that some have a view of the world that could be described as 'magic realist'.

Handspan's adventurous approach to visual theatre made the company an obvious choice2 for co-production:
It is not inconceivable that a character's most intimate personal; relationship may not be with a human being, or indeed an animate object at all, but with the four walls of a room or and article of clothing or a body of water and Handspan is the company to make such connections possible.
Ian Pidd, Creative Development Proposal, 1995

Handspan was equally attracted to the project. Designer, Cliff Dolliver's response to the proposal was effusive:
The opportunity to make this art with Back-to-Back Theatre is a rare and beautiful thing. Both companies will thrive on this challenge. Back-to-Back is like Handspan. We are at our best when we are unpredictable. We need licence and freedom in our text, for us and for our audience.

Both companies undertook a six-week creative development project in a series of intermittent workshops held at both Back-to-Back's premises in Geelong and at Handspan's studio in Fitzroy during 1995. The Back-to-Back ensemble was introduced to puppetry and manipulation skills; and Handspan became familiar with their working methods and the challenges of the experience. My Friend the Chocolate joined the final workshops to create the score for scenarios that had taken shape. MINDS EYE became a beautifully gung-ho piece3 billed as:
A farcical thriller about characters from various worlds who travel to a mystical island to celebrate a birthday for a temptress. Once on the island they play party games with dire consequences.
Northcote Leader, 20 November 1996
---
---
The play revolved around the images and self-perceptions of the actors who had participated in the workshop process. Its design and objects were based on the drawings that emerged from these sessions. Rita Halabrec played a beautiful princess, Mark Deans had an assortment of furry friends, Sonia Tebeuns main character was a talking vagina, and a dog with a double sided personality (Paul Virgona's imagined character) was played by Tom Lycos .
The story was about a bossy mermaid who send birthday party invitations in bottles cast into the sea. Her guests crossed the ocean to attend and were required to entertain their hostess and satisfy her whims. In hilarious and often raunchy scenes, the play showed how people experiencing the same circumstances can perceive them in completely different ways.
MINDS EYE premiered in late1996 at the Lonsdale St Power Station (since demolished), an old industrial site well-suited to its quirkiness and sense of epic journeying. The season was dedicated to Paul Virgona, who was a key creative development participant, but died three weeks before rehearsals finally began.
A child's tale on the surface, Minds Eye tells us a great deal about good and evil, the misuse of power, and the mutual affection between people and the pets they love. The puppetry is superb ... a giant puppet ... a feral dog ... a cartoon that lifts off the page ... and the miniaturised play within a play performed by Barbie-doll sized puppets articulating the wicked witch-queen-mermaid's deepest desires.
Minds Eye is heart-warming and funny, full of visual surprises enormously enhanced by the music. The performers are all scene stealers, natural exhibitionists whose enjoyment is irresistibly conveyed to the audience.
Helen Thomson, The Age, Melbourne, 1996
---
Boasting a blend of live action, skillful puppetry and dazzling animation, Minds Eye, under the hand of director Ian Pidd, pitches the right mix of wit and morality.
Stephen Rhys, unknown publication, 1996
---
Theatrical collaborations can produce new and wonderfully unpredictable ideas or they may breed only conflict. Back-to-Back meeting Handspan is an example of the former. The idiosyncrasies of both companies make a happy marriage.
Kate Herbert, The Herald, Melbourne, 1996:

MINDS EYE was revived for a season at the 1998 Adelaide Fringe Festival where the co-production credits billed Back-to-Back with under the newly branded Handspan Visual Theatre.
Michael Harden interview:Southern Cross, Caulfield, 20 November, 1996
Ian Pidd: Creative Development Proposal, 1995
Narelle Sullivan Review:Inpress, Melbourne, 4 December, 1996
---
Scroll back to Click Tab: The People & The Performances
| Creative team | |
| --- | --- |
| Devised by | Creative development workshops:Back to Back with Handspan Theatre |
| Dramaturgical assistance | Katy Bowman |
| Director | Ian Pidd |
| Designer | Cliff Dolliver |
| Lighting designer | Philip Lethlean |
| Recorded music | My Friend the Chocolate Cake |
| Costume designer | Anna Tregloan |
| Creative development | also included Michele Spooner, David McBride, Rad Cosic & Paul Virgona |
| Performers | |
| --- | --- |
| | Mark Deans |
| | Rita Halabarec |
| | Tom Lycos |
| | Sonia Teuben |
| | Megan Cameron |
| | Liss Gabb |
| | John Rogers |
| Musicians | Helen Mountford & Hope Csutoros |
---
Scroll back to Click Tabs: The Production & The Performances
| Seasons | |
| --- | --- |
| 1996 | |
| 26 November - 7 December | Lonsdale St Power Station, Melbourne |
| 11 December | Blakiston Theatre, Geelong (Director's Cut series) |
| 1998 | |
| 21 - 28 February | Scott Street Theatre, Adelaide Fringe Festival |
| | |
| --- | --- |
| Total performances | 22 |
| Total audience | unknown |
---
Scroll back to Click Tabs: The Production & The People
Co-productions
: