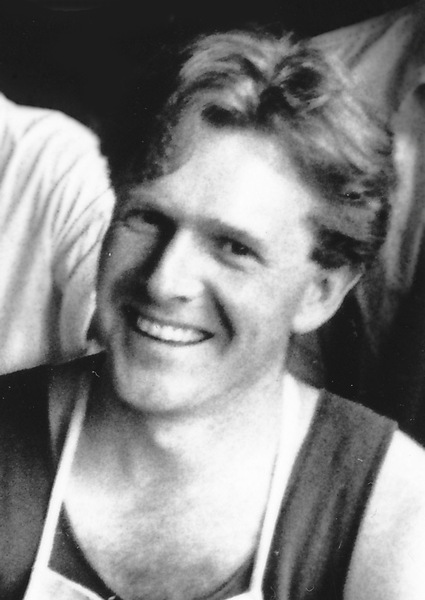 Photograph (detail): © Ponch Hawkes 1995
Rob was once called a Puppet Nerd by writer John Romeril and it's a description he enthusiastically embraces.
Rob had been knocking on Handspan's door ever since auditioning for a performer role in The Mouth Show in 1979. His audition was truly terrible, and he was rightly turned away - It was to be a very long time before he got invited back. Nevertheless, after seeing Handspan's Secrets at the Adelaide Puppetry Festival in 1983, and being completely entranced by it, his wish to become a member of the company became more of an obsession.
At the same Festival in Adelaide, he had met American PuppeteerEric Bass, then based in Munich and went on to do his professional puppet-making apprenticeship in Germany working on Bass's next show, Sand. After this followed a couple of years working for London company, Playboard, on their children's TV series Button Moon for Thames TV, as well as making puppets for TV advertising.
On his return to Australia, Rob initially joined the Marionette Theatre of Australia, and in the years since, has designed and made puppets for many other Australian theatre companies including Polyglot Puppets and Arena Theatre in Melbourne, Skylark Theatre in Canberra and Windmill in South Australia; as well as TV productions, most memorably ABC TV's LiftOff - with sculptor Ron Mueck. He's worked on giant dinosaurs, Walking with Dinosaurs and tiny props (Adam Elliot's stop-motion animated film Mary and Max) and everything in between.
With Handspan, Rob's first involvement was as an assistant workshop leader in Snapshot, Andrew Hansen's Handmade artist-in-residency project in Wangaratta, in 1986. His dream of actually becoming a member of Handspan didn't, however, come true until 1990, when then Artistic Director Trina Parker invited him to join the company while he was making puppets for The Wooden Child.
Rob remained a member of Handspan from then until the company closed in 2002, and also served for a time on the company's board.
His only Handspan performing role was in Four Little Girls on its last tour to Colombia in 1997. He has tended to see experience as a performer only as a means for improving and strengthening his puppet making.
Rob's main contribution at Handspan was to build, and in some cases design, puppets and props for many of its shows including, the Elliot puppets for Ask for the Captain; the metal horse and Pinocchio puppets for The Wooden Child and the dog for Minds Eye. He designed and built the puppets, including a giant turtle, for Miss Tanaka, Handspan Visual Theatre's final production