| | |
| --- | --- |
| Premiere | 12 October, 1991 |
| Venue | St Kilda Rd & Victorian Arts Centre precinct, Melbourne |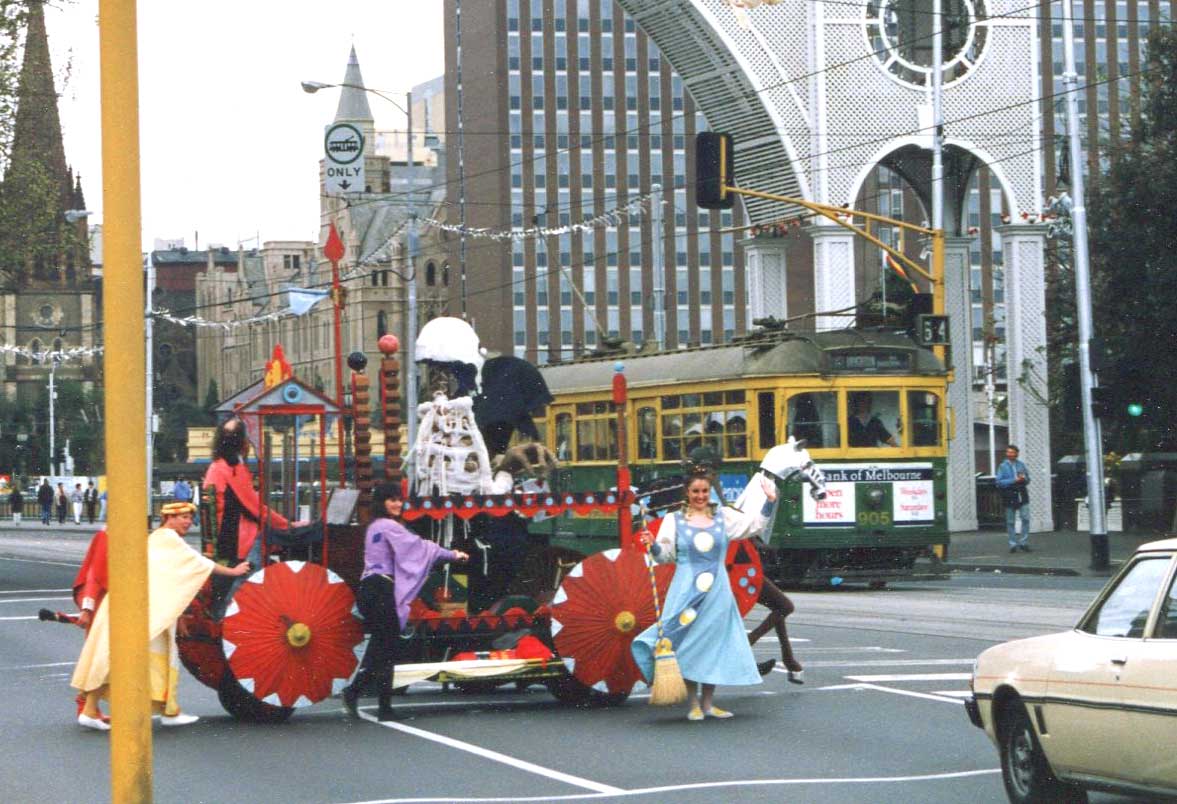 Company snapshot, 1991

THE CROSSING was commissioned by the Melbourne International Arts Festival, 1991 as part of its opening celebrations and for daily performance throughout the Festival.
It was devised for performance in the Festival's Opening Parade and in the city streets and parklands in St Kilda Road and the Victorian Arts Centre precinct.
The work was a street play, written and directed by David Baird. It was an apocryphal tale of the passage from Winter to Spring in which a strange caravan of characters wandered the face of the earth, on a quest to locate and cross the 'edge' of the seasons. Their purpose, to release the Sun from the evil grip of Winter.
THE CROSSING blended storytelling, music and dance and was performed with puppetry, actors and mask. It first appeared on the Festival opening night, and remained on the streets for the duration of the event.
---
---
Scroll back to Click Tab: The People & The Performances
---
| Performers | |
| --- | --- |
| Winter | Paul Judd |
| Heroic Spring | David Adamson |
| Taleteller | Winston Appleyard |
| Exotic Woman | Annie Wylie |
| Exotic Creature | Susan Blakey |
| Doctor | Avril McQueen |
| Maiden | Susan Bamford |
| Musikmeister | Boris Conley |
Season
12 - 28 October 1991
St Kilda Rd & Victorian Arts Centre precinct, Melbourne
| | |
| --- | --- |
| Total performances | 30 |
| Total audience | 4500 |
---
Scroll back to Click Tab: The Production
---
On the Street
: