| | |
| --- | --- |
| HANDSPAN VISUAL THEATRE | |
| Performances | 8 & 13 March 1999 |
| Venue | Swanston St Melbourne, Melbourne Moomba Festival |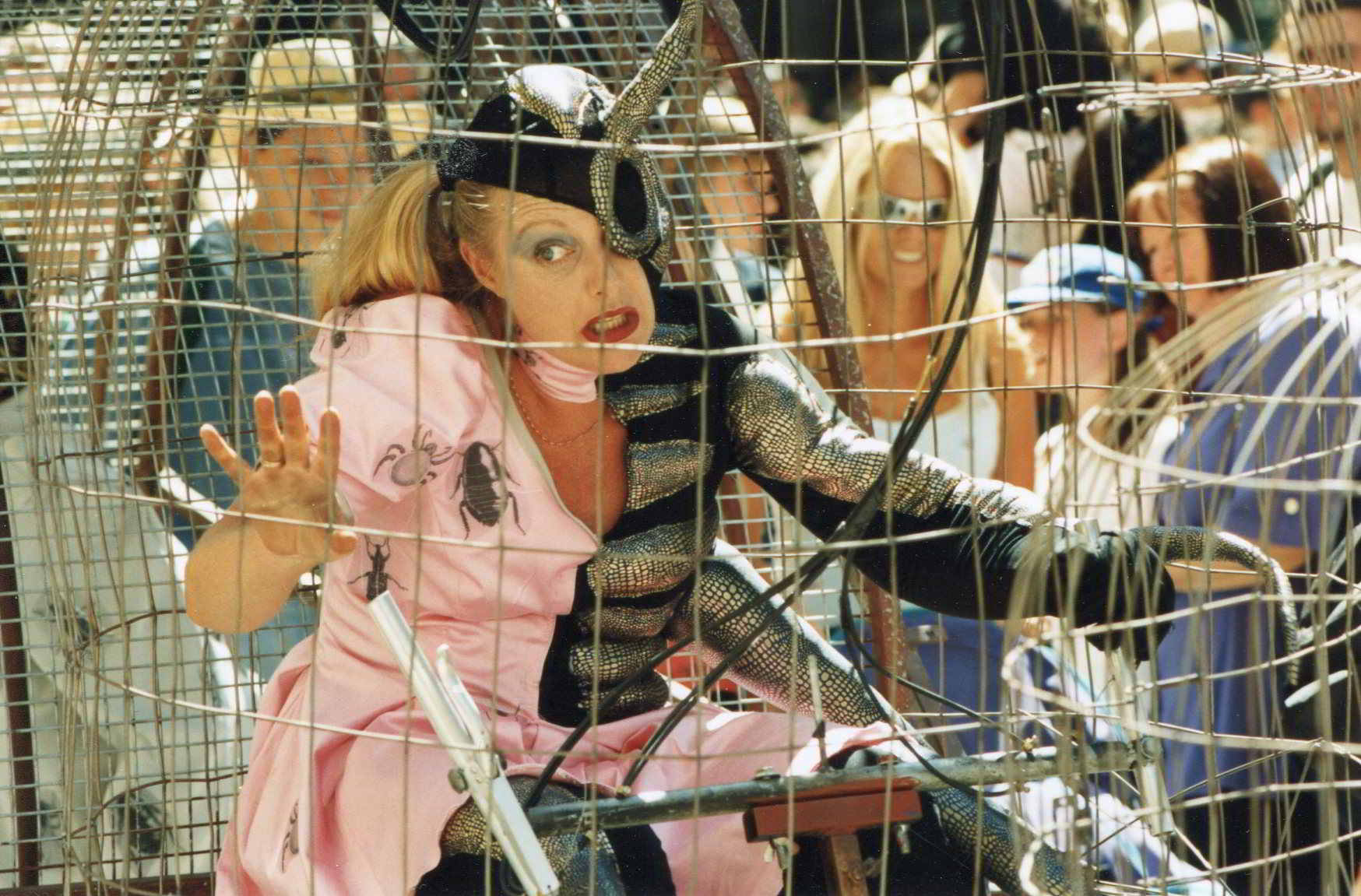 Photograph © Darren James, 1999

THE ROAD ROACH was an articulated street image created for the Melbourne Moomba Festival in 1999 commissioned by its recently appointed Parade Director, Liss Gabb.
Devised, directed and built by David Hope it was a giant metal contraption made of linked cages which were propelled by a large wheeled treadmill. Caged performers were costumed half-human/half-insect characters who steered the machine from within the wheel, and balanced on a bicycle from inside its central cage. Pedalling to propel and articulate the machine, its performers interacted with the crowd as it passed in grimaces and gestures that embellished their duality. A third cage trapped (or protected) a giant lollipop bobbing along in the front, unreachable.
Referencing the turn of the century Millenium Bug scare as well as Handspan Visual Theatre's 1997 production Raised by Wolves, the cages were topped by a large cockroach articulated by the performers pedalling power.
David Hope explained that:
'We wanted to do something that echoes the unpleasant Armageddon feeling - it's the only creature that would survive a nuclear holocaust', he said. He regreted that the Moomba executives vetoed his proposal to place a half-eaten Teletubby in the roach's mouth.
David Hope
interview. Publication unknown, Melbourne, March 1999

ROAD ROACH was conceived as an image that could be a tourable street piece for appearances at festivals and events. These did not eventuate in the winding down of the company's activities that foreshadowed its closure in 2002, and ROAD ROACH was Handspan's last appearance in the street..
---
---
Scroll back to Click Tabs: The People & The Performances
| Creative team | |
| --- | --- |
| Devised & directed by | David Hope |
| Costume design | Greg Clarke |
| Production team | |
| --- | --- |
| Construction | David Hope |
| Moomba liaison | Liss Gabb |
| Performances | |
| --- | --- |
| 8 March, 1999 | Moomba Family Day Parade |
| 13 March, 1999 | Moomba Night Parade |
| | |
| --- | --- |
| Total performances | Roving spots X 2 days |
| Total audience | Live parade audiences (100,000 +) & TV |
---
Scroll back to Click Tab: The Production
On the Street
: