| | |
| --- | --- |
| Co-production | HANDSPAN THEATRE and CIRCUS OZ |
| Premiere | 10 March,1994 |
| Venue | Yarra River, Southgate, Melbourne |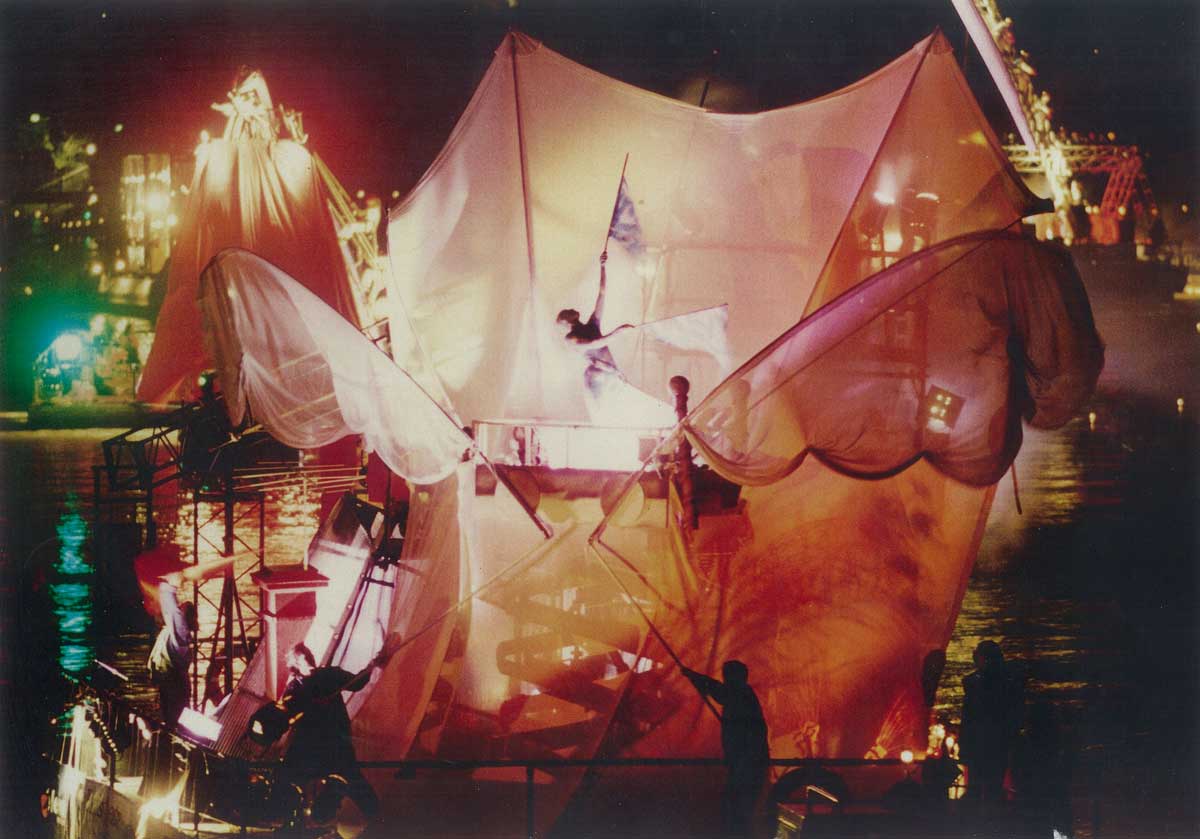 Photographer: Unknown,1994
---
Although the two have never worked together before, its logical that they should: both companies are internationally renowned, bring the highest degree of professionalism to their work, are based in Melbourne and deal with visual performance.
Steven Carroll: The Age, 4 March, 1994
I DREAMT I COULD FLY was commissioned by the Melbourne Moomba Festival for nightly performances on a barge on the Yarra River during the 1994 Moomba Festival long weekend. Moomba approached Handspan about the project in 1993 and suggested the theme of flying.
The first thing I wanted was to have someone fly - just stand on top of a roof and leap off. It linked to the idea of dreaming as an escape and flying as a complete relief from daily worries ... we often watch a bird flying, taking us away.

Ken approached Sue Broadway at Circus Oz seeking the skills that would realise his dream and the co-production collaboration was born.
The work combined aerial artistry with large scale imagery. Using fulcrums and scissor lifts and illuminated by spectacular lighting, its central character, The Dreamer, rose and fell and revolved with her bed, as her dreams pushed towards. The Flier, inspired by birds soaring above, tried mechanical techniques to get airborne. His attempts parodied early flying experiments of the Wright Brothers until he succeeded. He appeared, suspended from an overhead crane, to launch himself from the rooftops that topped the barge setting. Flying high he became Icarus and his wings burst into flame, adding magic to the tricks of circus and animated imagery that made the production.
---
Photographer © Ken Evans
---

I DREAMT I COULD FLY was choreographed to a powerful soundtrack that mixed music from Sally Potter's film Orlando with recorded voice-overs between the astronauts and Houston during Apollo 11's historic flight to the Moon.
Incorporating the Apollo 11 soundtrack is an encapsulation of all our dreams of flight: we actually got off the planet.
---
Photographer © Ken Evans
---
Each night, the barge stage was towed upriver to the Princes Bridge/Southgate basin in the centre of Melbourne where the audience could view the half hour performance from the riverbanks.
On the last night of the Festival, the barge was included in the Moomba River Pageant, one of a flotilla of several performance stages 'floats' on the river. The whole spectacle concluded in a firework display Festival finale. I DREAMT I COULD FLY was the front page colour picture story in the Melbourne daily The Age the next day.
---
---
Scroll back to Click Tab: The People & The Performances
| Production team | |
| --- | --- |
| Stage manager/Lighting operator | Dorri Dragon |
| Lighting operator | Liz Pain |
| Rigger | Jaime Sky |
| Puppet & set construction | Cliff Dolliver, David Hope & Mary Sutherland |
| Production crew | Cliff Dolliver, Rosanna,Teresa, Vanessa, Myoshi & Paul Cruickshank |
| Performances | |
| --- | --- |
| 10 - 14 March | Yarra River, Southbank, for Melbourne Moomba Festival |
| | |
| --- | --- |
| Total Performances | 3 |
| Total audience | Est. 100,000 live & 1.5 million television |
---
Scroll back to Click Tabs: The Production
Co-productions
: