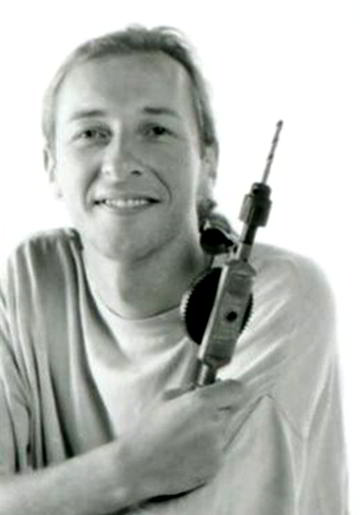 Photograph: © Ponch Hawkes, 1995
---
David Hope came to Handspan Theatre in 1984 as part of its workshop and production team and remained an inventive and resourceful set builder and fabricator of images and props for company productions for almost two decades including its final years as Handspan Visual Theatre..
There was a legendary Handspan anecdote often recalled in support of David's resilience and never-ending cheerfulness. It told the tale of his experience as lighting rigger for The Haunted at the Universal Theatre. Hanging on with 'one hand for himself' to the front of house lighting bars, he was zapped by an electrical short. His cry of pain rang out through the empty auditorium and cast and crew watched in horror as he twisted frantically and threw himself clear, landing in a tumbled heap across the seating rows below his ladder. Shaken and bruised but a trooper, he picked himself up and completed the rig for the opening with an energy and determination that could only have been fuelled by the charge. While it speaks volumes for his character, he claims the incident actually happened at the Griffin Theatre in Sydney while he was rigging a Hannie Rayson play.
Always resourceful, David's first onstage appearance with Handspan was in Edinburgh where he was the touring Stage Manager, for Secrets and had to step into the role of the Black Samauri for a week. The experience held him in good stead when a week or so later in London, he went on as The Traveller when a train carried a sleeping 'Traveller', John Rogers, through Victoria Station and on to Brighton where he awoke miles away from his half-hour call. John's blacks fitted, and David wore them.
I KIND OF knew what I was doing in a vague panicky way. Imperfect it certainly was, but we got a standing ovation that night I remember, much to the annoyance of John, who arrived just at that moment.
David Hope: Email correspondence, 2016

David worked on Handspan shows until 2001 remaining a key participant in Handspan's inventive and skilled image construction. He devised, directed and constructed Handspan's final street piece The Road Roach (2001) a complex contraption that was a spoof on the turn of the century Millenium Bug scare, for the Melbourne Moomba Festival parades.
After leaving Handspan, David spent 13 years in Spain, working mainly in advertising and television. He returned to Melbourne to work as Workshop Manager and Head of Build for the Moomba Parade in 2013. A freelance prop maker for theatre, burlesque and circus he is also a visiting artist at the Education Department, Art Centre Melbourne.