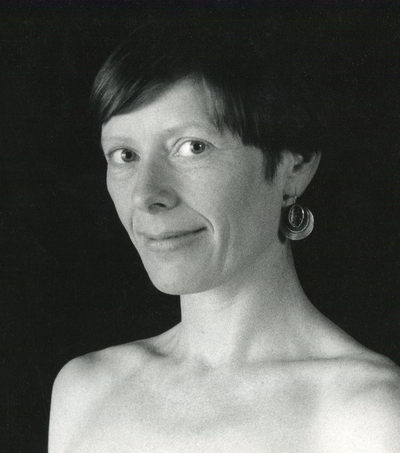 Photograph: © Ponch Hawkes 1990
---
| Member | 1988 - 2002 |
| --- | --- |
| Board member | 1998 - 2002 |
Katy Bowman studied drama at Flinders University (1972 -73) and then served her apprenticeship as a puppeteer with the Tasmanian Puppet Theatre in Hobart, Tasmania and met up with Handspan and its members at the 1979 Tasmanian Puppet Festival.
Katy performed in Nigel Triffitt's first season of Momma's Little Horror Show in Hobart in 1976 and first worked with Handspan Theatre in the cast of the company's co-production with Mushroom Troupe Bombora (1982). She was in the cast for Triffitt's later works The Gift of Vagrancy and The Fall of Singapore but her focus then shifted from puppetry performance to development of her own 'Living Sculpture' work.
Katy's individual work as a performing artist was based primarily in movement and worn imagery. She is well-known for her personal performances with lycra fabrics that emphasise the sculptural form of the human body and its variations with animated objects. Her work falls somewhere between dance and visual theatre and has been seen across Australia and internationally from school and community venues to major arts festivals and company board rooms, in theatres, outdoors and in galleries.
From 1988, when Katy joined Handspan's membership, she appeared in mainstage productions and works for young audiences, and devised, directed and/or designed solo Vignettes and large scale procession and outdoor projects for performance On the Street. An experienced craftsperson, she also made puppets and images for new works and creative development projects.
Her short work, The Theraputist, referenced Magritte, and contributed to Handspan's repertoire of work that explored the images and ideas of visual artists. It premiered in Women Alone (1989); its successor, three acts: Fluid Form, Life Cycle, and Light Dance, returned to Katy's manipulation of fabric with light to create animated sculptural shapes for Metafour (1993).
Katy co-devised I Dreamt I Could Fly with Ken Evans, a major outdoor spectacle co-production with Circus Oz in 1995. Her own outdoor spectacle projects The Phoenix Cycle (1998) and its successor The Cone Project (1999) were Handspan Visual Theatre's only productions in those years.
Katy was a leading creative member of the company in the decade of the 1990s and a member of its final Board.
Her current work is well documented on her website at: Katy Bowman