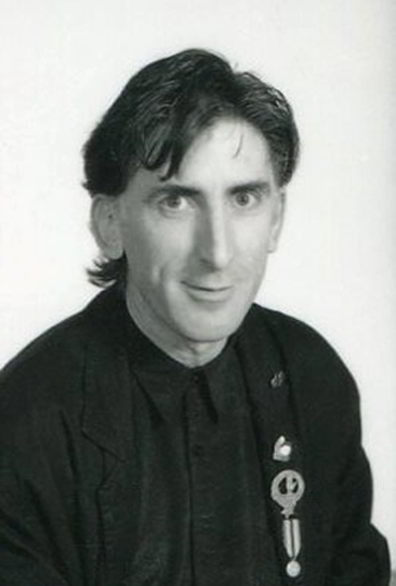 Photograph © Ponch Hawkes 1995
Ken was a founding member of Handspan in 1977. He remained a driving force in the company's artistic direction for 20 years and his design imprint was a key feature in much of the work created in that time.
Like all Handspan's founding members, Ken arrived at puppetry via the Parry-Marshall Puppet Theatre where he landed after a badly reviewed solo exhibition in Adelaide, determined to leave visual arts for ever. His first job with Parry was to repaint all the puppet characters and sets!
Ken is a visual artist, in his early career a painter of canvases experimenting in bold colour and precise execution. His designs and palette are visible in the majority of Handspan's images. Some of his sketches are dotted through the archives, but his detailed working drawings are a rarity. From the beginning, Ken conceived his designs in the workshop often constructing sets and images himself and nearly always being his own scenic painter.
The company's Resident Designer, he partnered with Philip Lethlean (Lighting Designer) and Handspan puppet makers to create more than half of Handspan's original visual theatre works.
He established Handspan Theatre's long-term workshop at 108 Gertrude St Fitzroy in 1978. There, he up-skilled the founders and many subsequent colleagues in building and finishing techniques and was a supportive teacher, mentor and facilitator of multiple projects (Handspan's and others) that were created in the space.
He and Helen Rickards remained the constants in the founding members' partnership that maintained Handspan through its shaky beginnings. They ventured to Rivercrafts (1978/79) to work with Greg Temple; took The Bunyip of Berkeley's Creek (1980) to Washington and the Edinburgh Fringe Festival, and there commissioned Nigel Triffitt to devise Secrets (1983). Ken met Clive Scollay in Alice Springs, and The Haunted (1985) was born. With Carmelina Di Guglielmo, whom he married in 1985, Ken developed the multicultural works that Handspan presented Tutta Casa Letto E Chiesa (1985), A Change of Face (1986) and later Dante - Through the Invisible, Ken's last work with the company. Ken's design for Cho Cho San (1984) was the foundation of its success; and his designs based on the work of iconic painters for Picasso's Four Little Girls (1988) and Viva La Vida - Frida Kahlo (1993) made these works too, highlights in Handspan's repertoire.
Ken was appointed Artistic Director at Handspan in 1993. While in the position, Ken formalised and had ratified a further definition of the role at Handspan which unpinned its allegiance to membership evolved artistic planning. While this paved the way for overdue artistic independence in the role, in the end, leadership detached from the membership did not work for long after his tenure ended.
In his three years new productions were created for the Mainstage and he engaged new and emerging performers in the company through annual, large-scale, collaborative spectacle productions On the Street.
Independently, Ken established Melbourne's first tertiary-level puppetry course within the Small Companies Unit in 1994. Students participated in these street productions and other Handspan projects in an active seeding program of a new generation of puppeteers, and visual theatre practitioners, some of who joined the Handspan membership.
Ken left Handspan to David Bell in 1997, and for a brief time moved to Adelaide in South Australia as Artistic Director of Patch Theatre, before returning to Melbourne and Swinburne. When Handspan Theatre closed in 2002, Ken was instrumental in securing the distribution of the company's remaining funds to support Swinburne's then puppetry workshop at the David Williamson Theatre on the University's Prahran campus (for a time, known as the 'Handspan Studio'); establishing UNIMA travelling scholarships for emerging puppeteers, and preserving the company archives and videotapes for future posterity and residence at the Performing Arts Collection at the Arts Centre, Melbourne. Handspan's reference library was also donated to the Swinburne Library.
Since 2009 Ken Evans has actively sought to create a sustainable and viable arts practice based in Clunes, Central Victoria, creating new works grounded in visual theatre.
---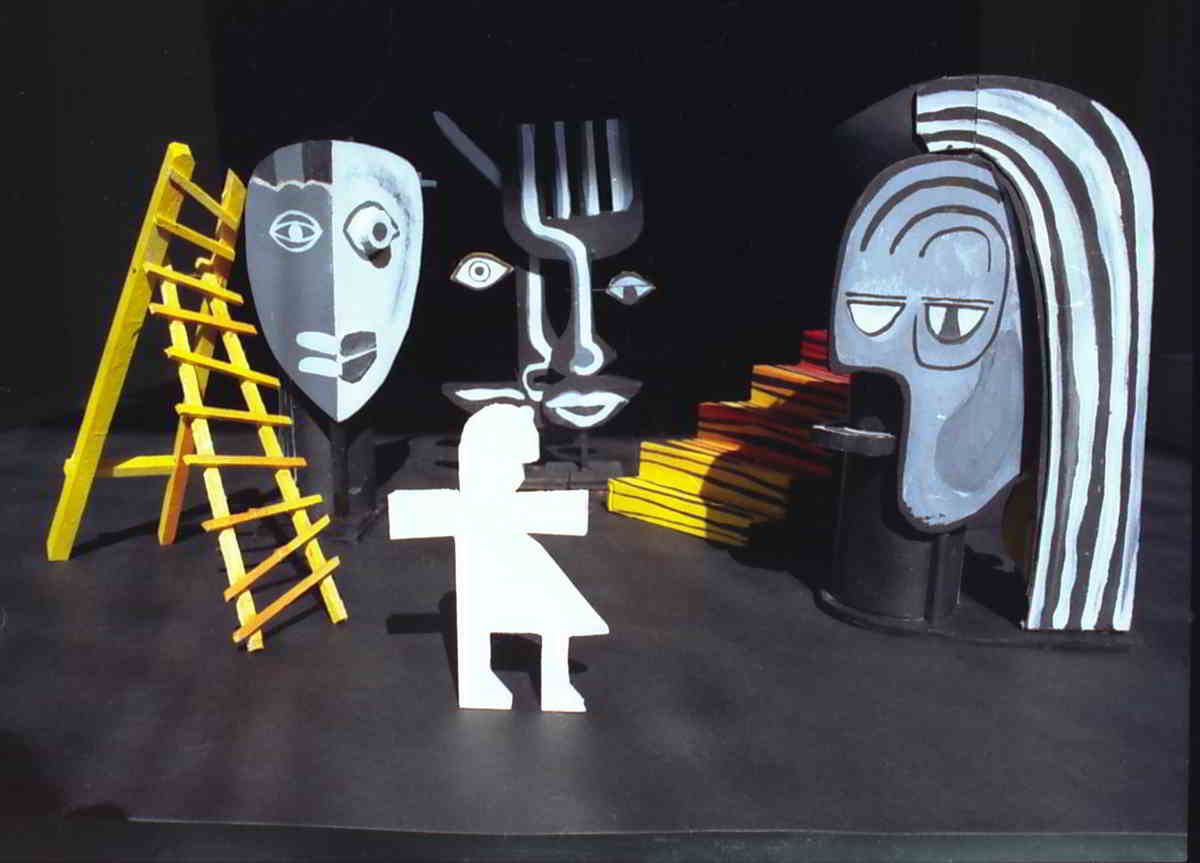 Photograph: © Ken Evans, 1986
---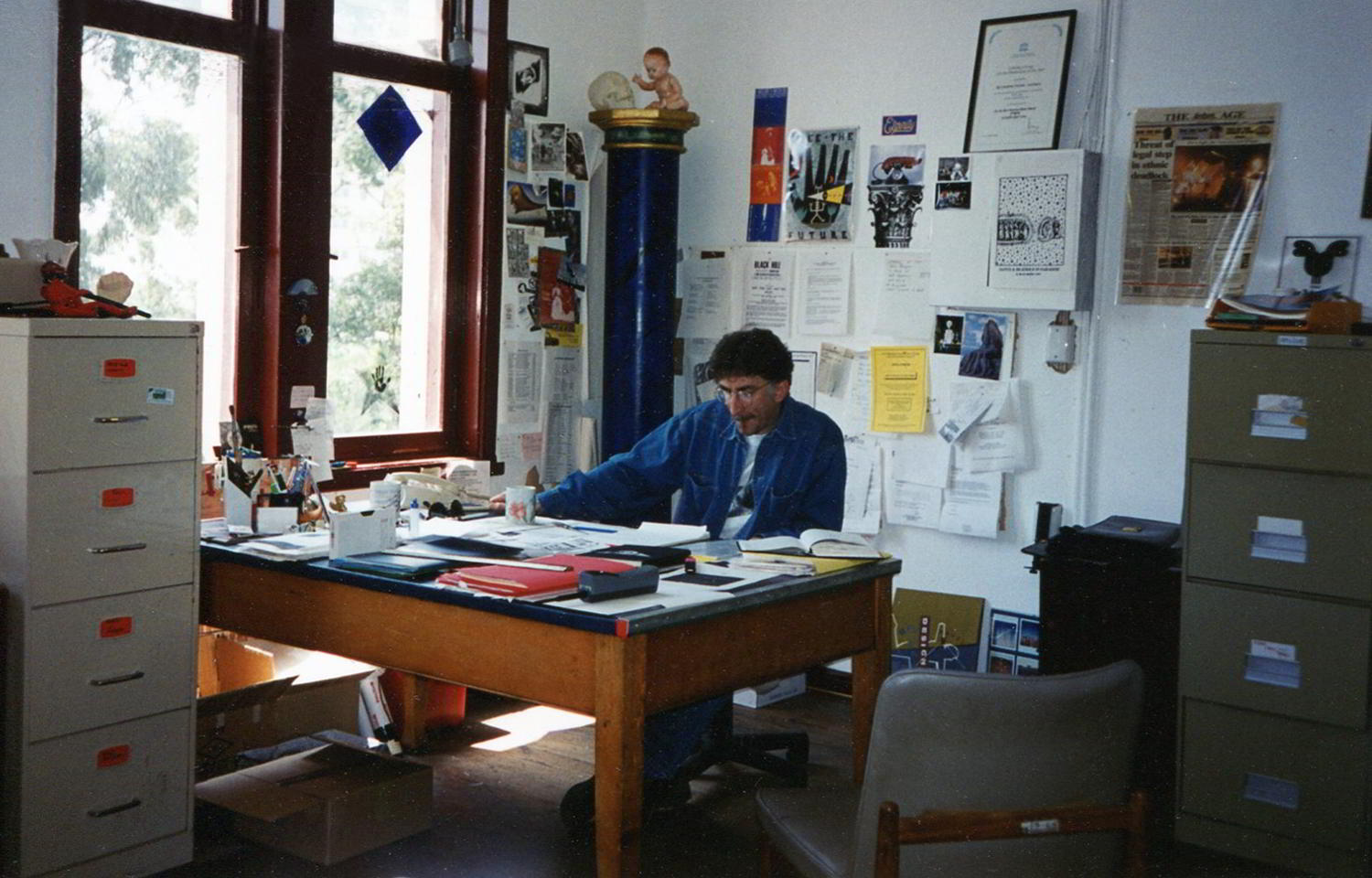 Company snapshot, 1994