| | |
| --- | --- |
| Premiere | June,1985 |
| Venue | Angatja Outstation, South Australia |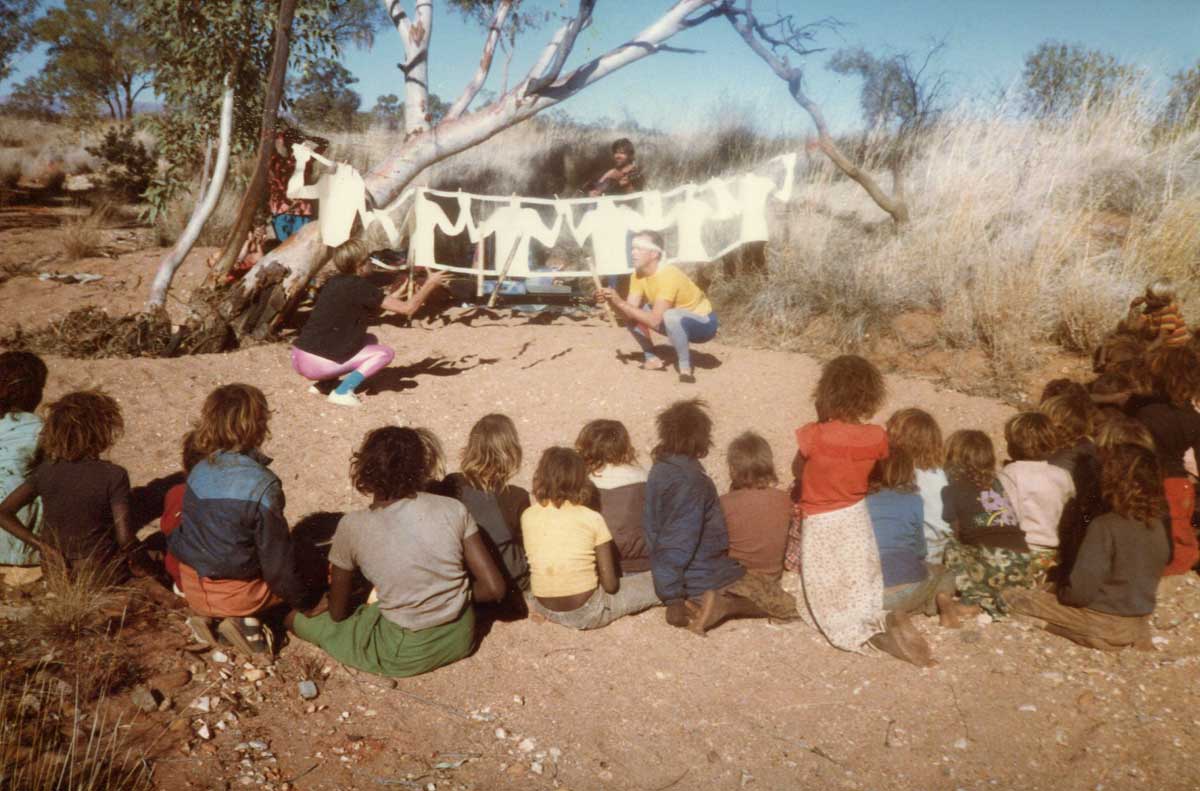 Company snapshot, 1985
---


WHITE MOTHER was a company devised improvisational piece developed during the research residency for The Haunted in Central Australia.
It was created for Handspan's performance 'turn' at an Inma held at Angatja Outstation, South Australia, for primary school children at the outstation and at Docker River, on the West Australian border.
The short work was performed in dry creek beds between gnarled gum trunks, and in a series of humorous visual vignettes attempted to stage the awe and discovery of the company's experience in the desert landscape, represented by the white featureless baby puppet designed for Cho Cho San.
The baby's clumsy examination of its surroundings grew bolder till it fenced itself in between the trees with a chain of white paper dolls from which a clown cowboy chased away a kangaroo with song and pratfall gags amidst shrieks of hilarity from its audience.
In situ, the piece was an effective component in the shared performance event of the evening inma and provided a stimulus and talking point for students at Docker River. At the school, the story of the performance day including shared football and the puppet play was made into an early reader, which remained a popular text in the school library for some years. Titled Tjukurpa Mara Wara it was written by Susan James and illustrated by Kevin Wirril (1986), who replaced the hunter's cowboy hat and juggling sticks with a realistic rifle!
 
The work was devised primarily to share and acknowledge the cross cultural experience at the community Inma - our hosts enjoyed its wit and local topicality and gave the company its blessing to create their forthcoming play The Haunted that would reflect the residency experience with them.
It was Handspan's last night in the desert and new visitors arrived seeking the precolonial history of Australia. Richard Neville who had turned up to film the event for the Ray Martin Midday Show added new whitefella viewpoints proposed in his forthcoming documentary. A long desert night of lively discussion and argument by the firelight ensued adding a new layer to that The Haunted attempted to stage.
Roughly improvised though the Roadshow was, it perhaps more effectively captured Handspan's concept for the intended style of The Haunted than the eventual production which tried to marry a more complex narrative with more subtle imagery.
---
Scroll back to Click Tabs: The People & The Performances
---
---
Scroll back to Click Tabs: The Production & The Performances
---
| Shows | |
| --- | --- |
| | Anagatja Outstation, South Australia |
| | Dry riverbed near Docker River, WA |
| | |
| --- | --- |
| Total performances | 4 |
| Total audience | 230 |
---
Scroll back to Click Tabs: The People & The Production
---
---
On the Street
: