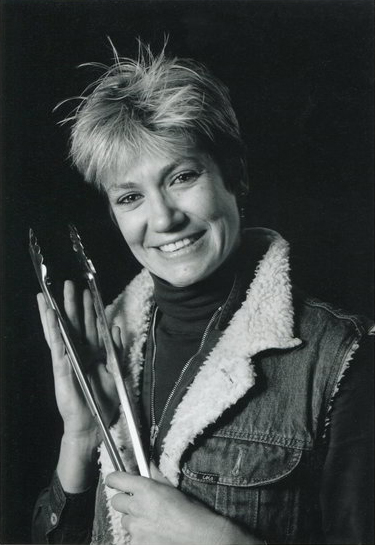 Photograph: © Stephen Hall 1984
---
Avril first turned up at Handspan in Mildura for the finale of Rivercraft 1979 and in 1980 was a cast member of The Mouth Show.
She was a founding member of Melbourne's alternative theatre company Anthill (Australian Nouveau Theatre) and joined Handspan as a member in 1985, after travelling with John Rogers and their son Bill for Handspan's 1984 international Secrets tour.
Avril performed in almost all Handspan productions from her first appearance in The Mouth Show until 1993.
She was a key member of The Haunted (1985) company and worked in subsequent research-based productions from their inception. Her knowledge of Secrets (1983) from her camp-follower years saw her cast in the show as the Red Samurai for its last tour in 1986, and she subsequently appeared in all but two of Handspan's Mainstage productions until 1997.
Handspan's shows Out for a Duck (1987) and Duck (1987) drew their inspiration from Avril's extraordinary ability to speak 'duck' (or more specifically, 'Donald Duck'). Avril's directorial debut at Handspan was for We Repeat Ourselves (1989). She was also Assistant Director of the Handspan co-production with Elision, Australian Contemporary Music Ensemble, An Evening in the Garden of Earthly Desire in the same year.
Avril collaborated in the creation of company vignettes and productions for young audiences, and performed in many. Her own piece: 'The Insider' was a highlight of Metafour (1993).
Avril was a stalwart and committed member of Handspan from before its official membership records began until the company's closure in 2002 - for which she co-produced the party!
She has a Masters Degree from the Victorian College of the Arts and has worked with Melbourne-based independent theatre companies and their projects since leaving full-time Handspan activity in 1993. She has worked as an Arts Program Manager at the City of Melbourne since 1996.
---
---
| Member | 1985 - 2002 |
| --- | --- |
| Board member | 1989 - 1993 |
| | 1997 - 2002 |
---
---