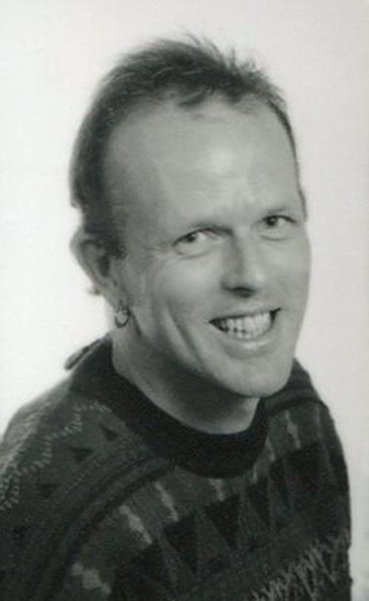 Photograph: © Ponch Hawkes 1991
Andrew was a founding member of Handspan in 1977 and remained at the core of its heart and soul throughout its quarter century history.
Andrew was part of the Parry-Marshall Puppet Theatre company from which the Handspan collective evolved. Before his employment with Parry, he had been a member of Nigel Triffitt's Yellow Brick Roadshows (1974 - 1976), an experimental and edgy performance troupe launched by his disciples from Monash University in Clayton, Victoria where Triffitt was Director of Student Theatre.
Andrew departed Handspan for a couple of years after the first seasons of Hansel and Gretel to travel the world with his partner, Jeffrey Lipp. On his return in 1980, he and Peter J.Wilson toured with The Bunyip of Berkeley's Creek and established Handspan's Australia-wide reputation while Helen Rickards and Ken Evans toured the same work to UK, Europe and USA extending the company's contacts and reputation abroad.
With Ken, Helen and Peter, Andrew formed the leading artistic directorate of the company collective until 1986 when Trina Parker was appointed.
From 1980 till 1997, Andrew worked as a performer in almost every company production that was developed, and independently, performed in the original casts for Nigel Triffitt's works: The Fall of Singapore (1987); Moby Dick'(1990) and the revival of Momma's Little Horror Show.
In tandem with his performing roles, Andrew maintained a committed involvement in all aspects of Handspan's operations, including the endless maintenance of its workshop and equipment through which he mastered the technicalities of paintbrush and hammer with effervescent humour; was assiduous and compelling in the liaison, promotion and recording keeping for the company's extensive community and schools marketplace; and served on the Handspan Board for a first decade, both as a founding member and as an elected working company representative.
A committed networker, he was instrumental in establishing the Theatre for Young Audiences Festivals, We're On and You're On with Sue Galley from the Drama Resource Centre in Bouverie St Carlton; and was a key member of the Steering Committee for the National Puppetry Forum held at Marysville,Victoria in 1986 and Handspan's representative to UNIMA for many years.
Andrew directed Guts for kindergatens and lower primary school touring in 1984, and in the late 1980s, was Artistic Co-Ordinator of Handspan's education and community workshop program: HandMade under the umbrella of which he undertook extended Puppet-in-Residency projects and devised and directed Snapshot (1986), The Butterfly Project (1986), The Tomorrowland Game (1987) and The Dog Show (1987).
In 1990, Andrew created the first Puppetry Unit for Swinburne T.O.P. at Prahran TAFE beginning Handspan's long term partnership with the tertiary Drama Department and its training of professional arts workers. In 1993 he formed Puppetree with designer, Alison Bogg to continue to lead and create artist-in-community residencies for local events in regional and metropolitan Victoria, ACT, New South Wales, and in India in through an Asialink supported residency.
From 2004 Andrew worked for some years at Melbourne's independent theatre venue, fortyfivedownstairs, as front of house manager - his warm welcome a unique attribute of the location.
From 2013 - 2015, Andrew cataloged, classified and digitised Handspan's extensive video and film archive which has made possible the video clips linked on this site.
---