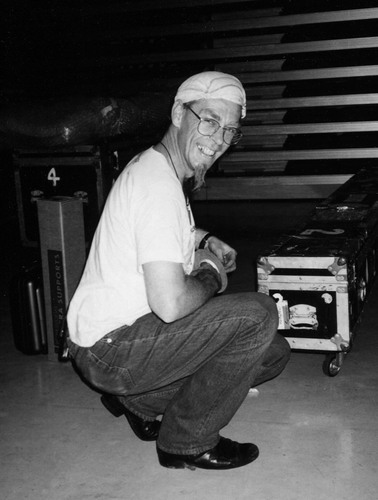 Photograph: Company snapshot, 1996
---
Paul first met up with Handspan during Secrets Sydney Festival season at the Off Broadway Theatre in January 1984.
Paul was on the move, relocating from Terrania Creek in northern New South Wales, to Melbourne. Handspan was seeking a sound operator for future Secrets touring and Paul stepped into the vacancy, remaining with the company for the next 15 years.
Paul's first season with Handspan involved a baptism by fire it might be said. He was Sound Operator when the dressing rooms at the Universal Theatre caught alight during a performance. Paul had to make an instant transformation into Venue Manager, calling the fire brigade and ushering the audience to safety via the fire escape while awaiting their arrival, torn by his dominant anxiety for the irreplaceable show equipment due to leave Australia within the week for an international tour. Fortunately all survived including the theatre - and the gear, some slightly damp from the hose blasts.
Paul was a key member of Handspan's production team for many company shows - Production Manager, Stage Manager, Tour Manager and construction crew, appearing on stage only once, and in outdoor spectacles rarely.
In 1987, Paul was instrumental in securing support to mount The First Ten Years, a photographic exhibition of Handspan's work from 1977 - 1987 which was hung in the Handspan White Studio on the second floor at 108 Gertrude St (July - September 1987) and at the National Puppet Festival in Perth, Western Australia (February 1988).
Paul was Chair and Deputy Chair of Handspan as the company made its transition from member-led artistic collective to leadership by an Artistic Director in the first years of the 1990s, providing an ear and anchor for company artists, board and management in a time of upheaval for all.
Paul died in 2000.
| Member | 1985 - 91 & 1993 - 95 |
| --- | --- |
| Board member | 1987 - 1991 |
| Chair | 1989 |
| Deputy Chair | 1990 - 1991 |