| | |
| --- | --- |
| Premiere | 20 November 1984 |
| Venue | U2 Universal Theatre, Fitzroy, Victoria |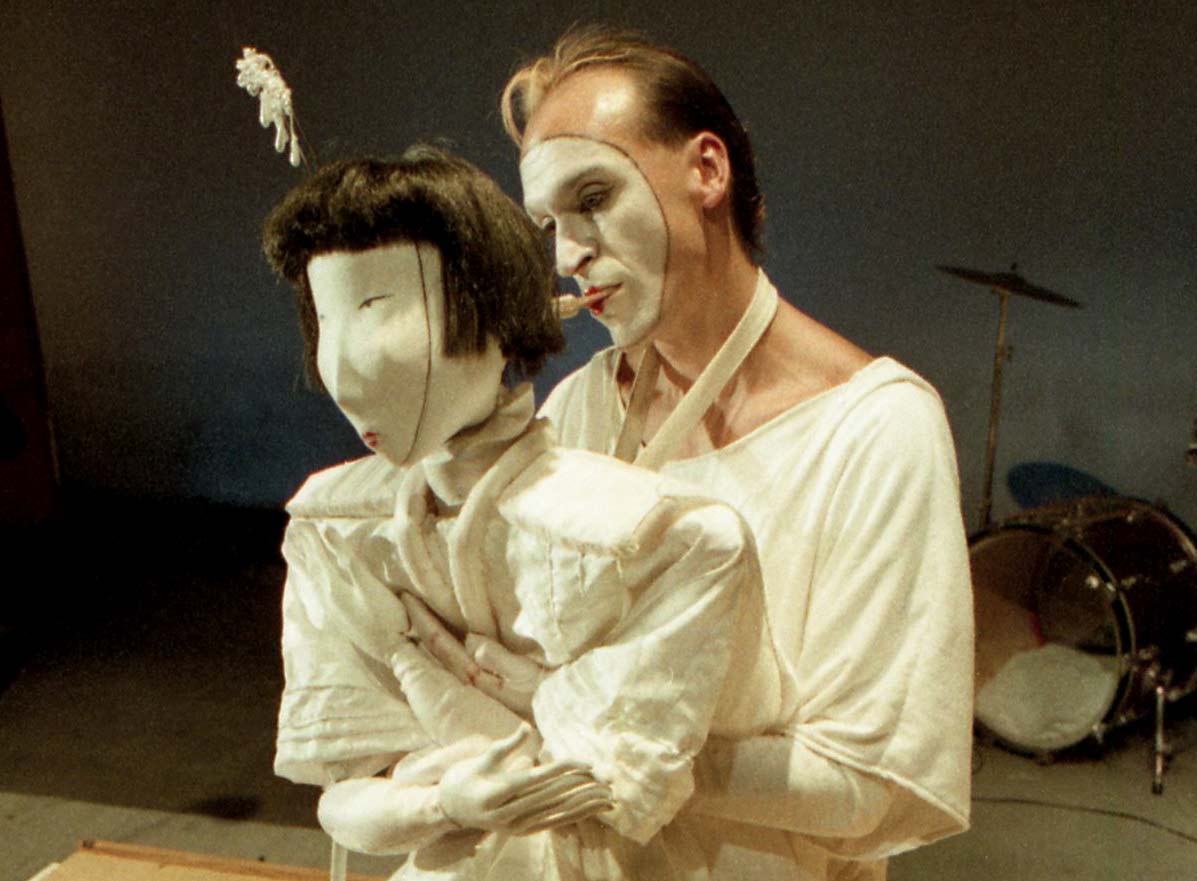 White on white – no more hiding things in black or disappearing into smoke. This time you can see how the puppets are being manipulated. It's a challenge for us and it ties in quite neatly with the story.
Ken Evans
Interview: Rosslyn Beeby,
The Melbourne Age
12 November,1984

CHO CHO SAN was one of Handspan's most acclaimed productions, but, ironically, one of its least performed.
Commissioned by Handspan Theatre in 1983, it was brought to the company by Carmelina Di Guglielmo, keen to explore further the development of text-based work that featured actors with animated images and puppetry. The play was written by Daniel Keene, originally based on John Luther's book Madame Butterfly, which had also inspired Puccini's opera. Contemporary chamber opera was still in early development in Australia, but the notion of bringing puppets puppets on this stage took this project into a new realm of theatrical adventure.
A New Opera
Daniel Keene and Director, Geoff Hooke had been working together for some time to develop the play into a modern opera before they came to Handspan. The further evolution of its plot, through design and imagery with Handspan, and with a magical musical score by Boris Conley and Dalmazio Babare, proved to be both a powerful interpretation of the story and a unique theatrical experience.
The story of the dreamy Japanese child bride bought by the gross Captain Pinkerton is always moving. In the hands of Handspan, who work from the heart, it melts us.
John Larkin The Stage, Sunday Press 16 December, 1984
For Hooke the story of Cho Cho San was about:
The way we cling on to hopeless relationships. I would like to do something that touches people. I've done a lot of comedy and made a lot of people laugh. I think maybe it's time to make people feel
Geoff Hooke Interview: Rosslyn Beeby, The Melbourne Age 12 November 1984

CHO CHO SAN was powerfully moving. The tragedy of a delicate, naive girl caught between two cultures, hopelessly trapped, hopefully yearning and with all hope destroyed, was told through resonant music and lyrics. Singer/actors and life-sized puppets manipulated by visible puppeteers played dual roles. Cho Cho San herself was represented by an actor, and by her alter-ego puppet, Butterfly; Goro, the Japanese marriage broker, by an actor and a grotesque puppet of himself; Pinkerton, Kate and Sharpless, Westerners and the Chorus were actors, and the child of two cultures was a white-faced, innocently featureless baby puppet, smothered to death at the hands of its despairing mother in this new version of the story.
Reimagined in white
Ken Evans' design, predominantly white, staged the play using the long side of the Universal 2 auditorium against a white cyclorama with catwalk and rostra silhouetting centrally placed musicians. Spot colour in costumes, puppet dressing and lighting emphasised the emotional undercurrents of the work.
The violence, which is both unstated and profound, is heightened by the plain white décor, with occasional blood red splashes. The moods rise and fall like a feverish fluttering pulse
John Larkin The Stage, Sunday Press 16 December, 1984
---
---
Goro and his cohorts inhabited the piano bar at one end of the stage, blending the musicians into the nightclub with their instruments which stretched to Cho Cho San's tatami room at the other end. Performers moved through the long space, with and through its music.
The white, faceless Baby (which appeared in many subsequent Handspan works), and the Puppet Butterfly's modified bunraku technique using mouth board control, were designed for this play by Ken Evans with their maker, Michele Spooner. These images, despite, or because of their diversion from Luther's original story, created the play's moving highlights the disintegration of the Butterfly puppet, a powerful illustration of Pinkerton's callousness; and the baby's death at its mother's hand, which moved audiences to tears.
We see her, Butterfly, on her wedding night being literally being stripped apart by Pinkerton while the slaying of her baby by its mother was agony made even more intense by a puppet. There is something about the blank faces of these figures which allow us to make our own private emotional projections onto them
John Larkin, The Stage, Sunday Press, Melbourne, 1984
---
---
The score of the production was composed and performed by Boris Conley, from Circus Oz, and Dalmazio Babare, percussionist from the Melbourne Symphony Orchestra. Live piano, electric keyboard and percussion were supported by pre-recorded tapes and singers were amplified.
The music reminded me of Kurt Weill, Laurie Anderson, Lerner and Loewe and many others; though the result of this eclecticism is original music of great power and beauty. Added to this are the sensitive lyrics of Daniel Keene
Antoni Jach, National Times, 21 - 27 December, 1984
A smash hit!
CHO CHO SAN's premiere season was a huge success. It sold out and all but one critic raved:
This production has taken all the passion and drama of the original theme and made it powerfully relevant to today. The worth of marriage, the distinction between east and west (innocence and sophistication) and the refusal to accept life as it is are issues which are brilliantly explored. ...
This is the best and most interesting piece of theatre around. The end is so disturbing and real that it is difficult to applaud. The audience is left stunned and impressed by a production which challenges the work of many established theatre companies in Melbourne.
Louise Bellamy, The Melbourne Times, 5 December, 1984
---
Handspan Theatre's Cho Cho San is one of the most exciting new Australian plays to emerge from Melbourne this year… Handspan have once again provided us with challenging and arresting theatre.
Antoni Jach The National Times 21-27 December,1984
---
It is the mime and puppetry that is the outstanding feature of Geoff Hooke's production. At times the device is a clumsy one. But at others it is responsible for some tender and compelling image-making. The direction is slow-paced - deliberately so - and the prevailing mood is one of quiet lyricism, giving way gradually to bitterness and despair.
Leonard Radic The Melbourne Age 23 November, 1984
---
Special honours in this co-operative creation go to Peter Wilson, whose sensitive manipulation of the baby and Butterly in Melbourne - a memorable experience
Laurie Landray The Herald, Melbourne, 21 November, 1984
---
Handspan's puppetry has always been of a high standard and I congratulate them on such an excellent blend of skills
Leonie Hurry, Camberwell Press, Melbourne, 19 December, 1984
---
The Australian, with its national circulation, published the one negative review. Its writer comprehensively disliked both the production and its conceptual intentions:
Only a confused review can give any impression of this inchoate divertissement. A great many talents have come together, and in a curious way they cancel each other out. What is lacking is a synthesising artistic vision.
Harvey Mitchell, The Australian, 22 November, 1984
---
Cho Cho San Video segments
Mixed outcomes
Despite the outstanding success of its season at the Universal Theatre, Handspan was unable to keep CHO CHO SAN in its repertoire. Although touring opportunities for the work were in train, Hooke and the musician/composers were shaken by The Australian's criticism and wanted to redevelop the work with more experienced singers and to exclude most of the Handspan ensemble. They also insisted on an extended live band, further rehearsal and steep royalty agreements. These proposals were not acceptable to Handspan in the face of the company's artistic collaboration in the production, and were not realistic given its already un-remunerated financial investment in the work.
Handspan ideology of ensemble development and shared creative ownership of work anticipated its continued refinement through touring opportunities. Company members sought constantly to develop and extend their skills and its ground-breaking and experimental works were continually re-rehearsed, further developed and refined from the first opening night till their last closing performance. New works were created based on the skills and capacities of original cast members with successful directors blending their contributions into a whole greater than its parts. Handspan did not consider further improvements to CHO CHO SAN would eventuate through recasting.
At the same time, the technical production demands of the music had been unanticipated in this new venture into the world of live amplified sound and for the only time in its history, the company had borrowed funds to cover this additional pre-production expense against the work's hoped for success and future touring potential. No further financial investment could be contemplated.
Despite several negotiations and available touring options, Handspan's rights in the work lapsed after two years.
Playbox Theatre mounted a new production of the play for Victorian touring in 1987. The new production was again directed by Geoff Hooke and employed Peter J.Wilson as Butterfly puppeteer and Michele Spooner as puppetry director. In 2012 the play was again revived, directed by Peter J.Wilson in an Australia-China co-production toured by Arts Projects Australia, with a new musical score and adaptation of the original plot. Neither of these later productions generated the acclaim and response of the Handspan production, apparently failing to recapture the magic of the original. Both employed professional singers which gave the work musical security by lost much of its immediacy for audiences, and although both co-opted Handspan's puppetry designs for Butterfly and the Baby, neither successfully re-staged their powerful poignancy.
CHO CHO SAN's successful opening season in 1984 nevertheless confirmed Handspan's burgeoning reputation as a dynamic creative force in the development of adventurous mainstream theatre in Australia. The company's creation of Nigel Triffitt's Secrets had put the company in the public eye and CHO CHO SAN kept it there.
Handspan have come a very long way since they began in 1977 as a puppet theatre. Their great growth has been enhanced by a recent tour of the United States, Britain and Canada, and with Nigel Triffit's Secrets, the current production is a real signpost of their expansion. Re-establishing the old tradition of puppet theatre being for adults, Cho Cho San also has the quality of presenting opera on a very accessible level.
John Larkin, The Stage, Sunday Press1984
---
---
Scroll back to Click Tab: The People & The Performances
| Creative team | |
| --- | --- |
| Writer | Daniel Keene |
| Director | Geoff Hooke |
| Designer | Ken Evans |
| Composers | Dalmazio Babare and Boris Conley |
| Producer | Helen Rickards |
| Design realisation & Manipulation direction | Ken Evans |
| Puppet maker | Michele Spooner |
| Manipulation consultants | Michele Spooner, Noriko Nishimoto |
| Lighting design | Philip Lethlean with Geoff Hooke |
| Sound design | Mark Woods |
| Costume designer | Maryanne Rennie |
| Presenters | Tim Woods and Greg Hocking |
| Performers | |
| --- | --- |
| Chorus & Puppeteer | Carmelina Di Guglielmo |
| Sharpless (Actor) and Child Puppeteer 1 | Andrew Hansen |
| B.F.Pinkerton (Actor) | Danny Nash |
| Goro (Actor and Puppeteer) | John Rogers |
| Cho Cho San (Actor) | Ruth Schoenheimer |
| Chorus, Mrs.Pinkerton (Actor) and Puppeteer | Lizz Talbot |
| Butterfly Puppeteer and Child Puppeteer 2 | Peter J.Wilson |
| Musicians | Boris Conley and Dalmazio Babare |
| Production crew | |
| --- | --- |
| Technical direction | Philip Lethlean |
| Sound recording | Choo Packer |
| Lighting operator | Philip Lethlean |
| Sound operator | Paul Judd |
| Stage managers | Ken Evans, David Hope |
| Set construction | Brian Holmes, Paul Judd, Paul Scacchi |
| Production crew | Paul Scacchi, Kelvin Geddes, David Hope, Trish Simmons, Simon Fisher, Gail Davidson |
| Production assistants | Vanessa Hollow, Avril McQueen, Rick Ireland, Alison Donne, Christine Houston |
| Publicist | Jude Bourguignon |
| Graphic artist | John Dickson |
| Season | |
| --- | --- |
| 20 November – 22 December 1984 | U2 Universal Theatre, presented by Hocking & Woods |
| Total performances | 37 |
| Total audience | 3,265 |
---
Scroll back to Click Tab: The Production
Mainstage
: