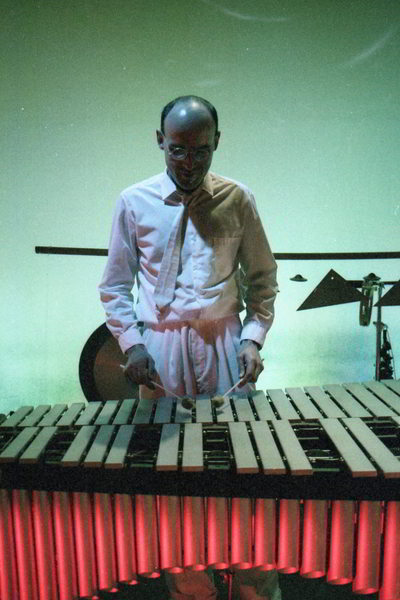 Photograph: © Stephen Hall 1984
Dalmazio Babare was a Guest Artist with Handspan Theatre, co-composer with Boris Conley of Handspan's original production of Daniel Keene's Cho Cho San in 1984.
A percussionist and timpanist, Dal performed with the Australian Percussion Ensemble and with the Melbourne Symphony Orchestra as well as with many jazz and rock bands and as a musician with theatre companies including the Flying Fruitfly Circus, the pram factory, La mama and Victorian State Opera.
A musical perfectionist, it was Dal, frustrated with the musical expertise of the original Cho Cho San ensemble, who insisted that the work be taken from Handspan, despite existing commission agreements, and be produced with highly trained singers elsewhere, leading to the production's eventual revival by Playbox Theatre in 1987.
---