| | |
| --- | --- |
| Premiere | 10 August, 1989 |
| Venue | St Martins Theatre, South Yarra, Victoria |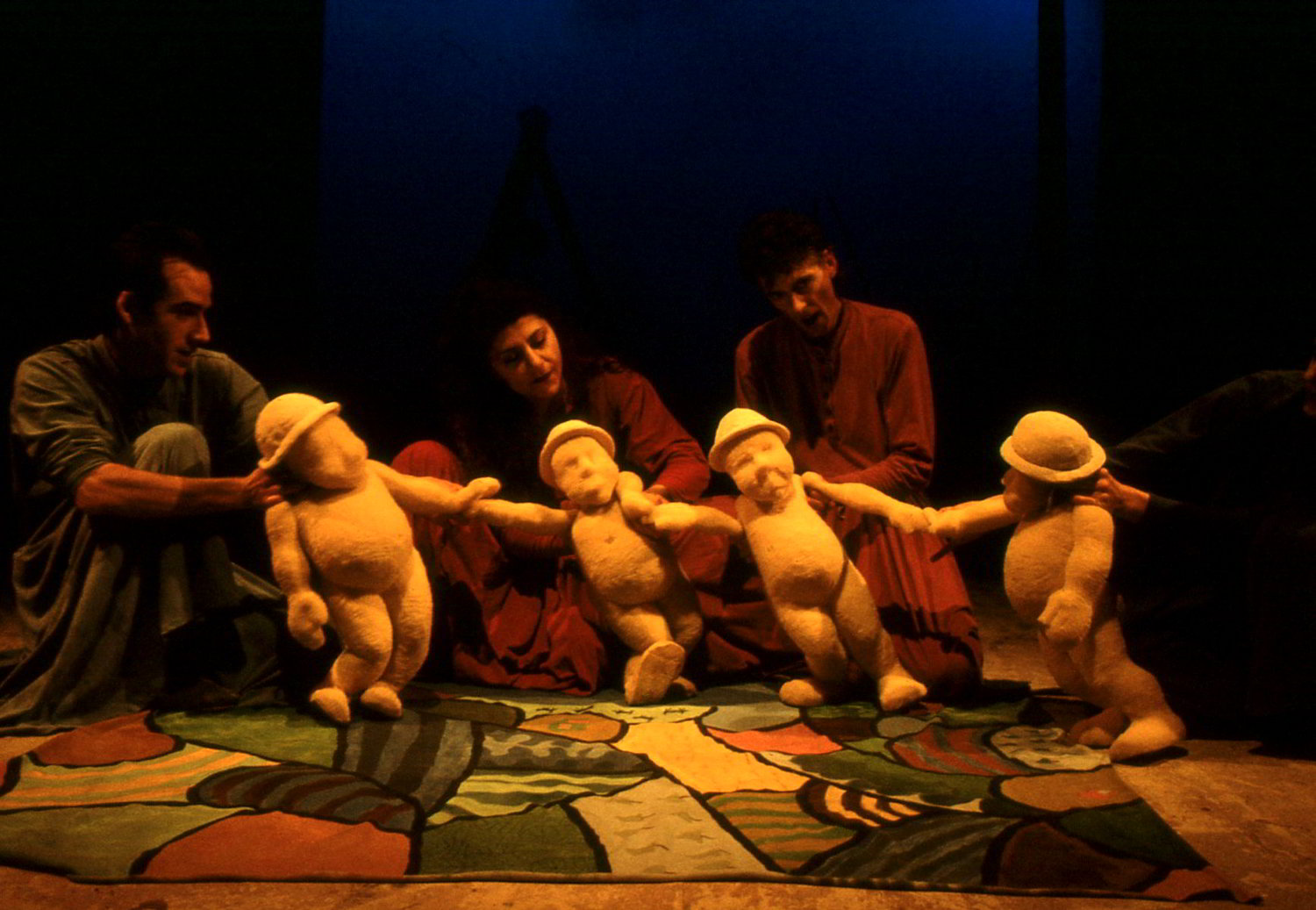 Photograph: © Ponch Hawkes 1989
---
The imagery is full of sadness, desolation and savagery with wonderfully dramatic effects of sight and sound …the force of the pictures comes at us like arrows to the heart, not to mention the conscience, shaking complacency as well as concepts.
John Larkin, The Sunday Age, Melbourne, 20 August, 1999
BANQUET - A Visual Parable of the Third World, as its subtitle suggests, was a provocative and metaphorical look at Third World living conditions and social issues. Created for secondary school student audiences as well as for the general public, the production conveyed a message of injustice and the need for social change. It aimed to confront prevalent Western preconceptions of the Third World.
The project was initiated by Community Aid Abroad (CAA) who approached Handspan to create an imaginative theatrical work for young audiences that would explain the circumstances and viewpoints of people living in Third World countries.
The play was based on first-hand research undertaken in India by writer/director Andrea Lemon with Trina Parker, Handspan's Artistic Director and Banquet's Designer, in November 1988. Andrea had been a participant in The Haunted project developed by Handspan through an outback residency in Central Australia in 1985, and was keen to write a new work through a similar process. Trina was interested in the material and its message as well as the opportunity to explore a new landscape in design.
CAA selected India as the most appropriate research destination, organising the travel itinerary, local meetings and sponsorship from Air India, Trina and Andrea spent 3 weeks with a troupe of Indian street theatre actors performing simple parables explaining their legal rights to the public; and visited several CAA projects in the country. They returned to Australia with a feast of documentary material and a perspective of 'the third world' on which to base their BANQUET:
The third world is not a country, or even a specific list of countries...The 'third world' is a concept - a way of thinking about and behaving towards other people which promotes and consolidates already oppressive structures which 'keep people in their place'
Writer/Director's Note:
Banquet
Program notes, 1989
---
---
Andrea, with a script commission from the Victorian Ministry of the Arts and the Australia Council, wrote the play for workshop development with images and rehearsal in June/July 1990.
The innumerable guilt-filled films of starving children which have characterised Western views of the Third World, seemed extremely limited after our experience: ''basically what everyone is talking about there is empowerment. The play deals with the idea of 'feast or famine' - their contradictions - not just about starving to death, but also about how we try to reinforce structures to keep the status quo
Andrea Lemon: Interviewed by Deborah Stone: The Australian 20 July, 1989
The Play
BANQUET... was set in a generic world - influenced by, but not, India - its specific location unimportant, although its music, costumes and imagery suggested a combination of Africa, South-east Asia and the Indian sub-continent. Village life, economic oppression, local resilience and resistance were illustrated in episodes and stories reflecting and sometimes re-telling the encounters of Andrea and Trina's experience.
BANQUET is a feast for the senses
Chris Boyd, The Australian 1989
---
BANQUET'S performance style was highly visual and richly symbolic. Actors drove the narrative, visual imagery revealed its metaphoric notions, and a synthesis of musical styles reflected different cultural contexts in a dynamic, live score performed by on-stage musicians.
Geoffrey Milne The Herald, Melbourne, 11 August 1989
---
Simple wood carved puppets made by Cliff Dolliver represented the indigenous peoples. The colonials were foam carved, chubby and faceless. Umbrellas represented the sprouting of imported crops, 'an especially clever image' noted critic, Fiona Scott-Norman1 Rear projections expanded the stage to suggest an arid, harsh landscape.
Actors and singers drove the plot which illustrated the injustice of poverty, its subjugation of women and children, and the breaking of men's spirits by robber barons, landlords and circumstance. Sam Mallet's score was played live on stage by performer/musicians In a cast of performers mostly new to the company. (Avril McQueen was the only experienced Handspan artist on stage).
Audience response
BANQUET ... was received by mixed opinion – its imagery and score were applauded, but some school audiences were confused by its unfamiliar context; general public attendees and critics sometimes found its narrative dogmatic rather than dramatic; and at the same time its message seemed ambiguous to many.
The work was originally conceived to be a touring work for secondary school audiences. As it developed, and in the absence of a mainstage work in Handspan repertoire at the time, it was re- focused and aimed to reach a wider general public audience. This abrupt change of direction gave BANQUET's design and production scale opportunities for enrichment but left its script - written for direct appeal to young viewers in a classroom context - open to criticisms of didacticism. Text that might have been appropriate in an educational context proved too earnest for audiences looking for entertainment and re-staging in a new design context made a tight rehearsal and production schedule too tight.
What doesn't work as well is a series of rather prosaic scenes between the actor/puppeteers whose dialogue and action are pointedly didactic and presentational in style
Geoffrey Milne, The Herald, Melbourne, 11 August 1989
---
Banquet's drawcard is its visuals and they are the only truly vibrant aspect of the show. Trina Parker's designs are haunting, unpredictable and often savagely satirical.
Andrew Porter, Beat, Melbourne, 23 August 1989
---
Like The Haunted (1985), BANQUET ... evolved from the brief research experience of its core creative team into an unknown and confronting culture and social mileu. Documentary material and personal reflections, (albeit in this production, with a script writer), had to make a visual parable for the stage within a limited development period and without the experience of an established ensemble. The work was criticised for its apparently confused intentions. Perhaps like The Haunted, it suffered from a bombardment of ideas and stimuli that needed distance and further dramaturgical distillation of its 'first hand accounts' to be satisfying theatre.
Handspan's 1989 Annual Artistic Report acknowledged the limitations: 'While there had been an extensive period allowed for research, we did not allow sufficient time for development of the 'form'.2
Actually, too much has been attempted. Banquet is a bit of a conglomeration of image, diatribe and symbol… It is unclear what the motivation for the piece is. This is a major flaw, and I think the motivations should have been more strongly addressed.
Fiona Scott-Norman, unknown publication, 18 August 1989
---
In the end, Banquet comes across like a multi-limbed beast suffering a severe co-ordination disability – each appendage with a mind of its own.
Andrew Porter Beat, Melbourne, 23 August 1989
---
But it is a most powerful experience, coming at us with the full force of anger, and seeking to show us a way out ...
John Larkin, The Sunday Age, Melbourne, 20 August 1999

With a performing company of eleven people, BANQUET was considered too expensive for the company to further revise after its opening season. Recognising the work's limitations, and in the face of adverse criticism the work was dropped from the company repertoire.
BANQUET ...was the first of Handspan's Mainstage works to be developed without the predominant involvement and focus of the company's experienced members, Its production marked a change in the nature of company membership and collective participation in its artistic vision that informed Handspan's next decade. Membership doors were opened to new and wider artistic participation, but shows were no longer created and performed with an ongoing working member ensemble, and their flexibility to remain in repertoire for long-term touring was thereby curtailed.
---
Scroll back to Click Tab: The People & The Performances


Footnotes
1
Review: Fiona Scott-Norman, publication unknown, 18 August 1989.
| Performers | |
| --- | --- |
| Actor | Mary Sitarenos |
| Actor | Hugh Wayland |
| Puppeteer | David Collins |
| Puppeteer | Avril McQueen |
| Musicians | Peter Neville, Jacqui Rutten |
| Production team | |
| --- | --- |
| Sets, Costumes, Puppets, Props | Andy Cadzow, Cliff Dolliver (carved wooden puppets), Laurel Frank, Jessica Gourden, Horse, Philip Lethlean, Paul Newcombe, John Rogers, Michele Spooner |
| Stage Manager | Ruth Hardman |
| Sound Operator | Sam Mallet |
| Technical Crew | Andy Cadzow, Leon Dark |
| Publicist | Jude Bourguignon |
| Graphic design | Fiona Sweet |
| Photographer | Ponch Hawkes |
| Work experience & secondment assistants | Lynne Bird, Damien Carey, Melinda Coxhead, Simone Leamon, Madelaine Jenkins, Natalie Kean, Lorna Kershaw, Nadine Michel, Julie Murphy, Jenny Pfeiffer, Rachael Syme, Christian Wagstaff, Sophy Williams |
| Seasons 1989 | |
| --- | --- |
| July (2 weeks) | School performances, St Martin's Theatre, South Yarra |
| 10 August – 3 September | Public performances, St Martins Theatre, South Yarra |
| Total performances | 41 |
| Total audience | 3795 |
Scroll back to Click Tab: The Production
Mainstage
: