| | |
| --- | --- |
| Co-production | HANDSPAN VISUAL THEATRE & PLAYBOX THEATRE |
| Premiere | 21 February, 2001 |
| Venue | Merlyn Theatre, CUB Malthouse |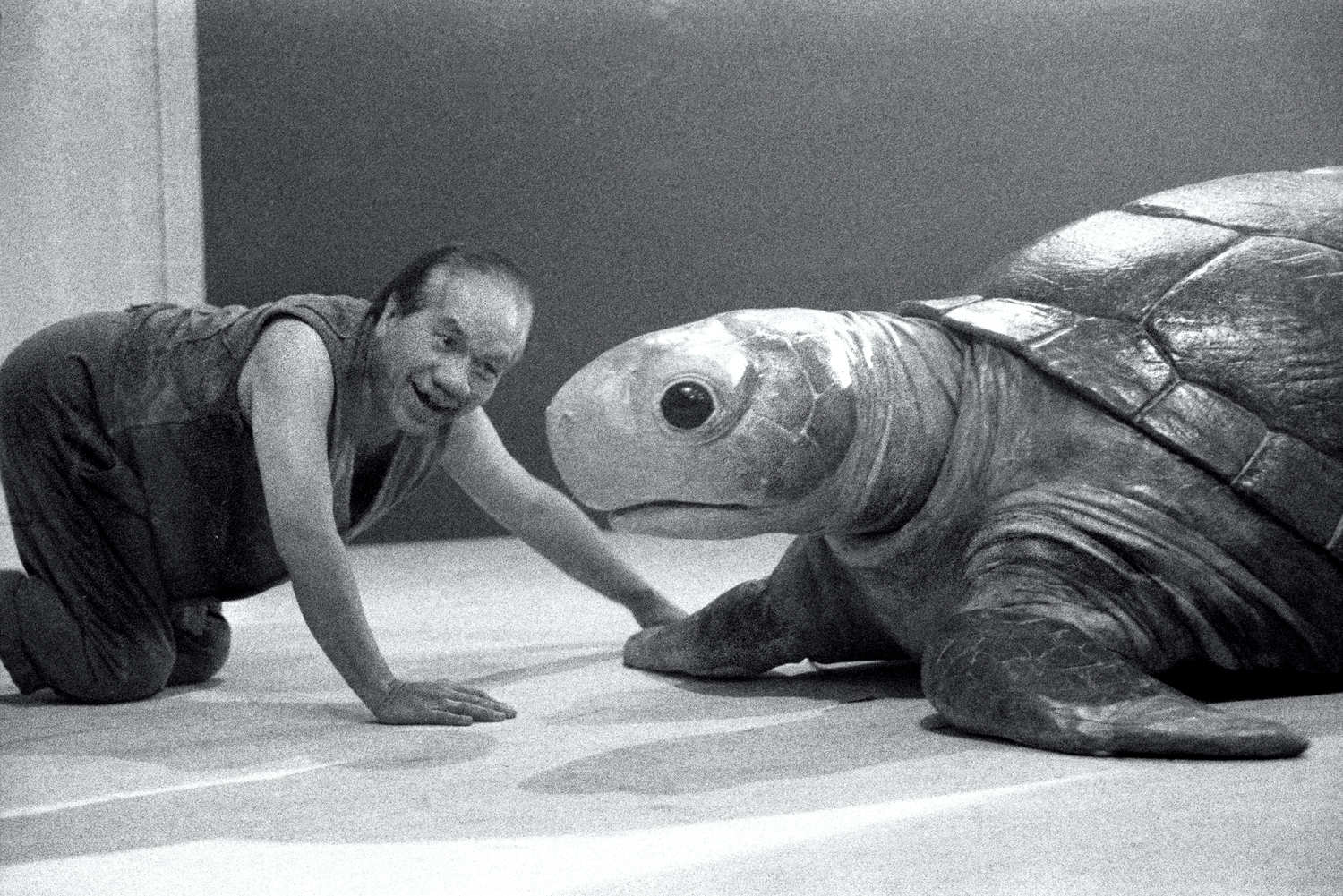 Photograph © Jeff Busby, 2001
---
Romeril's enthusiasm for exploring Australia's nexus with the Asian region is boundless and beautiful.
The Bulletin
MISS TANAKA was written by John Romeril whose interest in and experience of Asian-Australian cross cultural relationships has created many theatrical works on the subject since his early, and now classic play, The Floating World (1974)
John was experienced in writing puppetry-based works, including Handspan Theatre's successful production for young audiences The Reading Boy (1991), and the original concept was for MISS TANAKA to be a puppetry-based work. The idea for the play was proposed by Noriko Nishimoto from Spare Parts Puppet Theatre in Western Australia and when the work was eventually taken on by Handspan and Playbox, Noriko joined the Melbourne-based creative team.
The Play
The co-production was directed by David Bell, Artistic Director at Handspan with Puppetry Consultant, Noriko Nishimoto, Designer, Greg Clarke and Composer, Darrin Verhagen for a season at the CUB Malthouse (Playbox's home) followed by a season the Optus Playhouse at the Queensland Performing Arts Centre in Melbourne in 2001.
Based on a story by Xavier Herbert of the brawl between rival pearl fishers, one Japanese and one Malay, the play is set in Broome in north-western Australia in 1939. Miss Tanaka is beautiful and mysterious and both pearlers fall in love with her in a folk tale of mistaken identity.
The opening scene was described:
Sunset. A giant turtle hauls itself across the sand. The sound of Fred Astaire floats across the water. A old man plays poker with two frogs. Giant pearls and fleets of boats appear out of thin air. Didgeridoo and Japanese drumming whips up a storm of spirits, dragons, cockfights and sumo. Welcome to Australia's own Wild West
Handspan Visual Theatre Business Plan 2001, Company archives.
The cast of Malay, Japanese, Aboriginal and Anglo-Australian performers were actors, dancers and puppeeters, accompanied by Taiko drumming musicians.
---
---
MISS TANAKA was the last new work produced by Handspan.
Scroll back to Click Tab: The People & The Performances
| Creative team | |
| --- | --- |
| Original concept | Noriko Nishimoto |
| Writer | John Romeril |
| Script consultant | David Bell |
| Dramaturg | Louise Gough |
| Director | David Bell |
| Composer | Darrin Verhagen |
| Puppetry consultant | Noriko Nishimoto |
| Designer | Greg Clarke |
| Puppet designer | Rob Matson |
| Lighting designer | David Walters |
| Costume designer | Greg Clarke |
| Choreographer | Andris Toppe |
| Performers | |
| --- | --- |
| Kazuhiko | Bradley Byquar |
| Mr Tanaka | Tam Phan |
| Mott | Jeremy Stanford |
| Hanif | Tony Yap |
| Sakamoto | Yumi Umiumare |
| Puppeteers | Megan Cameron |
| | Heather Monk |
| Musicians | Junko Sakamoto |
| | Toshi Sakamoto |
| Production team | |
| --- | --- |
| Stage manager | Natasha Marich |
| Seasons | |
| --- | --- |
| February - March 2001 | CUB Malthouse, Melbourne (Previews (X 3) & Performances (x 21)) |
| March 2001 | Optus Playhouse, Queensland Performing Arts Centre, Brisbane (10 performances) |
| Total performances | 34 |
| Total audience | Unknown |
---
Scroll back to Click Tab: The Production
---
Co-productions
: