| | |
| --- | --- |
| Premiere | 6 January 1979 |
| Venue | Pot Pourri Program, Tasmanian Puppet Festival, Hobart, Tasmania |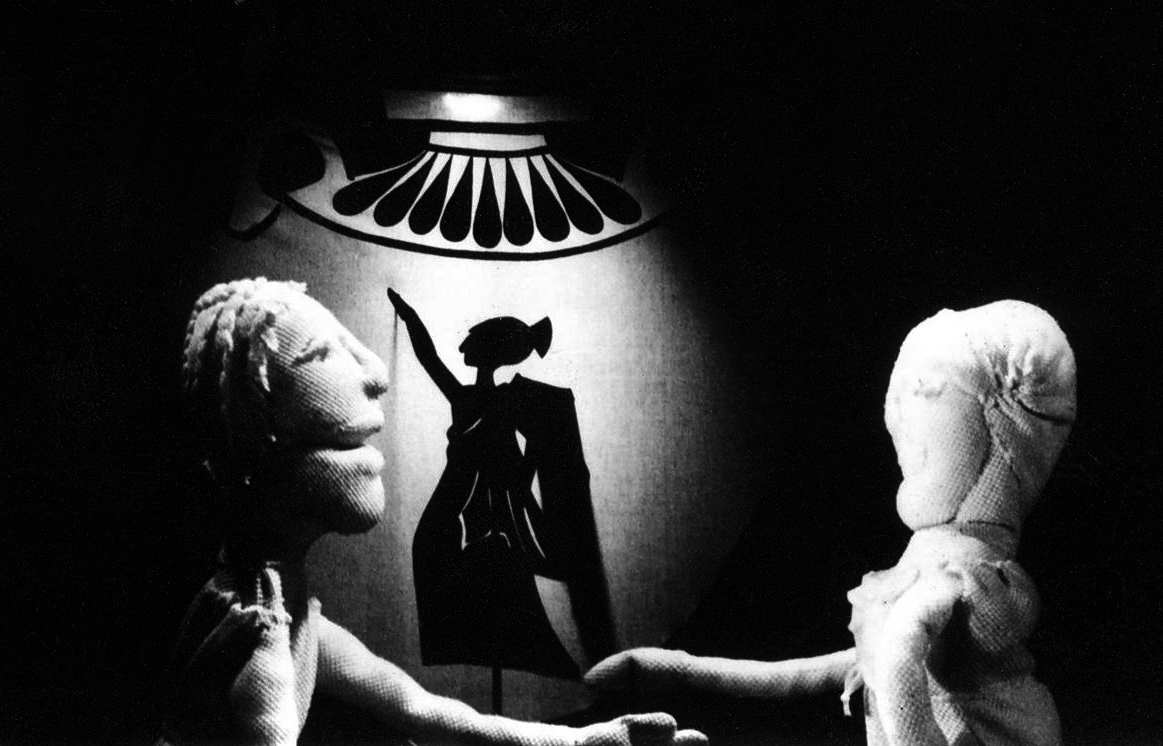 Photograph © Jon Conte, 1979
---


THE APPLE SHOW was a collection of stories about the 'apple' in folklore, mythology and fantasy.
The production was originally created by the company for the International Puppetry Festival held in January 1979, in Hobart, Tasmania (referencing the State's occasional title, 'The Apple Isle').
The Puppet Festival offered Handspan an opportunity to appear in the Pot Pourri program which allowed participants free choice of the material they presented. Despite having the very successful The Mouth Show in repertoire, Handspan's ambition knew no bounds, and the company seized the chance to create a new work and one that could appeal to a wider audience base.
The show
Staged in and around Handspan's triangular puppet booth, the APPLE SHOW mixed puppetry styles – glove, rod and shadow with masked performers and actors to tell its stories for upper primary and family audiences. The work was devised as a flexible, 45-minute introductory stimulus to puppet-making and performance workshops in schools and communities.
'Apple stories' were presented in short sketches illustrating various puppetry techniques.
Adam and Eve were masked faces which appeared in an appliqued tree, with a sock puppet snake; Athena was a shadow puppet, and Helen and Paris glove puppets; Diana and Altantis were technically complicated rod puppets requiring legs as well as arms to be articulated for their race; the Seven Dwarves were much simpler heads on sticks that moved together on a multi-rod device. Granny Smith was an actor, and the show ended with apple-bobbing competitions between volunteers from the audience under her supervision. Post show Q & As demonstrated the techniques of each style and discussed their performance capabilities to introduce workshops.
Extended development
It had been a contentious decision within the fledgling Handspan company to produce the APPLE SHOW on spec, without commissioning funds and with four weeks, including Christmas, from conception to premiere for an audience of industry peers. The work was under-rehearsed and unpolished for its premiere performances at the Festival, but it attracted interest in Handspan, despite its flaws.
---
---
Lyndon Peter Wilson, Director of the Tasmanian Puppet Theatre, saw the production, and interested in the company's, potential, offered to work on THE APPLE SHOW's further development.
L.P. Wilson was a key mentor for the Handspan collective whose experimentation with puppetry had been significantly influenced by his works since the Tasmanian Puppet Theatre's visit to Melbourne in 1975. So it was an exciting proposition. In early 1979, Handspan received its first Government funding support (Australia Council ($2500)) which enabled Wilson's engagement to redirect and extend the work.
Under Wilson's direction, the show was polished and its techniques honed and rehearsed. The revised production toured Melbourne metropolitan primary schools, Victorian regional areas and to northern New South Wales in repertoire with The Mouth Show and Hansel and Gretel - Out of the Booth until late 1979.
---
Scroll back to Click Tabs: The People & The Performances
---
---
Scroll back to Click Tabs: The Production & The Performances
---
| Performances/tours | |
| --- | --- |
| 6 January | International Puppet Festival Pot Pourri Program, Hobart Tasmania |
| 9 - 13 January | Eastlands Shopping Centre, Hobart, TAS |
| 27 - 29 January | Williamstown Community Fair |
| 3 - 4 February | Footscray Community Fair |
| 7 March | George St Primary School, Fitzroy (Handspan Theatre Video, Videomakers, 1979) |
| REVISED PRODUCTION | |
| 1 - 25 May | Revised production rehearsal |
| 18 May | Knoxfield Council school holiday program |
| 30 June | Literary Institute, Byron Bay, NSW |
| 1 July | Tomato Sauce Factory, Nimbin, NSW |
| August - December | Community performances:Civic Theatrette, Shepparton; B'Spell Theatre, Abbotsford; Carringbush Library, Richmond; Bayswater Community Centre Melbourne metropolitan & Victorian regional areas |
| | Victorian Youth Theatre Association (VYTA) Drama Camp |
| 12 - 16 November | INROADS Arts Train, National Australian Youth Performing Arts Association, celebrating International Year of the Child |
| Total performances | 60 |
| Total audience | 6300 |
---
Scroll back to Click Tabs: The Production & The People
---
For Young People
: