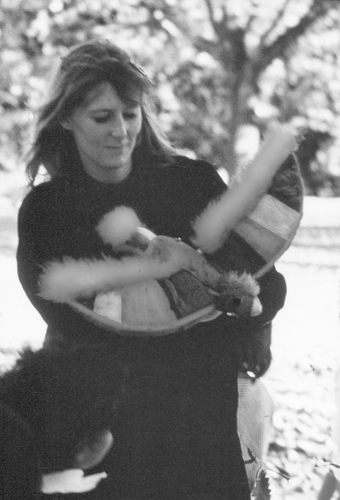 Photograph: © Rigmor Berg, 1978
---
Christine, now Christine Johnson, joined the Parry-Marshall Puppet Theatre in 1977, and thence was one of the team who founded Handspan Theatre.
From the first interview with Herman Van Wichen about his dream for Hansel and Gretel shows for families on Sunday's at his restaurant, Christine proved to be a deal maker.
To mount the production, she harnessed Uncle Bob's Band to compose and record, not only its music, but the show's entire recorded soundtrack. Her living room became the recording studio, and nobody even thought of being paid.
Her business acumen and persistence brought Handspan its early commission from the Fitzroy DePaul Society to mount The Mouth Show and the commercial ventures that kept the company afloat in its first year - Poppa's Pizza Show and the Billy Guyatt used car advertisement.
Christine wrote the script for The Mouth Show and made its temptress character, Sugar. Possibly the ugliest of Handspan's characters she was an apt and powerful image, provocative wherever she went. Her success and that of the show encouraged Handspan's belief in the power and rewards of making this kind of theatre-in-education work.
She had an interest in and commitment to performance for young and disadvantaged communities and worked with Gaudio Visuals on the streets and in the St Nicolas' Hospital program for children with intellectual disabilities in Carlton, Victoria.
Christine left Handspan in early 1979 to live in Sydney. She set up puppetry workshops at the Sydney University Tin Sheds, and ran a Puppetry Unit for some years at Randwick TAFE.