| | |
| --- | --- |
| Premiere | 30 April, 1983 |
| Venue | The Space Theatre, Adelaide Festival Centre, Come Out Festival |
Photograph © Stephen Hall, 1983
---
Sophisticated puppetry. Fantasy and realism ingeniously mixed.
Alan Roberts, The Advertiser, Adelaide, 28 May, 1983

STREETWISE was created by the Handspan ensemble in early 1983, following the company's successful premiere season of Secrets in Adelaide at the 1983 International Puppet Festival. There the company had received accolades for its work and gained confidence in its ability to develop an entirely original piece for its young audiences.
STREETWISE returned to the puppetry roots of the company's discipline, and its central staging was a remarkable booth that could be set up as a self-contained rotating black theatre space around which actors and bunraku-style puppets performed. The production was a new, issue-based touring work for Handspan's primary school market place that could not only be presented in theatrical venues, but could take visual theatre into classrooms and alternative spaces with its magic and illusion intact.
The play was envisaged by the ensemble to stage a child's imaginings of walking in the streets of his inner city neighbourhood. His excitements and fears were staged as a journey from his high-rise home to the local corner shop – a brave quest to achieve his goal despite fantasy encounters en route – that left him 'streetwise'.
The work addressed 'stranger-awareness' as a relevant and important issue for children, but as its marketing material emphasised:
Handspan Theatre does not believe that it is appropriate to didactically teach that strangers are, per se, dangerous, or that it is wrong to ever speak to strangers. However, it is important to be "wise" in dealing with unknown people and/or situations.
Handspan Theatre: Streetwise Marketing material, 1984
The Script
With a small Australia Council Grant, playwright John Lonie was commissioned to write the first draft script for the work. The first of Handspan's many complex collaborations with writers, John's draft proved densely dialogue-based and over-complicated and thus inappropriate for the live animated visual production proposed. In later Handspan ventures with commissioned writers continuing script development became part of the production process in the ongoing tussle to create drama with images and little spoken text. But in this case, Handspan abandoned Lonie's final draft. Graciously, Lonie accepted that his play didn't fulfil the expectations of Handspan's brief and left the project. Ultimately however, his draft did stimulate the shape of its final version, if not directly.
Peter Charlton, equally experienced in writing issue-based theatre for the young, subsequently joined the creative team as dramaturg. The play that finally evolved was a collaborative piece, directed by Helen Rickards, researched by the ensemble with local primary school students and driven by its image storyboard and workshopped improvisation. The complex staging was under-rehearsed for its opening Come Out Festival season:
…the company displays the skills and emphasis on detail which are becoming their trademark. This piece has great potential and the company intend to keep reworking and fine-tuning it – this process of refining and developing content is Handspan's method of working
Cate Fowler: Review, Lowdown Vol 5 No 3 July 1983

Later that year it was evident that this had happened:
Since its last visit, Streetwise has refined …In contrast to most group devised writing the work is cohesive, clear and clever and highlights the ensemble nature of this innovative company
Christopher Naylor: South Australian Teachers Journal, Vol 15 No 15 7 December, 1983
---
---
The Design
STREETWISE began with a small two-dimensional central character Sam seeing the world from the window of his high-rise flat. The miniature scene transformed and Sam, now a 60 centimetre high puppet figure, set off to walk to the shop by himself for the first time. To quell his anxieties, he became his fantasy superhero, 'Starfighter Sam', his trip punctuated by adventurous imagined escapades – escaping from the bear under the cracks in the pavement; struggling with the zebra crossing's red man and saved by the green; and running from a tramp into a spooky alleyway of looming graffiti.
Ken Evans design was based on the streetscape of Fitzroy that surrounded the Handspan studio, and stylistically on childrens' drawings. At each quarter turn of the revolving booth a new scene of Sam's journey was revealed and scale and perspective changed – dramatic scenes of imagery occurred inside the set using light-controlled black theatre spaces and a range of puppet and object manipulation styles.
The set, designed by Ken Evans (who can only be described as "the master of the hinge") … provides a moving journey through the seedy city and is a masterpiece of intricate mechanics
Cate Fowler: Review: Lowdown Vol 5 No 3 July 1983
---
Streetwise … is atmospheric as well as portable and that the play could be done so flexibly …playing at Theatre 62 and also bumping in and out to schools, is a tribute to the excellence of its design
Christopher Naylor: South Australian Teachers Journal, Vol 15 No 15 7 December, 1983

Puppets Sam and his mate, Raff, were designed and made by Laurel Frank to be realistic and accessible figures for young audiences as well as having maximum versatility in their manipulation. a modified bunraku technique. Operated by visible manipulators, the characters were designed to be lifelike children in their interactions with actor characters, as well as work effectively within the confines of the puppetry sequences within the booth. Sam's mother, the shop keeper and George, a grubby old bloke on the street were played by actors.
Sam's apprehensions came to life in animated representations of the street: two- dimensional red and green traffic walking signals glowed in the darkness; headlights bore down, dragon-like; scary graffiti and clanking rubbish-bins were operated by pulleys and strings, and under the footpath a toy theatre scene came to life when Sam - now a 2-dimensional cut-out - slid away from a swaying crowd of tall legs, down through the cracks in the pavement..
The Play
The soundscape for STREETWISE was devised in the rehearsal room by percussion musician, Stephen Kent, from Circus Oz. Recorded sound from Fitzroy corners and intersections were interspersed with eerie percussive instrumentation and ghostly whispers that added suspense to the visual illusions that dramatised Sam's experiences.
---
---
This is first class puppetry that has advanced far beyond the Punch and Judy stage without losing any of its universal appeal
Alan Roberts, The Advertiser, 20 May 1983
---
Sam's mind dives into the perspectives and dimensions of fantasy which are well-managed by Handspan's variety of puppet styles and confidence in combining puppets with human characters
Jill Morris, The Age, Melbourne 6 September 1983

Popular with the contemporary community awareness Stranger-Danger and Safety House campaigns, Handspan was joined by local police personnel for seasons in Adelaide and Geelong, in 1983. Squad members not only ran Q & A sessions in conjunction with performances, but took part in the on-stage action.
It will make the kids think, and that's important. There's no black and white answer to whether you should talk to a stranger. The show's message – be polite and keep your distance – is very close to our message
Sgt Des Morrisey, Crime Prevention Squad, Adelaide, October 1983

STREETWISE toured as a companion piece to Secrets to the London International Puppet Festival in 1984; and was there further engaged for performances at the subsequent Scottish Puppet Festival in Edinburgh - not only an under-publicised and under-attended event, but, it was revealed when Handspan's fee was due, a completely impecunious one.
Handspan opened the Scottish Puppet Festival with a play aimed squarely at primary age children but suited to anyone still blessed with imagination… The remarkable multi-hinged revolving set with its continual surprises are guaranteed to keep children enthralled and amused.
Quentin Cooper, Evening News, Edinburgh 8 May, 1994

STREETWISE, while built to be tourable, was a complicated set up. Its set and props broke down into sections that jammed into and on top of Handspan's newly-acquired Hi-ace van and around its cast of four passengers who also wielded its relatively heavy equipment into place and bumped it out. It could be set up anywhere that was a level playing space crucial for its revolve mechanism, but the chipboard-on-grass platform in the Elder Park Tent for its initial Come Out season called for revolves to be executed by a turn and 'lift the whole thing' process, and the stage in Edinburgh for its final tour proved to have a rake towards the stalls that called for 'hanging on tight' and the attachment of additional brakes to stabilise the turns.
For a performing ensemble with increasing opportunities to work in mainstage venues for adult audiences, STREETWISE was hard work and theatre for young people with its exhaustive touring began to lose its appeal. As the complex and delicately interlocking equipment began to need extensive refurbishment, new projects burgeoned and the production went out of repertoire in mid 1984 – its leading puppet, Sam Starfighter, however, remained a key demonstration character in Handspan workshops for years to come, and the Streets icecream logo, displayed on the Handspan van in gratitude for the company's first (small) sponsorship donation for one of its tours, remained immovably stuck for the lifetime of the vehicle.
---
Scroll back to Click Tabs: The People & The Performances
---
---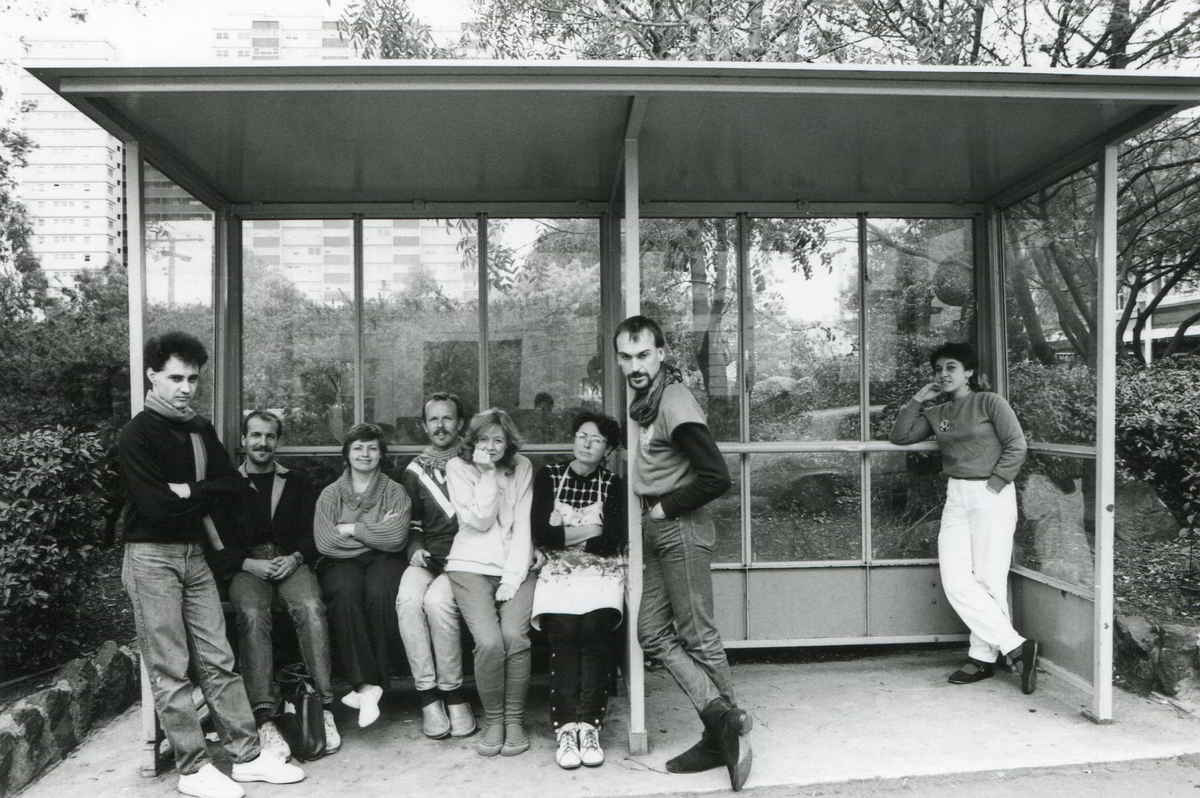 ---
Photographer © Jon Conte, 1983
---
---
Scroll back to Click Tabs: The Production & The Performances
---
| Performances | |
| --- | --- |
| 1983 | |
| 18 – 21 April | Preview: Handspan Theatre Studio, Fitzroy |
| | Come Out Festival tour, South Australia |
| 23 - 29 April | Murraylands schools tour |
| 30 April | The Space, Adelaide Festival Centre |
| May | Riverlands, Yorke Peninsula & Port Pirie schools tour |
| 16 - 20 May | The Tent, Elder Park, Come Out Festival, Adelaide. |
| May, August, November | Melbourne metropolitan schools |
| 31 August – 3 September | Geelong Performing Arts Centre, Geelong, Victoria with Victoria Police |
| September | Melbourne Town Hall |
| 6 October | CEMA Arts Centre, Portland |
| 17 - 22 October | Theatre 62, Adelaide, South Australia with SA Crime Prevention Squad |
| 24 – 30 October | Children's Week, Victoria Tour |
| | Wangaratta, Myrtleford,, Geelong Performing Arts Centre with Geelong Community Policing Squad |
| 1984 | |
| March | Alexander Gardens, Melbourne Moomba Festival |
| May | Jeanetta Cochrane Theatre, International Puppet Festival, London |
| 7 - 12 May | The Playhouse, Scottish International. Puppet Festival, Edinburgh. |
| Total performances | 153 (est 1983) + 13 (1984) 166 |
| Total audience | 26,500 (est 1983) + 1500 (1984 only) 28,000 |
---
Scroll back to Click Tabs: The Production & The People
---
For Young People
: