| | |
| --- | --- |
| Premiere | 1989 |
| Venue | Melbourne metropolitan secondary schools |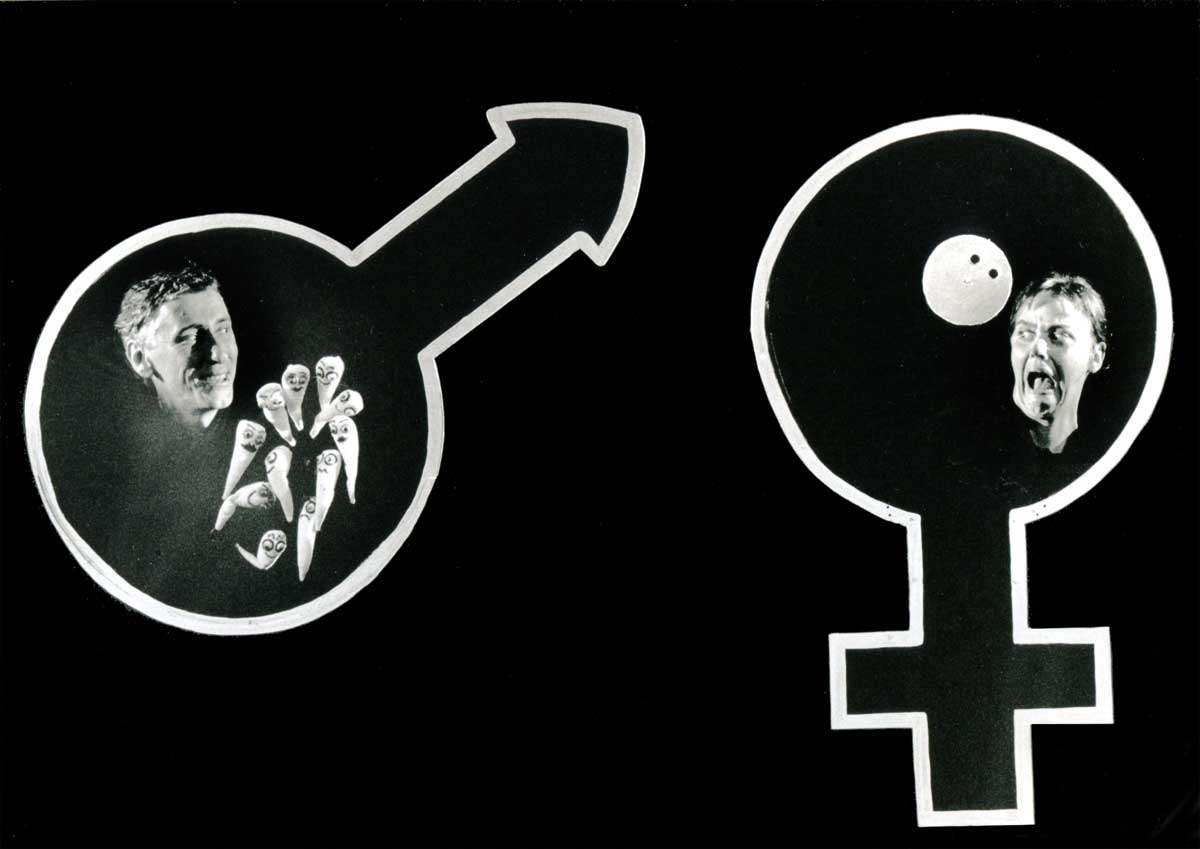 Photograph © Martin Kantor, 1989
---
We've got STDs, man ... Some that you can't see, man ... Burning when you pee, man ... Itchy sores for free, man ... We've spread it so fancy free, man ... We've got STDs!
1

WE REPEAT OURSELVES was conceived by Michele Spooner and developed through research in schools and human relations organisations; and in creative development workshops with playwright, Gilly Farrelly (now Gilly McInnes) and Handspan ensemble artists in 1988.
The play followed Handspan's distinctive theatre-in-education style first produced in The Mouth Show (1978) and in the company's subsequent secondary school touring Lunatic Soup (1991).
Imagine a group of actors trying to show a teenage audience unwanted erections, a vulva and two elephants, one circumcised and one uncircumcised, which magically transform into penises, without getting into a touch of hot water! Ah, but with puppets, all this and more is not only possible, but actually happening here in schools. When it comes to sex-ed, puppets rule!

Described as a frank look at the ins and outs of sex1 , the play introduced secondary school audiences to personal development issues around sexual behaviour, particularly conception, contraception and sexually transmitted disease (STDs).The theme explored the nature of adolescent relationships, decision-making and responsibility within them. It toured with programs of Teachers' Notes prepared by Handspan with Family Planning Victoria, and performances were often followed by Q & A and workshop discussions with students.
The use of visual images and puppets enabled the performers to explore these sensitive and often confronting issues in an engaging and witty theatrical drama that imparted useful information. WE REPEAT OURSELVES involved comic and outrageous characters in a simple, raunchy and very funny plot that illustrated its message.
The show opens with a black theatre segment to soundtrack and voiceovers where giggle making and often taboo subjects are introduced through a series of oversized puppets presented in fairly quick succession, enabling the audience to get its embarrassed sniggers, giggles, roars, hoots, gasps, etc. out of the way in the privacy of a darkened auditorium.
---
Puppet characters, Sandy, Randy and Cleverdick appeared with multiple cartoon-esque objects animated in black theatre. Cleverdick was an enormous penis-like mouth sync puppet who grew in front of the audience' eyes:
Cleverdick would have us believe that his S.T.D Supermarket sells a product that we must have, to be in.
Ian Chance: Review Lowdown Magazine, August 1989
---
The text explains the nature and range of sexually transmitted diseases and demystifies and unembarrasses the audience.
Gippsland Times, 11 September, 1990

Contraception was treated with equal humour using large perspex male and female symbols: dancing sperm from the male arrow score a hit in the centre of the female symbol, marked by a ringing gong; and an appropriately-sized condom is 'applied correctly' to avoid the unwanted pregancies that result.
We Repeat Ourselves is a careful balance, an entertaining romp conveying a truly useful message to young audiences. A measure of its success can be seen in the fact that the girls of MLC2 asked their headmistress if after-school performances could be arranged so that they could bring their boyfriends along and thus break the ice on this most awkward of adolescent concerns. Truly enlightened and intelligent teacher that she must be, the mistress complied.
Ian Chance: Review Lowdown Magazine, August 1989
---
Puppetry was excellent ...a marvellous presentation ... a very successful and educational performance
Teacher feedback, Niddrie High, Victoria, 1989
---
The 150 puppetry objects manipulated during the performance are animated and given depth of character with skill and finesse.
Gippsland Times, 11 September, 1990
Responses!
WE REPEAT OURSELVES provoked occasional public debate on the issues it was addressing with students but it was well received and well defended by its audiences.
We are delighted by the unanimously positive response to the show from both teenagers and adults and this success is naturally due in part, to the topical nature of the subject matter, but is also because of its good theatre, with a great deal of humour, variety and a wonderful soundtrack.
---
It teaches the kids of Australia all the stuff they need to know about questions that turn most adults bright pink! … To make all the Year 11 students laugh you must have been good. Even the teachers enjoyed it.
Student response, 1989
---
Teachers were effusive, describing the work as a 'courageous production which all adolescents need to see'3 ;'a great theatrical experience as well as a fantastic, relevant educational experience'4 and claiming that 'students were spellbound'5 , and 'engrossed by it all'6 .
---
one of the most imaginative and cleverly produced plays that we've ever seen
Teacher feedback, Alexandra High School, Victoria, 1989

Publicly it was reviewed in Australia's Youth Theatre Journal, Lowdown with enthusiasm:
We Repeat Ourselves displays the deft touch of Gilly Farrelly. Without moralising or frightening, the text explains the nature and ranges of sexually transmitted diseases and contraception. As is the wont of our times, much attention is paid to demystifying and lauding the delights and unembarassed use of condoms.
Ian Chance: Review Lowdown August 1989
---
---
In Victoria, Maria Brownell, a registered nurse from the Melbourne suburb of Camberwell, wrote a 'Letter to the Editor' of The Age:
While the issue of abortion is once again being avidly debated this week following Mr Justice Lindenmaeyer's decision in the Family Court in Queensland, a group of actors from the Handspan Theatre have been presenting to adolescent children in Melbourne, an excellent production of "We Repeat Ourselves"… I am a school nurse in one of Melbourne's large schools and I attended a performance of this excellent play this week. I am convinced that if "We Repeat Ourselves" were a compulsory part of the curriculum in all schools – state, independent and Catholic – the incidence of teenage pregnancy and abortion would decrease dramatically.
Letters to the Editor: The Age, Melbourne, 27 July 1989

Touring schools in South Australia for the 1990 Adelaide Fringe Festival Education Program, preseason publicity for the production in The Advertiser, Adelaide, caused another 'Letter to the Editor' from Tess O'Callaghan a teacher from suburban Paradise:
I write in regard to the article Sex Education with Clever Dick and Co (27/2/90) which was written with great irresponsibility and sensationalism ...The show is not only a valuable piece of theatrical experience, but life experience and the chance to talk and share openly because of that experience...The Advertiser article pre-empted and disturbed many students and their parents ...without heed or fairness to the show itself. This is sad if, as I suspect, it is going to restrict schools' responses to the show itself.
Letters to the Editor, The Advertiser, Adelaide, March 1990

The story was followed in the Adelaide News where Trina Parker, Handspan's then Co-Artistic Director was questioned about schools' willingness to book the play:
Despite its blatant sexual nature, ...Trina Parker said 'We Repeat Ourselves' had received no complaints during two terms of school performances in the company's home city of Melbourne, but that only two Catholic schools had sought a performance. Initial bookings show the performance has been more widely supported by independent schools in South Australia.
Letters to the Editor, The News, Adelaide, March 1990
WE REPEAT OURSELVES was endorsed by the Family Planning Association of Victoria and the Victorian Aids Council. From the former, Handspan Theatre received a timber plaque:
AWARD FOR EXCELLENCE: To acknowledge the outstanding and innovative contribution its production "We Repeat Ourselves" has made to sexuality education.
---
Footnotes:
---
Scroll back to Click Tabs: The People & The Performances
| Performers | |
| --- | --- |
| Creative development | Rod Primrose, Peter J.Wilson, Michele Spooner (1988) |
| Cleverdick puppeteer | Rod Primrose (1989 & 1990); John Rogers (1989); Andrew Hansen (1990); Paulo Bongiovanni (1990) |
| Randy puppeteer | Maeve Vella (1989 & 1990); Ruth Bauer (1989 & 1990) |
| Sandy puppeteer | Annie Wylie (1989/90) |
| Recorded voiceovers | Kerry O'Brien, Jenny Oldershore, Chris Palstra, Greg Palstra, Rod Primrose, John Rogers, Maeve Vella, Annie Wylie |
| Soundtrack recording | Lorraine Milne, Dave Carter, Ross Inglis |
---
Scroll back to Click Tabs: The Production & The Performances
---
| 1989 | |
| --- | --- |
| Term 3 & 4 | Melbourne metropolitan schools |
| 1990 | |
| --- | --- |
| 22 February – 2 March | Westpac Theatre, Living Arts Centre, Adelaide Fringe Festival Youth Education Program, Adelaide. SA |
| 5 - 16 March | Adelaide metropolitan and South Australian regional schools touring: Willunga, Nuriootpa, Waikerie, Yorketown, Coober Pedy, Port Augusta, Port Pirie, Loxton, Renmark, Murray Bridge, Lameroo, Bordertown and Mt Gambier. |
| April | Victoria regional schools: Portland, Warrnambool, Camperdown, Cobden, Colac |
| May- June | Melbourne metropolitan schools |
| Aug-Oct | Victorian regional schools: Wangaratta, Sale, La Trobe Valley, the Mallee, Gippsland, Riverina and Mallacoota |
| 7 September | TAFE Auditorium, Wangaratta |
| | |
| --- | --- |
| Total performances | 190 |
| Total audience | 26,679 |
---
Scroll back to Click Tabs: The Production & The People
---
---
For Young People
: