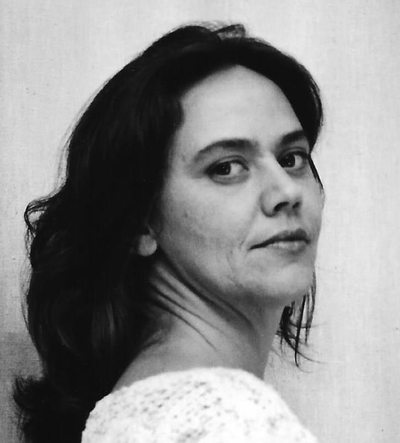 Photograph: © Andrew Bleby, 1989
---
A co-founder of the company in 1977, Maeve had been at the Parry-Marshall Puppet Theatre for less than a year when the Handspan project took shape but was a central figure in the creation of Hansel and Gretel and in the company's early development and shows.
An Art History graduate from Melbourne University and a trained secondary teacher, Maeve hadn't really found her creative metier until she discovered puppetry. Its twin disciplines of sculpture and performance suited her perfectly.
Her puppet-making skills produced beautifully finished and well-articulated characters. Some are now housed with other Handspan artefacts in the Performing Arts Collection at the Arts Centre Melbourne, others are still working as demonstration models for workshops and lectures in the collections of member artists.
It was Maeve who found Handspan's long term studio at 108 Gertrude St., a move that ensured the continuing existence of the company - its immediate future committed to a rental agreement if nothing else. The floor carpet in the office area was a 1960s relic from her mother's house and once it was laid, Maeve led the company members sitting cross-legged on the aged pile to write down Handspan Theatre's vision and intent in its first Manifesto. The original document, preserved for years, sadly disappeared when early company documents were boxed away in the 1990s.
Maeve left Handspan to its own devices in 1979 and travelled in Europe to study and visit puppeteers and contemporary performance troupes. On her return she established Manipulation magazine, which discussed and reviewed puppetry and its practice for more than a decade. Its back issues now provide detailed records and analysis of the Australian puppetry scene at a time of significant change and development.
She and Helen Rickards instigated the Australian International Puppet Festival with Carclew in South Australia. In 1983 they began working together on a book, Theatre of the Impossible: Puppet Theatre in Australia, published by Craftsman House in 1989. The book, now out of print but available through libraries, remains a standard reference work on Australian puppetry.
Through the 1980s Maeve performed with other puppet companies, including Spare Parts, Jika Jika, Murphy's Puppets, Sydney Puppet Theatre and the Marionette Theatre of Australia. With writer Johannes Ambrose she developed Leftovers, a solo cabaret piece with characters made from real food.
Maeve returned to work with Handspan in 1987. In the early 90s she moved from Melbourne to rural NSW and began creating and exhibiting textile art. In 2000 she turned to digital art, exhibiting and selling prints of her work through the Gloucester Gallery until 2014 while working part-time in an aged care residence as an activities facilitator.
In July 2014, Maeve partnered again with Helen Rickards to build and compile the Handspan Theatre website. Her artistic sensibilities and digital skills have been applied to site design and development and to photographic restoration.
---