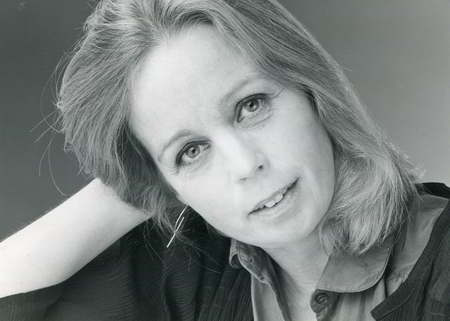 Photograph: © Grant Hancock, circa 1988
Ariette brought her adaptation of Pablo Picasso's Four Little Girls to Handspan in 1986. With the company, she developed and directed her visually-imagined interpretation of the work to become Handspan's longest running, most traveled and most prestigious production.
A professional dancer from Holland, Ariette danced with the Dutch National Ballet and then with Ballet Rambert in UK. She came to Adelaide, South Australia from Europe with her husband, Jonathan Taylor in 1976. There, she had considerable success with her dance/drama productions created under the auspices of the Adelaide-based Australian Dance Theatre (ADT). Most well-known were her Filthy Children created for Come Out 1979 with children and dancers from ADT and re-staged for the 1980 Adelaide Festival of Arts; Sweat; and Eggs, devised, again with child performers and ADT dancers, for Come Out 1981 at the Adelaide Festival Centre.
These productions captured the essence of childhood in choreography that distilled the energy, openness and awareness of its young performers through their natural movements in active play. Unlike the 'children's performance' of stage and talent school, the work resonated as an expression of its performers, nurtured and coalesced in development by Ariette.
Introduced to Picasso's Playscript 32 by Mark Brindley1 at the ADT in 1979, Ariette saw its parallels with her own concepts and in 1980, she began a series of workshops with young performers exploring the ideas embedded in its stream-of-consciousness text. Four Little Girls. From the outset, she adapted Picasso's script and conceived plans to stage it with child actors, something that had never been done before, and puppet images.
Although original plans to produce the project foundered, Ariette remained captivated by the play and over the next few years, she undertook creative development workshops around the text continuing her exploration and dramatisation of child's play and movement. I didn't know if young girls could say the words of Picasso's text so the workshops, which continued over a period of years, were mainly improvisations around being frightened and ideas of life and death, she explained2 . Girls got involved through ADT summer dance schools, via other dance classes or through workshops that Ariette ran in South Australian schools, and eventually culminated in showcase performances at Theatre '62 in Adelaide as Nine Little Girls (1985) followed by four public performances as Eight Little Girls in the Space at the Adelaide Festival Centre in January 1986.
From the outset, Ariette had tried to interest producers in her work on the play. She had approached the Adelaide Festival Centre and through George Fairfax, the Victorian Arts Centre, but with little success. In 1985, she offered the work to Spare Parts Puppet Theatre in Perth. Ariette and Spare Parts' Artistic Director, (Lyndon) Peter Wilson had collaborated in running a puppetry/dance workshop program for schools in Adelaide and the opportunity to work together again appealed to both of them, but proved unviable.
Cate Fowler, the then Education Officer at the Adelaide Festival Centre, knowing of the company's reputation for working with innovative puppetry, new ideas and collaborations with interesting artists at the same time, alerted Handspan to Ariette's project and in November 1985, company Executive Director, Helen Rickards saw Nine Little Girls. It was exciting, Ariette's experimental approach in her exploration of the work made her the kind of artist Handspan loved to work with, and Four Little Girls presented an opportunity to create the magic of black theatre illusion in a contemporary work for adult audiences.
Ariette at that stage knew little of Handspan and while interested in the idea of staging the play with puppets had little experience to develop her concept of visualising Picasso's words on stage as an extension of the children's games and movement she had been exploring.
But, I knew what I wanted to see, a moving set, the paper girls, the animals, the coffins and the devils. I didn't know how to get it and Handspan's extraordinary skill in Black Theatre and their creative problem-solving was the greatest revelation to me, she wrote in 2016.3
The unique collaboration that ensued with her and Handspan, and in particular with Ken Evans' Picasso-esque design and Philip Lethlean's lighting, however, proved to be an inspired partnership that continued for over ten years.
Ariette was never a member of Handspan Theatre but was an outstanding artistic collaborator and a close associate.
Based in Melbourne from 1987, and following her journey with Four Little Girls Ariette collaborated with local playwright, Daniel Keene, whose first professional play had in fact been staged by Handspan in 1984: Cho Cho San.
In unique theatrical partnership, Ariette directed much of Daniel's later repertoire for premiere seasons with their company, The Keene/Taylor Theatre Project (KTTP). The work of the KTTP was widely recognised as outstanding, with Ariette's in-depth and movement based direction, Daniel's fine texts and a professional ensemble of experienced actors taking Melbourne independent theatre audiences by storm for a further decade.
A further footnote to the success of the KTTP was that its search for a home was the impetus that led Mary Lou Jelbart to establish Melbourne's key CBD independent gallery/theatre - 45downstairs - in 2002. Ariette's ground-breaking work was a significant contributor to the success of the venue in its first years, both with KTTP productions and Ariette's later unique interpretations of other classic works including Chekhov's Ivanov (2004) and Gorky's The Lower Depths (2008)..
---
Footnotes:
1
Mark Brindley, Technical Manager, Australian Dance Theatre (circa 1976), Adelaide, South Australia. Died 2016 (From Ariette Taylor: Interview with Helen Rickards, Melbourne 2004)