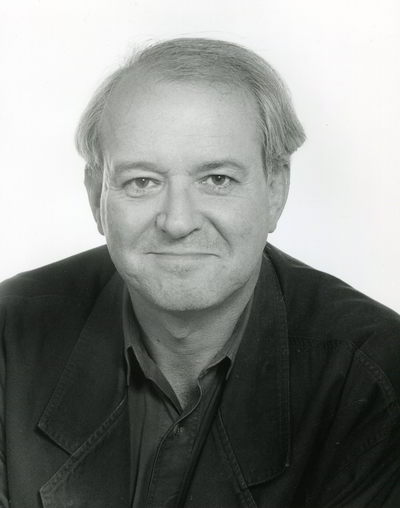 Photograph: © Ponch Hawkes 1995
| Member | 1985 - 1996 |
| --- | --- |
| Board member | 1985 - 1992 |
| Chair | 1986 - 1988 & 1990 |
Jon was Chair of Handspan's first formal Board of Management.
He led Handspan through a crucial step in its evolution. With both sensitivity and sensibility, he negotiated Handspan's governance from a partnership collective of its dedicated members, to a member-led organisation that could move forward with its work.
He is a screenwriter by profession and joined Handspan towards the end of his term at the Australian Childrens' Television Foundation. His knowledge of film making was an invaluable asset in Handspan's brief screen ventures.
Jon shared Handspan's commitment to innovative, issue-based children's productions, and directed two shows for young people: Captain Koala and the remount of The Reading Boy.
He quickly adapted to the informality and irregularity of Handspan's demands (despite what he remembers below) and became both an artistic and organisational force within the group. A respected advocate in the industry, he was also a fine and funny MC for some of Handspan's best studio parties, including his own 40th Birthday celebrations!
Jon recalled his relationship with the company:
Come Out Festival Adelaide. Eating alone again. That strange looking group of people is here again. One of them comes over. 'You look lonely. Come and join us'. I did. The strange looking people. Performers - Visual Theatre. Handspan!
Then I was a member. More strange looking people. Amazing shows. I didn't understand them all. But I loved them all. Theatre that tickled the imagination. Scumbucket premises. Gertrude Street. Upstairs.... then upstairs again.... Dodgy neighbourhood. Then I was on the Board. What? Then Chairman. What? More amazing shows. You go to see Phantom. Multi-million dollar production.- cast and crew in the hundreds. Then see Handspan's latest. Better theatre. Innovative. Challenging. Daring. Artists who constantly surprise. Curtain Call ... FIVE people take a bow.
Lurching from grant to bust. Some great ADs and GMs. But constant change. Artistic alterations. Artistic differences. Can't keep up. No Admin ever had a chance of keeping up. And could never get ahead. Fluctuating standards. Then brilliance. Begging to Arts Vic and Ozco. Yet another weekend-away conference somewhere. Taking Handspan from childhood to puberty. A manifesto! Ahead- adulthood. Didn't quite make it. Too many speeches. Too many crises. Other commitments. Resigned. Amazing period – creative, exciting, stimulating, constant moments of admiration. A continuing dedicated supporter.
Jon Stephens, 2015
Jon died in 2019.