---
At home in Melbourne Handspan Theatre maintained a workshop and rehearsal space from which its productions and projects ventured forth to the world.
---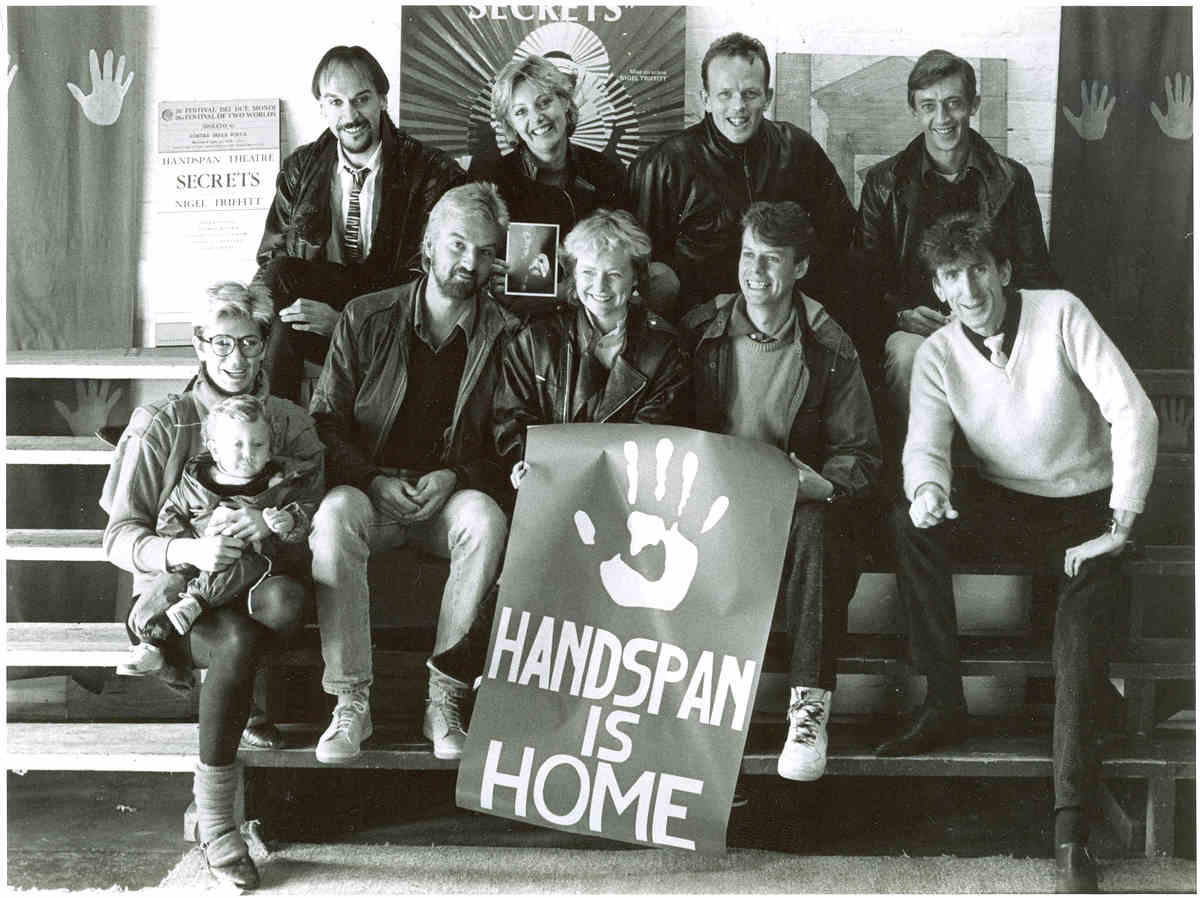 Photograph © Department of Foreign Affairs and Trade, Annual Report, 1984
---

Every theatre company needs rehearsal space and, if sets and props are required, workshop space as well. For visual theatre with animated objects workshop space is doubly essential. Ideally rehearsal room and workshop should be adjacent, because object creation and manipulation go hand-in-hand. An object is built to its performance requirements and its performance requirements emerge from its technical abilities. Such collaborative space facilitates practical development as well as ensemble participation in the process, essential for successful outcomes.
In June 1977, with a hastily agreed name, a contract in hand and a need to produce a new show in less than three months, the fledgling Handspan Theatre urgently needed a home to devise, build and develop its first production, Hansel and Gretel.
Rooms in Camberwell (1977 -78)
Initially, the company took over the spare rooms and living rooms of members share houses. Construction materials and tools encroached into hallways and porches, and recording sessions blared into the night. Friends were supportive, moving tables and chairs to accommodate recording desk and microphones, borrowed from other friends, and adding critical commentary to scene rehearsals conducted behind couches and cupboards.
These weren't ideal conditions, but by day Handspanners were working for The Parry-Marshall Puppet Theatre headquartered nearby and at least the leafy eastern suburbs location facilitated their moonlighting timetable. Parry-Marshall saw Hansel and Gretel's opening performance and in the face of his employees' collective independence, which he felt was disloyal to his own operation, dismissed everyone immediately. What might have been a blow cemented the troupe and gave Handspan its wings.
Once the show had opened and new opportunities for collective creation appeared it was time to remove the chaos to which shared houses had been subjected and rapidly decamp to a proper home.
With freedom to move, the company found a new base in Richmond.
20 Chapel Street, Richmond (1978)
Handspan's first official premises in Chapel Street were the front rooms of an elderly 4-room row terrace cottage squeezed amongst the factories and cobbled lanes of inner suburban Richmond. If anything, the company's facilities actually worsened.
The cottage was shared with a button-making enterprise that had a fabric dyeing contraption set up in the back courtyard, which wafted choking fumes throughout the dingy and very dimly-lit house. One powerpoint was shared between all the occupants and all their tools. Again, Handspan and the ever-increasing paraphernalia of its projects began to take over all corners of the building.
After six months, with some regular income from commercial puppetry ventures at Poppa's Pizza Parlour and TV ads for Billy Guyatt, Handspan made a confident move and rented the whole floor of a warehouse building.
108 Gertrude Street, Fitzroy (1978 - 1995)
Handspan's home in Gertrude St. became its long-term headquarters and the alternative artists' territory that was Fitzroy became the company's milieu.
The studio was housed in the third and top floor of a late 19th century warehouse, the tallest building on the skyline apart from the housing commission flats opposite with views across Melbourne's suburbs and, from its own rooftop access, across a wider horizon to Port Philip Bay. On Gertrude St, a blue double door opened onto a dingy, timbered stairway with broad landings between its six flights. The space had been a photographer's studio in the immediate past with tromp l'oeil painted walls and a grim chemical-spattered darkroom; before that, according to the cops on the street, a casino and sometime brothel. Three contemporary sculptors worked on the second floor. On the first floor sewing machines whirred and piece-workers came and went with bales of cloth or finished garments and the ground floor shop sold bric-a-brac and furniture for a song.
Fitzroy was a very different landscape when Handspan moved there in 1978 than it is in the early 21st century.
Some of the genteel houses around the corner in Gore Street and Brunswick Street still housed discreet brothels, old codgers sat on their steps and told yarns, and sweet-faced nuns from the Mary McKillop Convent mingled in a rough but neighbourly community. There were shysters and crims around, the local police warned against drinking at the local pubs, and the area was certainly impoverished if not actually a slum.
---
Fitzroy was built on Woiworung country. Dispersed and dispossessed in the 19th century, in the 20th century Koori people came from various parts of Victoria to settle in the Gertrude Street neighbourhood, forming a cohesive indigenous community and establishing Aboriginal legal and health support organizations in the area. Across the street from the Handspan studio stood the 20-story towers of the Atherton Gardens Housing Commission flats, the controversial outcome of 1960s slum clearance policy, and in fine weather indigenous locals would often gather on the benches in the grounds. Down the hill the Builders Arms hotel, known colloquially as the Black Pub, was a focal point for social and activist gatherings. Gertrude Street made an appearance in the title song of Aboriginal musician and elder Archie Roach's acclaimed 1990 album Charcoal Lane. 3

After the second world war many European migrants, mainly Italians and Greeks, established homes and businesses in Fitzroy. Other nationalities followed, bringing a broad diversity of food and culture to the area. By the early 1990s there were more than seventy ethnic groups represented in Fitzroy. 4
Melbourne's alternative theatre culture flourished in Fitzroy. Its comedy scene was born in the late 70s and early 80s in the Flying Trapeze Café, the Last Laugh, Le Joke and Marijuana House - all influenced by Amsterdam's Melkveg and its European counterparts.The Universal Theatre, Open Channel and the Next Wave Festival were established in Victoria Street. The Black Cat Cafe, Baker's/Marios came later, bringing the coffee connoisseurs. Fitzroy, along with other parts of Melbourne and the nation, underwent a sea-change fuelled by the burgeoning post counter-culture arts movement and reawakened cabaret entertainment industry.
In this rich environment Handspan's work and its inspiration expanded. The productions and projects created at Gertrude Street make up the bulk of the company's output.
The space at Gertrude Street was decrepit and unfurnished when the company moved in, but the Handspan cohort laboured with energy and enthusiasm to paint and partition the third floor space into workshop, office and a black rehearsal studio. Equipment and furnishings came from garages and junk stores. A blood-stained bread knife was unearthed from a hidey-hole on the stairs, washed and then used in the kitchen for years. Asphyxiation was narrowly averted during the building and installation of a fiberglass workshop sink and the refurbishment of the darkroom.
---
---
For a while rent was shared with freelance designers Laurel Frank and Trina Parker, who each had a bench in the workshop. When Handspan wasn't in rehearsal the black studio was hired cheaply to colleagues and small companies - magicians, puppeteers, theatre-in-education troupes, performance artists and students - to rehearse their projects. Visiting puppet makers borrowed space and tools in the workshop where techniques were exchanged, problems solved and emerging artists mentored.
The space allowed Handspan's horizons to expand rapidly. Guest artists were invited to work with the company and Melbourne artists from all communities met to discuss policy and practice for alternative theatre and its hybrid artforms in dynamic and enthusiastic groupings.
Desks acquired from an Education Department scrap heap furnished the office. Its floor was covered with rose-patterned wall-to-wall carpet donated by a member's mother, 5 where the founders sat cross-legged to nut out the first Company Manifesto in 1978. Sandwiched between the workshop and the rehearsal room, foot traffic and discussion was constant. The office also housed sewing equipment and fabrics, which had to be kept free of sawdust and other workshop detritus. Amidst the hum, phones were answered, letters typed, accounts balanced, promotional material designed and printed and visitors welcomed.
Through the building's top-floor windows company members could take a breather from work and contemplate the clouds, the city, the changing light and weather patterns - and occasionally witness extraordinary events. In 1981 multiple helicopters thundered past, circling Fitzroy's rooftops and hidden byways, protecting the Commonwealth Heads of Goverment Meeting (CHOGM) at the Royal Exhibition buildings nearby. In January 1983 the dust cloud that rolled into Melbourne from Victoria's northern plains was a spectacular, if eerie sight.
In 1984, with a company of more than 20 working artists and while devising Cho Cho San, its biggest and most complex work to that time, Handspan also rented the second floor of its Gertrude Street headquarters. This provided a second, ' white' rehearsal room, relocated the office and meeting areas, added extra storage space and provided less primitive bathroom and kitchen facilities .
---
---
At its Gertrude Street home, Handspan could build and rehearse its projects over several weeks and preview new works to invited audiences. Many memorable parties happened on these floors: pre-tour farewell events, post-tour home-coming celebrations and special occasions such as the company's 10th Birthday Gala and Ten Year Exhibition in 1987.
After seventeen years in residence, the building in Gertrude Street, still an un-renovated and un-maintained edifice, was sold. A rich prize for developers and the end of an era for Handspan.
33 Jesse Street Richmond (1995 - 1997)
The move to Jesse Street in 1995 took the company back to the quiet factory streets and lanes of Richmond, alongside the recently constructed south-eastern freeway. Workshop and office space were ample, but rehearsal space was limited and visitors rare. With no public frontage or local street life, the company lived behind closed doors during its two-year residence. The workshop upstairs was used primarily to construct large scale processional images for street parades and outdoor events, with one exception - Handspan's last new, independent mainstage work, Dante - Through the Invisible, was built there.
When the lease expired in 1998 Handspan made its final move, to the emerging Southbank Arts Precinct.
57 Miles St, Southbank (1997 - 2002)
Handspan, now re-named Handspan Visual Theatre, took up residence in an office and groundfloor workshop/storage space in the enclave of arts organisations surrounding Arts Centre Melbourne and the Victorian College of the Arts, adjoining a groundfloor carpark across the road from the Malthouse Theatre. The company headquarters was a respectable, if unprepossessing, address but no longer a home for member artists.
Without rehearsal space and an ensemble of willing members, Handspan's work had become increasingly expensive to produce. With no schools and community touring repertoire to underpin the company finances, it was dependent on Government subsidy to maintain core operations. Much of the company budget had to be earmarked to serve the reporting and accountability requirements of its grants, which supported administrative costs and some creative development of conceptual project ideas but contributed little to full production of public works.
After the move to Southbank, co-production partnerships with arts organisations and companies became essential. With these relationships facilitated by its new location as well as a new leadership team, instead of producing its own independent works Handspan made new Co-productions with the Melbourne and Adelaide Festivals, Malthouse Theatre and the Victorian Arts Centre.
---
Footnotes
---
COMPANY
: