---
Handspan's live performances were seen by over 750,000 people on 5 continents and by millions more in public events and on television.
---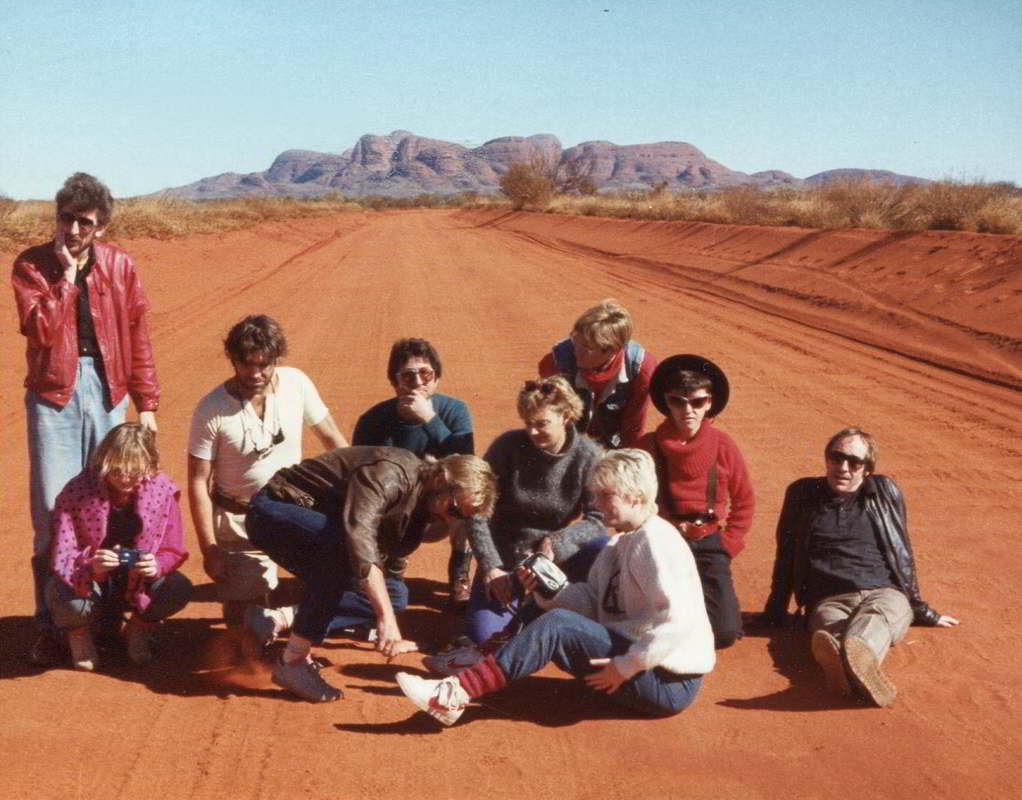 HANDSPAN THEATRE was established to tour, and tour it did.
From their home base in Melbourne, Handspan artists took their work across the City, into country regions, to all states of Australia and around the world. Go anywhere, do anything was a united mission from the outset.
From its first tour of Hansel and Gretel in 1978 to Mildura, in northern Victoria to its last, Lift 'Em Up Socks, in Vienna, Austria in 2001, Handspan's objective was to make new work for new audiences in new locations.The company took its work to theatres, festivals, schools, community events, conferences and workshops, and into the street. Rarely was a potential touring opportunity turned down.
Handspan's primary showcase was in Melbourne where productions appeared at the Victorian Arts Centre, the Athenaeum Theatre, the Universal Theatre, St Martin's Theatre, Gasworks, the Last Laugh, for Melbourne's Festivals of Arts, Moomba Festivals, Fringe Festivals, in countless schools, in parklands and in street parades.
Further afield, productions appeared in theatres and events toured by arts centres, arts councils, festivals, community networks, the Australian Elizabethan Theatre Trust Australian Content Department and later by Performing Lines.
---
---
In the community
Schools touring was Handspan's bread and butter until for two decades. Performance troupes played up to four shows a day, sometimes in as many as three locations.They bumped in and out, fitted up sets and drove themselves. Tours to schools and communities often involved workshop programs or extended residencies through the company's Handmade program, where performers also took on the role of teachers and leaders to impart their passion for puppetry and explore its dramatic potential with participants to young and old.
In the very beginning Handspan props and personnel traveled in members' privately owned, often small and unreliable cars or sometimes, by public transport. The purchase of a cast-off VW Kombi from the Tasmanian Puppet Theatre in 1980 not only expanded the company's potential marketplace, but expedited its ongoing existence.
The old brown van criss-crossed Australia's eastern states touring performers and shows to schools and community events over uncounted kilometres, till its motor blew up in a freeway debacle and a sparkling new, leased Hi-ace took its place in 1983.
For many years, tours departed with their equipment and entourage, bumped in and out, up and down the six flights of the broad timber stairway that led to the Gertrude Street studio. Most such tours were self-managed by the company but some were organised by Regional Arts Councils and had the luxury of an accompanying tour manager and occasionally a stage manager as well.
Exhausting it may have been, but it was an adventurous life with considerable appeal to young artists who could continually refine their work, adapt it to widely differing audiences and circumstances, and soak up the enrichment of connections with diverse communities and ideas.
---
Company snapshots.
---
Touring stories are legion and legendary. In the early days accommodation was basic - on the floors of obliging friends and colleagues or in shared on-site caravans where discussion of future projects and running repairs to show equipment went on long into the night. Improvisation and adaptability became a catch-cry as awkward performance spaces were reconfigured before the show could go on; theatres caught fire; vehicles broke down and occasional emergency cast changes were covered. Once handspan began touring on the mainstage and for other presenters into well-established professional venues, touring conditions generally improved. Not only were production crews on hand to get shows in and out, but frequently dressing rooms and local transport were supplied as well as local hosting and support.
Relationships and emotional tensions punctuated the journeys making the company its own family subject to arguments and hysteria on occasion but bound by loyalty and affection. Life on the road contained the best of times and occasionally the worst of times too, its lifestyle and intimacy were themselves a foundation of the company's work.
And overseas
HANDSPAN's first forays abroad were independent. Founding members seeking puppetry experience and connections took The Bunyip of Berkeley's Creek to the Edinburgh Fringe Festival and the UNIMA World Puppetry Congress in Washington DC in 1980, and to the Charlesville-Mezieres International Festival of Puppetry in the following year.
International tours of original Australian work was rare in the 1980s. At Home in Fitzroy, some European connections had been established by local alternative artists, chiefly through John Pinder and his Last Laugh Theatre restaurant, particularly in Amsterdam where a contemporary circus and caberet scene was burgeoning. Pinder had successfully toured Circus Oz in Europe and the Australian Puppet Theatre had followed his connections in 1981/82 with their production of Momma's Little Horror Show. Handspan was keen and ready to follow.
The world stage for Handspan in 1983 when Gian Carlo Menotti invited the comapny to bring Secrets to the Festival dei duo Mondi in Spoleto, Italy. Subsequently cast and crew travelled for four years to England, France, Germany, Italy, North America and Canada until the show's props and costumes were worn out and new work beckoned its performers.
Sparsely resourced Handspan found independent offshore touring complex and difficult to establish. At that time while the Adelaide Festival of Arts and the Festival of Perth were international events that included cutting edge work from other countries, export of new Australian work was rare. State and Federal Governments were slow to recognise its value,subsidy and facilitation of touring activity was not a high priority in bureaucratic guidelines. International Performing Arts Markets where presenters and producers meet and find new work for their programs had not yet been established, cross-cultural exchange pathways were limited, media interest in local engagements did not extend to international opportunities or appearances. Globally, Australia was not generally considered a breeding ground of alternative or idiosyncratic theatre.
Again a broken dream! I believed that the continent of Australia remained a wild state, peopled by a few handfuls of aborigines, several kinds of marsupials, numerous rabbits and above all, colonial white men, rugged, rough, dynamic, obtuse, marvellously elemental, strangers to all refinement, definitely sheltered from the subtle poisons of our decadent culture, known for health and the brutal mentality of pioneers.
Too late. The gangrene of aestheticism has reached that part of the world however far away. Australia is not, and will never be again, the country we think of as our eventual refuge if ever the civilisation that surrounds us becomes really too detrimental. Gone our last hope. Australia is no longer what it was. The proof? Secrets, the show that the Australians have brought to us.
Secrets
Review: Jacques Nerson, Le Quotidian, Paris, 6 April, 1984

Itineraries were difficult to organise, mail was slow, phone calls expensive and telex messaging a last resort if someone could beg favour from a nearby business with its own machine. Customs carnets for object based theatre were a nightmare running to pages of difficult to describe fiscally worthless items like: 100 paper plates wrapped in torn cotton strips (3 bundles). Somewhere a multi-lingual list of technological theatre terms was found. It was a godsend.
Perilously, some tours were embarked on without all contracts and details in place before Handspan left the country but always the show went on. Dedication and determination were required from everyone on the road often with little accompanying glamour. Hotels were provided but rooms were often shared and living expenses barely covered. Ground travel was generally still by minibus. Long, uncomfortable days squeezed together could be demanding as much they might be fun, but the gear at last had transport of its own and long-haul flights became regular. During layoffs on extended tours, when troupe members fended for themselves and often pooled resources to travel together, there were opportunities to venture out as tourists, see the sights, meet new people and have adventures. Sometimes partners, friends and relatives joined tours for a few days. In 1984 a baby Bill Rogers, son of John Rogers and Avril McQueen, spent several weeks on the road and in the wings in his pram.
---
---
Nevertheless, opening nights could be magic and season closings often sad. Lifelong friendships and creative partnerships were formed on tour. Handspan's inspiration, insights and understanding of contemporary puppetry and visual theatre deepened and consolidated its ensemble strengths. And everyone perfected the art of living from a suitcase that they could carry themselves and having fabulous adventures.
From 1985, many of Handspan's Vignettes travelled to Puppet Festivals in England, Scotland, France, Slovenia, China and Japan. Four Little Girls went to Malaysia, Indonesia and Thailand and to Columbia and Venezuela in South America. Daze of Our Lives followed it to Columbia, and in 2000/01 Lift 'Em Up Socks went to Canada and Austria.
During Handspan's final years touring life took a back seat. Members had independent career obligations, partners and new families and the versatile ensemble was impossible to sustain. With the exception of Lift 'Em Up Socks productions were created for Melbourne seasons. Under new management as Handspan Visual Theatre the company no longer operated as a flexible membership with the passion and urgency to take their new work on the road.
---
COMPANY
: